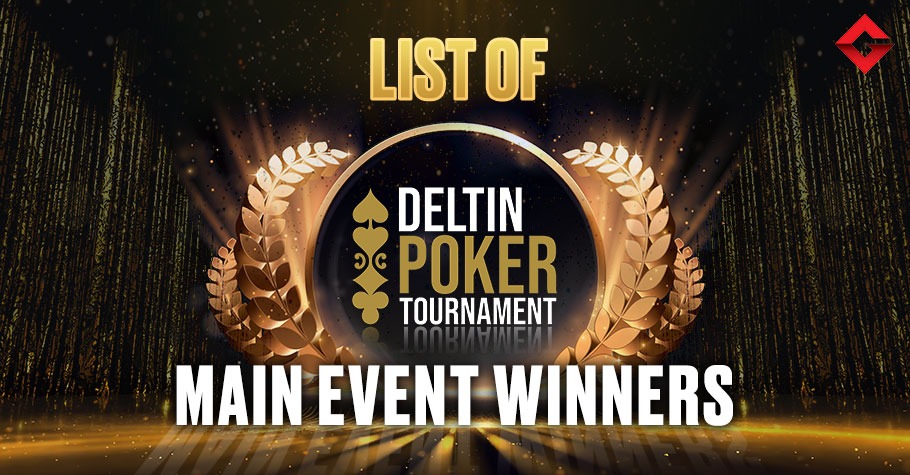 Poker
---
List Of All DPT Main Event Winners
Deltin Poker Tournament (DPT) has been one of the most popular and sought-after live poker tournaments in the country. The success of the event is evident from the tremendous participation and applause the event has got from the poker fraternity year after year. The series is hosted at least twice a year, thanks to the high demand among the players for this event. 
There have been several players who have flaunted their impeccable skills and etched their names in poker history with their wins. In this article let us take a walk down the memory lane and recall all the spectacular victories of the Main Event winners who defied all odds to claim the titles. Below listed are all the players who have won the DPT Main Event till date.
DPT January 2016: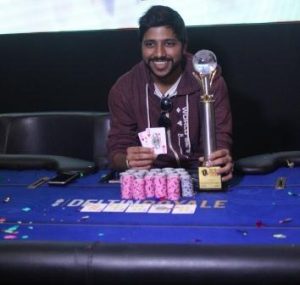 Raghav Bansal
Poker pro Raghav Bansal became the first ever DPT champion by nailing the DPT January 2016 Main Event. Bansal clinched the victory for a prize money of over ₹30 Lakh after beating Akash Malik. The runner-up settled for a pay cheque of ₹18,87,000. The Main Event was the biggest event of the series with a guarantee of ₹1 Crore, which was shared by the top 12 places. The ₹1,00,000 buy-in event recorded 102 entries. The final table of six included some of the top names like Dhaval Mudgal (3rd, ₹13,26,000), Rishabh Jhunjhunwala (4th, ₹10,20,000), Abhay Bokadia (5th, ₹7,14,000), and Madan Kumar (6th, ₹5,61,000). 
DPT August 2016: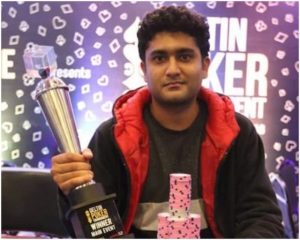 Vikas Singh
The Main Event of the DPT August 2016 edition recorded 235 entries and generated a final prize pool of ₹70.50 Lakh which was eventually distributed among the top 24 players. Vikas Singh was the ultimate champion and grabbed a handsome amount of ₹17.60 Lakh in prize money for his first place finish. Rahul Agrawal finished second for ₹10.90 Lakh on the final table of nine consisting of Shyamrag C (3rd, ₹7,90,000), Naren Prakash (4th, ₹5,86,000), Gaurav Chauhan (5th, ₹4,40,000), Archit Saraogi (6th, ₹3,35,000), Bharath Jayprakash (7th, ₹2,60,000), Gaurav Chauhan (8th, ₹2,05,000), and Shaleen Luhadia (9th, ₹1,65,000).
DPT November 2016: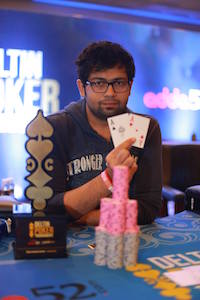 Gautam Sachdeva
The November edition saw a total of 161 entries at the Main Event who generated a prize pool of ₹48,30,000, out of which the top 18 places took home a portion of the prize pool. Gurugram-based Gautam Sachdeva clinched the title for ₹13.04 Lakh. The three-way action ended with Kanishka Samant finishing second for ₹8.21 Lakh, and Nitin Jain taking the third place for ₹6.16 Lakh. Vikas Mantri (4th, ₹4,83,000), Pranay Kapoor (5th, ₹3,62,200), Anup Palod  (6th, ₹2,65,700), Akash Masand (7th, ₹1,81,000), Dhaval Mudgal (8th, ₹1,44,900), and Ankit Wadhawan (9th, ₹1,08,700) also finished on the final table at the event. 
DPT April 2017: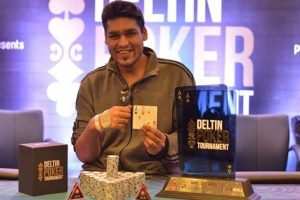 Mayank Agarwal
The 35K Main Event of the DPT April 2017 edition had a guarantee of ₹70 Lakh which was surpassed for a final prize pool of a whopping ₹1,01,87,100. The top 30 places out of the 294 entries cashed at this event, with Kolkata's Mayank Agarwal emerging at the top and walking away with ₹25,45,100 in prize money. The event ended in a deal between Agarwal and Haresh Kukreja for ₹18,90,000. Yohan Patel (3rd, ₹11,21,000), Anant Kumar (4th, ₹8,15,000), Ganesh Kompella (5th, ₹7,13,000), Atul Khanna (6th, ₹5,60,000), Tanuj Moorjani (7th, ₹4,58,000), Kanishk Bansal (8th, ₹3,05,000) and Jayram Nirama (9th, ₹1,78,000). 
DPT July 2017: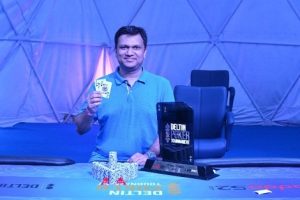 Nitin Gupta
300 entries contributed a whopping ₹1.05 Crore final guarantee that was shared by the top 30 players. Nitin Gupta dramatically busted the final four players to clinch the title for a top prize worth ₹28,06,600. The runner-up was Kiran Kumar, who cashed ₹17,15,200. Other players at the final table included Rajesh Goyal (3rd, ₹11,43,500), Rajesh Rajpoot (4th, ₹8,31,600), Eka Vedantham (5th, ₹7,27,770), Sachin Chandani (6th, ₹5,71,800), Guneet Kwatra (7th, ₹4,67,800), Himanshu Thukral (8th, ₹3,12,000) and Ankush Aryan (9th, ₹1,81,900)
DPT September 2017: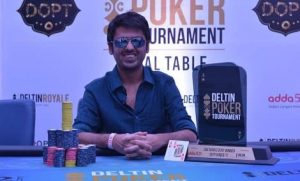 Haresh Kukreja
The Main Event of the DPT September 2017 edition gathered 179 entries of which the top 18 players cashed the min-cash. The lion's share of the final prize pool of ₹62,65,000, was clinched by Haresh Kukreja, also known as 'Kavish.' Kukreja took home ₹18,71,000 in prize money. At the runner-up spot was Varun Iyer, who pocketed ₹11,78,000. Romit Advani (3rd, ₹8,83,600), Prashant Singh Bhutoria (4th, ₹6,93,000), RG (5th, ₹5,19,800), Kapil Arora (6th, ₹3,81,200), Amit Kumar (7th, ₹2,59,900), and Mayank Jain (8th, ₹2,07,900) also cashed on the final table of this event.
DPT February 2018: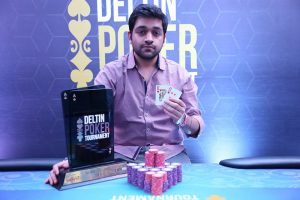 Dainik Mehta
The February 2018 Main Event had 293 entrants and the final prize pool stood at ₹1.02 Crore. Dainik Mehta, topped the table for ₹23.19 Lakh. Mehta beat Arjun Arora in the heads-up session and the latter took home a pay cheque of ₹15,28,600. Avinash Tauro finished third for ₹9,86,200, while Abhijeet Shetty and Aditya Sushant busted at the fourth and fifth place for ₹7,64,300 and ₹6,21,300, respectively.
DPT July 2018: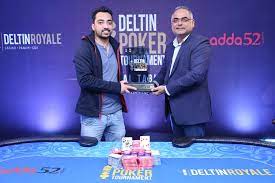 Awnish Singh
Out of the total of 457 entries in the Main Event, the top 49 places took a piece of the final prize pool (₹1,59,95,000). Awnish Singh took the lion's share of ₹35,04,000. Singh, who was relatively new at that time, beat Vidur Singhal in heads-up. Singhal settled for the runner-up position for an impressive ₹22,74,000. Other pros like Bhuvan Bansal (3rd, ₹14,60,000), Sailesh Lohia (4th, ₹11,28,000), Ankur Sehgal (5th, ₹8,66,000), Rugal Advani (6th, ₹6,88,000), Gautam Raju (7th, ₹5,46,000), Mukunda Dasharathy (8th, ₹4,31,000) and Raunak Modi (9th, ₹3,45,000) also were seen on the final table of this event.
DPT February 2019: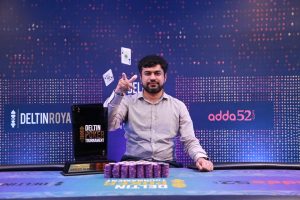 Ankit Kapoor
The event attracted 286 entries and crowned Ankit Kapoor as the winner. Kapoor took home ₹22,50,000 for his first place finish. The top winner beat Mayank Jaggi in the heads-up clash.
DPT August 2019: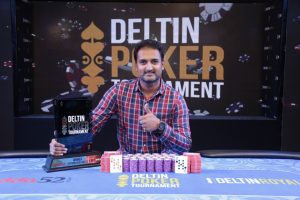 Rishabh Vekaria
The Main Event of the August 2019 edition was nailed by Rishabh Vekaria for ₹30 Lakh. The event saw participation from 448 entries, for a prize pool of ₹1. 56 Crores, which was shared by the top 56 finishers. Ankur Sehgal finished runner-up for ₹21,00,000 at this event. Other final tablist included top names like Anup Palod (3rd, ₹13,80,000), Tarun Goyal (4th, ₹49,30,000), Amit Tejura (5th, ₹7,10,000), Samit Mehta (6th, ₹5,80,000), Paawan Bansal (7th, ₹5,00,000), Siddarth Singhvi (8th, ₹4,00,000) and Anmol Chawla (9th, ₹3,00,000).
DPT April 2022: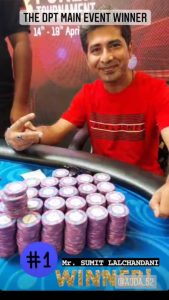 Sumit Lalchandani
After a two-year hiatus, DPT returned in April 2022. This edition had 602 entries battling it across one online flight and three live starting flights leading to the Main Event. The top 72 players cashed in this event. A final prize pool of ₹1,88,47,950 was created. Sumit Lalchandani claimed the coveted title, and walked away with a career-best of ₹35,64,000. Sandeep Gupta finished in the runner-up spot and had a payday of ₹25,10,600. Other pros including Ankit Wadhawan (3rd, ₹16,14,400), Mohit Bohra (4th, ₹1,195,600), Nikita Luther (5th, ₹8,96,200), Neeraj S (6th, ₹7,18,100), Kshitij Kucheria (7th, ₹5,98,800) and Aditya Singh (8th, ₹4,77,500) were also seen in contention at the final table.
For more news and updates, keep reading GutshotMagazine.com. Follow us on Facebook, Instagram, Twitter, and Telegram.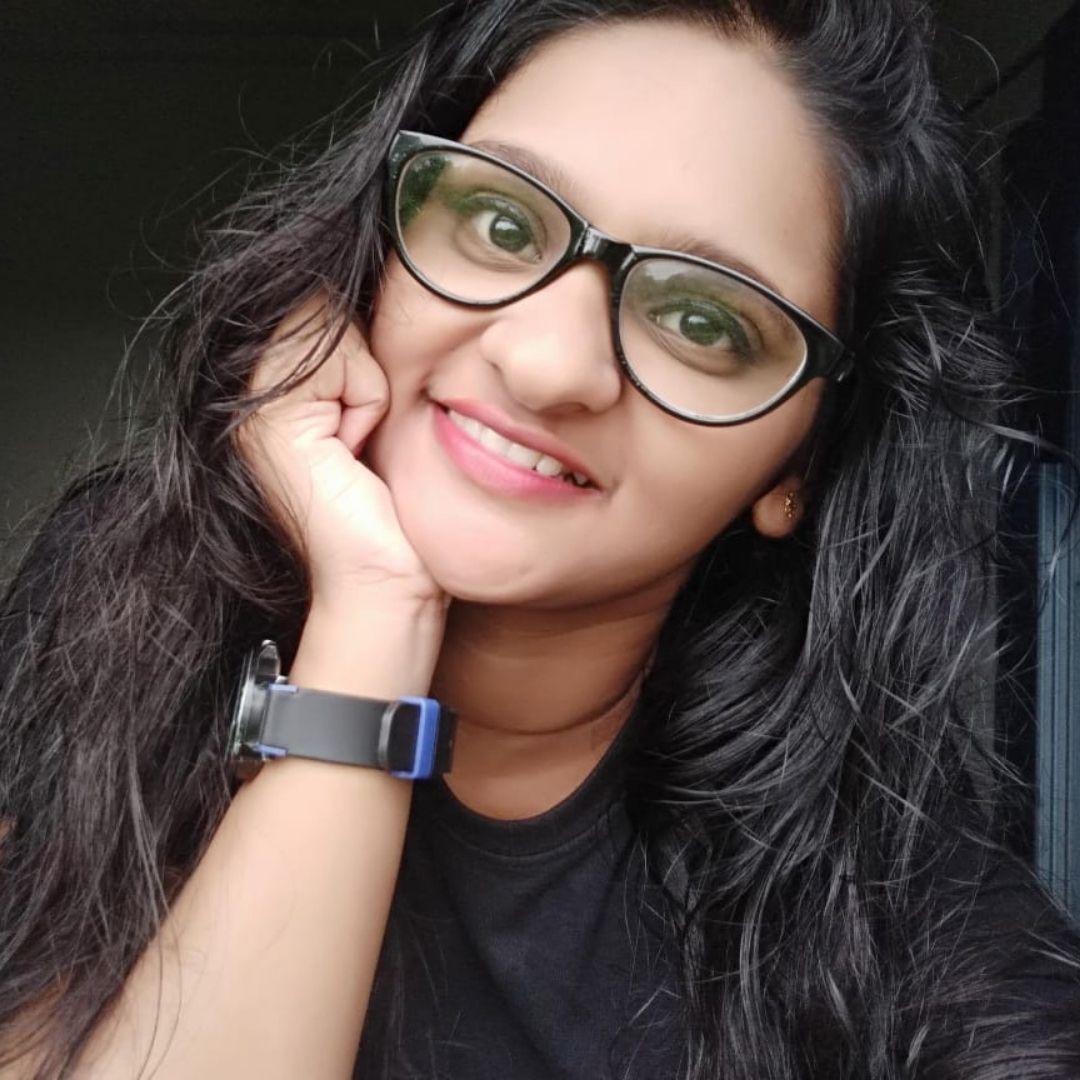 Amarylisa Gonsalves is a Content Writer at Gutshot Magazine. Advancing from a marketing background, she found her calling in writing. She takes delight in exploring genres and is a curious learner. Patient and ambivert, she believes in letting her work speak for itself. Apart from content writing, she finds solace in writing poetry by expressing herself through words. Additionally, she adores indulging in anything that satisfies her creative self, like drawing and DIY crafts.
---
---
More News
---
Comments