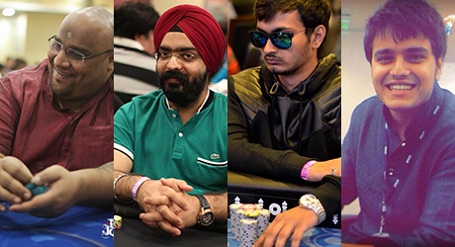 Poker
---
Kavish Kukreja wins DPT Main Event for ?11,78,000
The on-going Deltin Poker Tournament (DPT) powered by Adda52.com is now in the bag with the final event of the series concluding last night. The 6 day event took place from 13-18 September and included the 15K Kickoff, 75K HighRoller, 35K Main Event, Ladies Event, 15K Bounty event and the series finale in the 15K PLO Event.
Despite decent turnouts, there is a general lack of enthusiasm among players due to the 30.9% tax being levied on all winnings at the DPT. Gutshot spoke to a few pros and highrollers on the TDS deductions in a live tournament in the country. While a few were vocal in expressing their disappointment, others chose not to comment.
TheSpartanPoker's pro Sangeeth 'Samoh' Mohan commented, "The TDS on gaming is a huge deciding factor when I choose which site to play on etc. Live tournaments in India have pretty much died out because of this. I think an ideal percentage would be 10% and let the players file their taxes post that."
India Poker Championship 15K Kickoff December 2015, winner Mani 'king.of.Queens' Singh said, "PokerStars is not starting operations in India due to higher taxation policy. 30% tax is a huge amount of money which impacts a players winning. Usually, a player sells his stake to investors for big tourneys to lower down the variation of the game. So when he ships something, 30% tax gets deducted right away, after that he returns the share of the investors, so in the end, he is left with very little amount. If we compare those returns with some international tournament of the same buy-in, there is a huge difference in winning percentages and that is just because of 30% tax. Due to higher taxation and old policy of gambling act is impacting foreign investment in Indian casinos which is very much required for expansion of the gaming industry in India."
Kartik 'TheInternetKid' Ved says, "TDS is killing poker. Of course, it is in nobody's control but the government. The organisers can afford to take a bit of a TDS hit if they want to host these tournaments every 2 months."
India Online Poker Championship Leaderboard winner Akshay 'akshayshah93' Shah said, "Poker's growth is being hampered by the TDS rules applicable, 30% directly goes into taxes however the money is being loaded on the poker sites or tournaments is already taxed on as a player is wagering money earned either through the business salary etc which is already taxed. The laws which we have is leading to a lot of money going out of the industry and also these laws don't encourage the growth of poker which already carries the taboo of being a gamble. We have many laws similar to the UK so we should look at following them on this law as well.  Winnings are not taxable from poker there."
While this topic continues to rage on, let's take a look at the big winners of the DPT week. The Warm-Up event which is an online event kicked off the series which was taken down by Shravan 'sweatmyass13' Chhabria. Here's a roundup of the rest of the title winners:
15K Kickoff
This event drew 136 players creating a prizepool of INR 20,40,000 on the guarantee of INR 20,00,000. The starting stack of 10,000 (200BB) was given to all the players. The eventual winner was Bobbe Suri who outlasted these entries for INR 6,05,200.
Suri defeated Satish S in the heads-up battle. The last hand came in the Level#22 with blinds running 15,000-30,000-4,000. Small stack Satish pushed all-in from the button with pocket eights (8c 8s) where Suri snap calls with Jd Td. The showdown saw 5s As 8h 2c 6s where Suri hits a set and also takes down the title. Satish was eliminated at second place and took home INR 3,82,200.
Final Table Results (15K Kickoff):
Bobbe Suri -INR 6,05,200
Satish S – INR 3,82,200
Jaydeep Dawer – INR 2,76,000
Abhijeet Shetty – INR 2,17,600
Tanuj Moorjani – INR 1,59,300
Sandeep Kumar – INR 1,16,650
Rubin Labroo – INR 79,600
Sumit Chhabra – INR 63,700
*TDS of 30.9% is applicable on all the above winnings
75K High Roller
This event guaranteed a mammoth INR 80,00,000 prizepool where the event drew 114 entries making a prizepool of INR 85,50,000. It was adda52.com pro Amit 'bblacklegend' Jain to knock down these entries and take home INR 24,94,800 defeating Sahil 'Variance' Agarwal in heads-up battle. Agarwal who took home INR 15,80,000 for his second-place finish.
The last hand arrived in Level #26 with blinds 30,000-60,000-10,000 where both the heads-up players shoved pre-flop. Jain with 2h 2d and Agarwal with Kc Th. The board 3c 7d 3h 8c Ad didn't help Agarwal and Jain took down the title with two pairs of twos and threes.
Final Table Results (75K HighRoller):
Amit Jain – INR 24,94,800
Sahil Agarwal – INR 15,80,000
Ashish Jain – INR 11,02,000
Jaydeep Dawer – INR 8,73,200
Vikas Kumar – INR 6,23,700
Ronak Vyas – INR 4,57,400
Vishrut Jain – INR 3,11,900
Pradeep Sharma – INR 2,49,500
Danish Shaikh – INR 1,87,000
*TDS of 30.9% is applicable on all the above winnings.
35K Main Event
It was Mumbai based Kavish Kukreja a.k.a 'Narcos' to win the Main Event for INR 18,71,000. Kukreja defeated fellow city player Varun Iyer in heads-up battle. In the last hand of the tournament, Kukreja had Ah Kh against Iyer's Ac Qd. The action saw a pre-flop all-in where the showdown saw 4d 3h Jh 3c 5h. Kukreja hits a flush to take down the DPT Main Event title. Iyer was eliminated at second place and took home INR 11,78,000.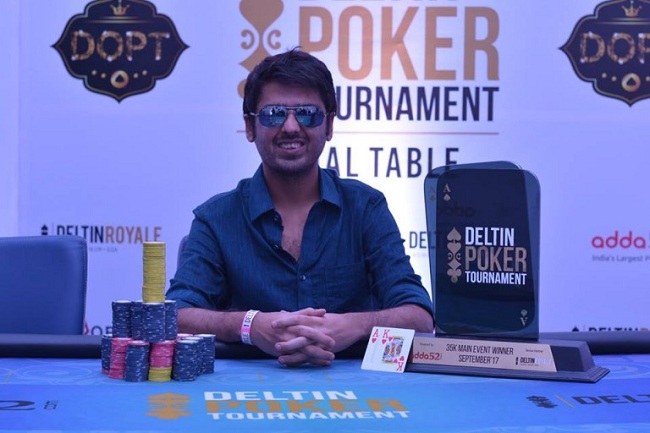 179 entries participated in the event in the INR 70,00,000 GTD Main Event but this turn out saw an overlay of INR 7,35,000.
Final Table Results (35K Main Event):
Kavish Kukreja – INR 18,71,000
Varun Iyer – INR 11,78,000
Romit Advani – INR 8,83,600
Prashant Singh Bhutoria – INR 6,93,000
RG – INR 5,19,800
Kapil Arora – INR 3,81,200
Amit Kumar – INR 2,59,900
Mayank Jain – INR 2,07,900 
*TDS of 30.9% is applicable on all the above winnings
15K Bounty
PokerBaazi pro Vikram Kumar popularly known for his 'LungiTV' videos on social media shipped this event defeating adda52.com pro Nikita Luther in the final battle for the title. In Level #22 with blinds 15,000-30,000-4,000 Luther and Kumar played a raise and re-raise matches and on the flop both of them went all-in. Kumar had Tc 8c and Luther had Kc Qd and the board ran 9c 2c Qc Jh Ad. Kumar flopped flush and took down the title for INR 3,59,400 while Luther received INR 2,27,600 for her runner-up finish.
Final Table Results (15K Bounty):
Vikram Kumar – INR 3,59,400
Nikita Luther – INR 2,27,600
Faiz Alam – INR 1,58,600
Vaibhav Sharma – INR 1,25,800
Hardik Shah – INR 89,800
Vikash Khaitan – INR 65,900
Piyush Jain – INR 44,900
Rajesh Sharma – INR 35,900
Anubhav Adlakha – INR 27,000
*TDS of 30.9% is applicable on all the above winnings
10K Ladies Event
A total of 11 ladies participated in this event where the eventual winner was Adda52 celebrity pro Minissha Lamba defeating fellow pro Nikita Luther in heads-up battle. Luther thus making two runner-up finishes in the series. Lamba was rewarded with INR 70,000 while Luther took home INR 40,000 for her runner-up finish.
15K PLO
Delhi based Jagdeep Singh who plays under the moniker 'Nodus Tollens' on TheSpartanPoker emerged victorious in this event last night claiming INR 3,47,000 on his win. Singh defeated 15K Kickoff winner Bobbe Suri in heads-up battle. Suri took home INR 2,08,000 for his runner-up finish. Singh outlasted 53 entries where the GTD of the event was INR 10,00,000 with an overlay of INR 2,05,000.
The last hand arrived in Level #19 with the blinds running 6,000-12,000. The pre-flop action saw both the players going all-in with Singh holding Ad 7d 2s 8s and Suri had Kd 5d 6h 6d. The showdown saw 5s Qs Qc Ts 8c and Singh shipped the 15K PLO title with two pairs Queens and Eights with Ace kicker. This is the second time Singh has won the 15K PLO title earlier in the month February 2017 for INR 5,80,000.
Final Table Results (15K PLO):
Jagdeep Singh – INR 3,47,000
Bobbe Suri – INR 2,08,000
Amit Sur – INR 1,49,000
Aditya Sushant – INR 1,09,000
Prashant Singh Bhutoria – INR 79,000
Vikram Kumar – INR 59,000
Vivek Rughani – INR 39,000
*TDS of 30.9% is applicable on all the above winnings
This was a round-up of all tournaments at DPT September. Stay tuned for other poker news and stories to GutshotMagazine.com
---
---
Comments