Upcoming Cash Game Series
IndiaPlays Rummy – Daily LeaderboardGTD₹ 1 Lakh Daily
1 Mar – 31 Mar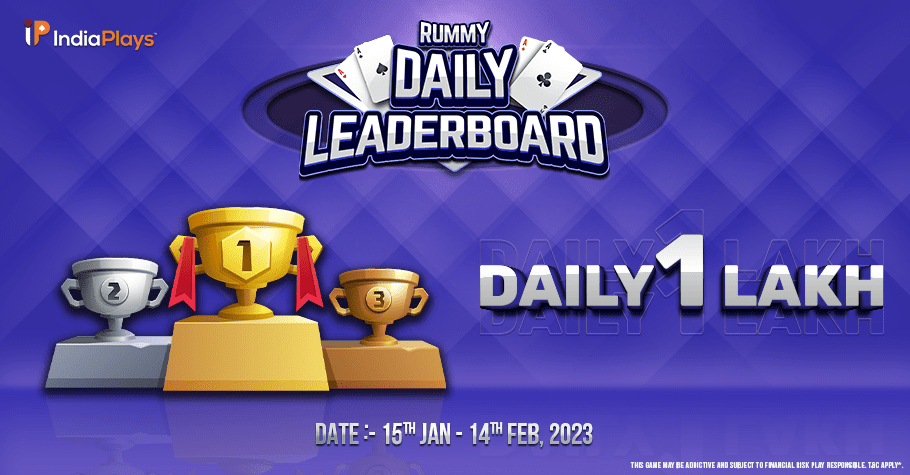 IndiaPlays Rummy is back with its Daily ₹1 Lakh Leaderboard this March.  The leaderboard promotion takes place between 1st – 31st March 2023. All you have to do is collect IP points by playing more hands to rank as high as you can on the low, mid, and high-stakes daily leaderboards to win huge cash prizes. IndiaPlays assures use... Read more
Adda52 Rummy – Special LeaderboardGTD₹ 5000
1 Feb – 1 Feb
Adda52 Rummy is offering a SPECIAL leaderboard for SPECIAL players! Play the  Special Leaderboard to win from the daily prize pool of Rs.5000. Participate in the leaderboard not only to win big but also to showcase your rummy skills starting from 11 AM till 3 AM the next day.  Read more
Rummy Game:
When we think of a rummy game we think of the 13 card game, popularly known as Indian Rummy. The game involves arranging cards in sets and sequences. The aim is to form valid sets and sequences using the cards. As per rummy rules, a player has to make sure that he/she has one pure sequence and the other one can be a valid set or sequence. A valid declaration (rummy hand) is made when you have a pure sequence.
What is a score in a rummy game?
A score in a rummy game is the total value or sum of all the cards that are not included in a valid set or sequence. Players need to try to keep their score to a minimum of zero. To do this, they have to make sure they only form valid sets and sequences.
Face cards like K, Q, J and the Ace card are all worth 10 points in a rummy game.
While cards like 2,3,4,5,6,7,8,9,10 have points equal to their rank.
The joker cards are the only ones who have a point value of zero.
How to Play:
To play a rummy game, all players need to be seated around a table and a dealer is selected at random. Any of the players can become a dealer and can take turns in doing so.
How many rounds can a game of rummy have?
There can be multiple rounds in a rummy game as long as the players are willing to play the game. However, once a round begins, players cannot leave the table and if they still wish to do so may end up losing points. So, the best time to leave a game, if one wishes to do so, is before the next round begins.
History of rummy game:
This game is believed to be an evolved form of 'Conquian' which is a game that has originated in Spain or Mexico. There is no definite answer to the question of the game's origin, but rummy lovers across the world have enjoyed this game in its evolved version. Many believe that the rummy game originated in Spain and the native Spanish people took the game with them to America when they migrated somewhere around the 19th century.
Today there are many variants of the rummy game played across the world. In India, many online rummy platforms offer Pool, Points and Deals Rummy. Other variations of the rummy game are 500 Rummy (Persian Rummy), Kalooki Rummy, Oklahoma Rummy, Canasta, Gin, Contract Rummy, Shanghai Rummy and Dummy Rummy.
Rummy's Connection To Asia
Many people in the Asian continent believe that rummy has a link to the Chinese game called Mahjong. This game exists from a thousand years ago and rummy players believe that rummy evolved from Mahjong as this game too follows the pick and drop of cards. This game took on another name of Khanhoo or Kon Khin during the 19th century.
Rummy was also popular in Hungary where the newspapers reported about the game post World War one. It was widely believed that this game was played in cafes and was thoroughly enjoyed by the Hungarian population.
If you are an aspiring online rummy player then check out Gutshot's rummy rooms page. The best online rummy sites are listed on our rummy rooms page. Sign-up on any online rummy platform of your choice and kick-start your online rummy journey today.