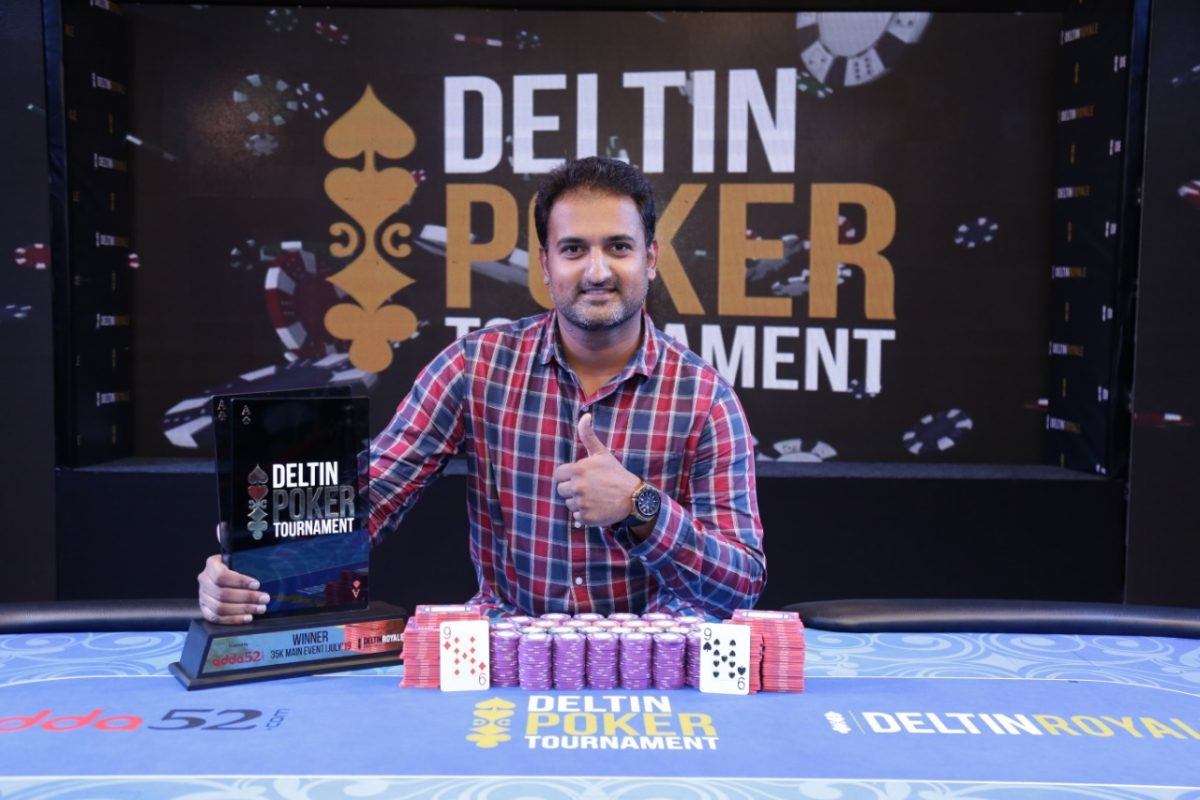 Poker
---
Rishabh Vekaria crowned DPT Main Event champ
It seems that even hardcore cash game specialists cannot resist the lure of competitive tournament action. Nikunj Jhunjhunwala, a well known high stakes cash game player, took down the Highroller title a couple of nights back at the Deltin Poker Tournament (DPT) and last night it was another cash game player who emerged victorious in the finale event of the series. Rishabh Vekaria outlasted the field of 448 entries to lay claim to the DPT Main Event title and a sweet purse of INR 30 Lakhs.
As our round up from yesterday mentioned, 14 players returned on this day to play down to the winner. Leading the pack was noted pro Paawan Bansal who has been making waves on the international circuit in the past 18 months. Arjanveer Chadha was the shortstack and he was out pretty soon after action kicked off. Bansal managed his stack well and soon entered as chip leader on the final table as well with 2.2 million and at the bottom end of the heap was another recognisable face in Siddarth Singhvi with a stack of just over 400k.
Final Table Chip Counts
1. Paawan Bansal – 2,290,000
2. Samit Mehta – 2,210,000
3. Rishabh Vekaria – 2,015,000
4. Ankur Sehgal – 1,890,000
5. Anup Palod – 1,660,000
6. Tarun Goyal – 1605,000
7. Amit Tejura – 755,000
8. Anmol Chawla – 670,000
9. Siddarth Singhvi – 415,000
While the short stack was making some aggressive plays to build his stack up, he was not the first one to go. It was the second short stack Anmol Chawla who hit the rails courtesy eventual champion Vekaria's pocket Fives. Chawla soon exited thereafter out at the hands of Ankur Sehgal. Paawan Bansal, despite being chip leader, ran into some very ordinary luck and in the space of a few hands went from top stack to out of the tournament. Stable operator Anup Palod held the chip leader position for a time as the tabled trimmed down to the last six. Despite being card dead for a long while, he still managed to go up a few more pay jumps and eventually finished in 3rd place.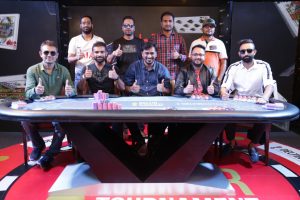 Vekaria entered the headsup match up with Sehgal with almost double his opponent's chips. Despite that disadvantage, Sehgal was confident in the pre-HU interview about his chances of winning the tournament. However it would end up faster than it started with the final outcome being determined in the very first hand of headsup. Sehgal wanting to be aggressive opened with Th 7h and found himself facing a 3-bet from Vekaria. Deciding that he did not want to be bullied by the bigger stack, he put it all in. Unfortunately for him Vekaria has a legit hand in pocket Nines and quickly made the call. No help on the 5 3 Q K 8 board and that was all she wrote for this Main Event. A fantastic result for Rishabh Vekaria who wins his maiden tournament title worth INR 30 Lakhs and what a way to break that cherry! Ankur Sehgal will be disappointed at not having scored a title but his good play and the INR 21 Lakhs runner-up purse should take away the sting just a little bit.
That's it for the coverage from this Deltin Poker Tournament. But that's not the end of the live tournament scene in Goa which has plenty of action coming up with the India Poker Championship promising a 3 Crored GTD prizepool. The IPC is set to take place from 11-15 September onboard the Big Daddy casino and that series will be followed by the Baazi Poker Tour from 9-14 October onboard Casino Pride 2. Stay tuned to GutshotMagazine.com as we bring you all the updates from these events.
Final Table Results:-
1. Rishabh Vekaria – INR 30,00,000
2. Ankur Sehgal – INR 21,00,000
3. Anup Palod – INR 13,80,000
4. Tarun Goyal – INR 9,30,000
5. Amit Tejura – INR 7,10,000
6. Samit Mehta – INR 5,80,000
7. Paawan Bansal – INR 5,00,000
8. Siddarth Singhvi – INR 4,00,000
9. Anmol Chawla – INR 3,00,000
---
---
Comments