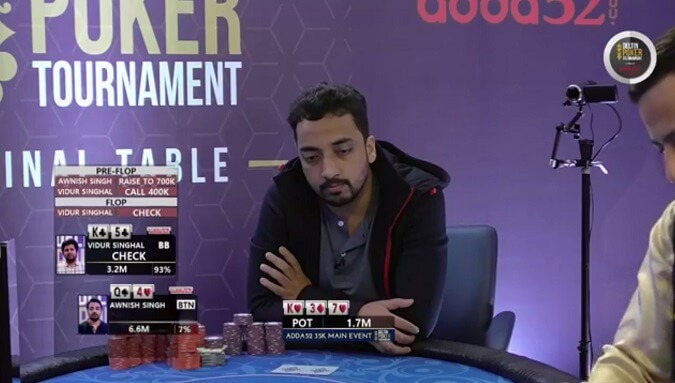 Poker
---
Awnish Singh wins DPT Main Event for INR 35 lakh
The recently concluded Deltin Poker Tournament saw a great response, which led to players even having to come out for an additional Day 3 of the DPT Main Event. Yesterday, we reported the news of the final 9 players bagging up their chips, with Sailesh Lohia in the lead.
Lohia had a sizeable lead against the rest on the final table and one would've fancied his chances of going on to win the DPT Main Event title and trophy. However, it was not to be as he busted his stack in 4th place and walked away with a prize of INR 11,28,000. He was sent to the rail by Vidur Singhal and Lohia said he'd like to see him take down the title as well.
Eventually, it was Awnish Singh who went on to win the trophy and the DPT Main Event title, recovering well as he was the shortest stack in 3-way play. Bhuvan Bansal and Singhal were the other two to reach this stage and the former was sent out by Singhal, who went into heads-up play with 8 million chips as compared to Awnish's 4 million.
However, the hour-long heads-up battle came to an end with Awnish Singh winning the final hand and taking home the massive top prize of INR 35,04,000, while Singhal took away a pretty hefty prize himself, winning INR 22,74,00 for finishing second. It was a great start for Singhal, who is said to have been playing in his first ever live poker tournament.
In the final hand, Singhal held Kc 5c while Awnish held Qs 4h. The first four community cards opened Kh 3d 7h 5h, which put Singhal way ahead with two pairs – Kings and Fives. Awnish shoved in his whole stack and after Singhal made the call, Awnish said, "You win, you win. I was bluffing," and revealed his cards.
However, he had plenty of outs, considering a 6 would give him a straight and another heart would give him a flush. They tried to discuss a deal, but it was too late and a 3h on the river gave Awnish the pot and the DPT title for the massive prize of INR 35+ lakh. "One thing I'm pretty sure about is that I'm happy about the way I played," said runner-up, Singhal. Singh, after lifting the winner's trophy, said, "My first tournament win. It's really good. I ran super lucky."
You can get Adda52's live stream of the second half of the final table here:
Keep reading GutshotMagazine.com for similar updates on big Indian and international poker stories.
Image courtesy: Adda52 LIVE
---
---
Comments