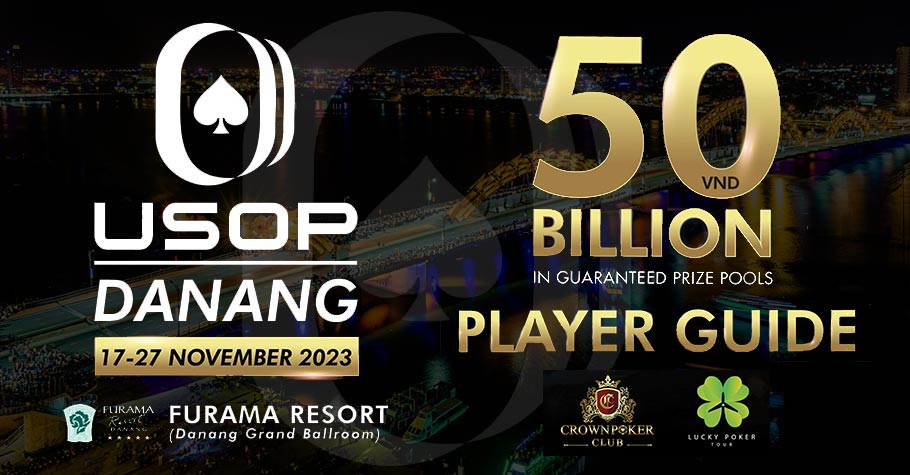 Poker
---
The Complete Player Guide To USOP Da Nang 2023
The U Series of Poker (USOP) is returning after a highly successful USOP Hanoi 2023 series. They have announced the highly awaited USOP Da Nang 2023 in partnership with the Crown Poker Club and Lucky Poker Tour, which will see the tournament series take place at the Furama Resort in Danang, Vietnam.
It is set to be played between 17th – 27th November 2023, with an action-packed schedule. USOP Da Nang 2023 is surely an event you would not like to miss out on! If you are already enticed with it, then be prepared to get your mind blown, citing the guaranteed prize pool! The awaited USOP Da Nang 2023 event boasts an astounding guarantee of VND 50 Billion (~₹16,99,01,735 / $2,032,110).
A lot of poker players and enthusiasts are expected to participate in Vietnam's most exhilarating poker series. With players from all across the globe expected to be present at USOP Da Nang 2023, we have created a perfect player guide for you to enjoy this 10-day extravaganza.
USOP Da Nang 2023 Satellites
USOP Da Nang 2023 has around 27 satellites events that can be played for marquee tournaments like Super High Roller, Main Event, Mini Main Event, High Roller: Bounty Hunter, High Roller for Red Cross, High Roller Warm-up, High Roller Mega Stack, High Roller Last Chance, Superstar Challenge, The Closer among others. These satellites events will run between 17th to 27th November 2023. The buy-ins for these satellites start from just VND 2,000,000 (~$85 / ~₹6,776).
There is also a mega satellite event for the Main Event which comes with a buy-in of VND 5,500,000 (~$233 / ~₹18,635). Use the satellites and mega satellites to qualify for the feature tournaments at a lower cost and play more tournaments in the series.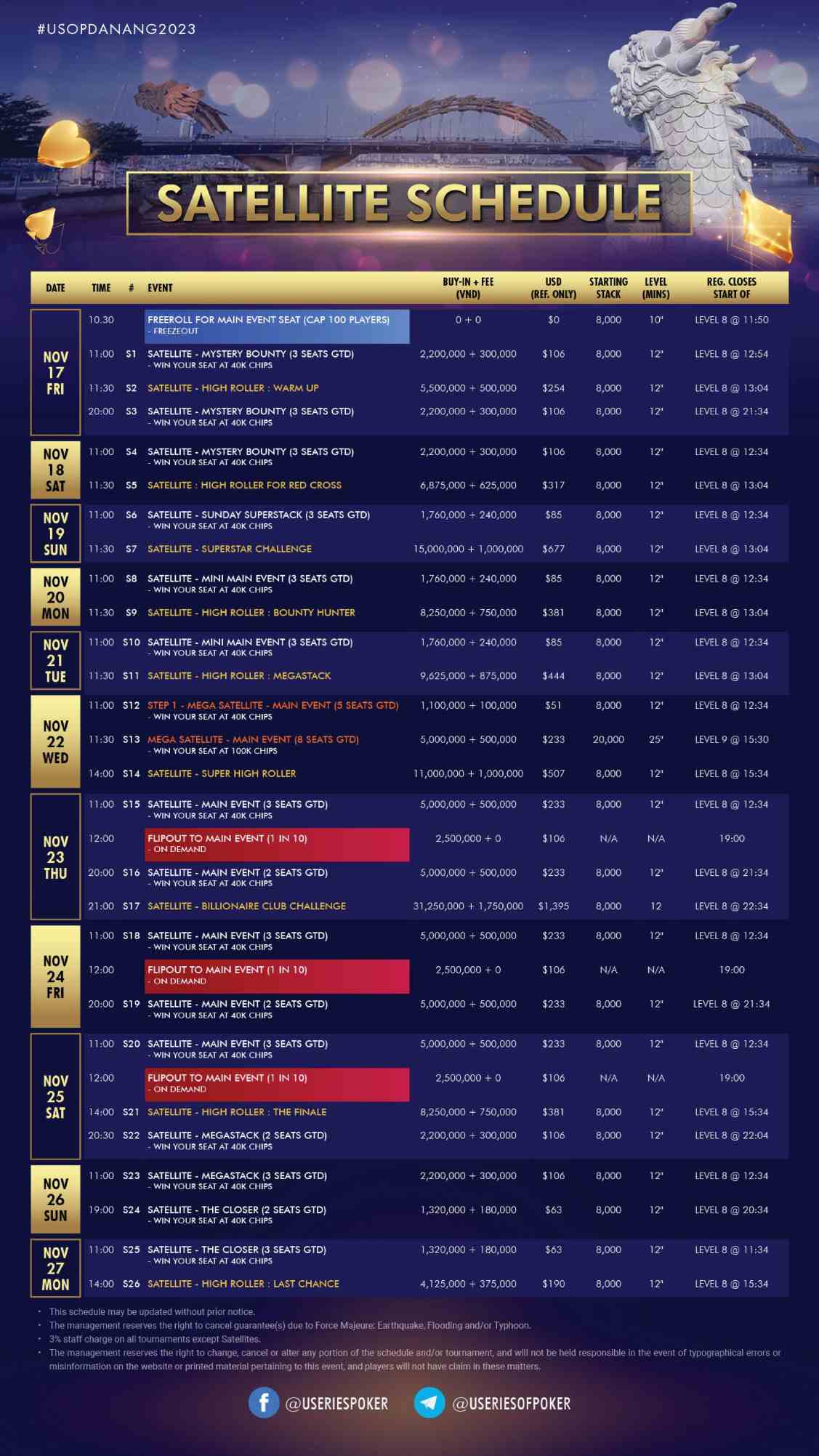 USOP Da Nang 2023 Events
USOP Da Nang 2023 starts off with the Mystery Millions Day 1A and is followed up with other events like High Roller Warm Up, Deepstack, Mini High Roller, Turbo, and Short Deck Hyper Turbo with these multiple high-value events followed by a charity event for Red Cross also a part of the USOP Da Nang 2023 schedule. It is also worth noting that there are multiple satellites and package offers for the USOP Danang 2023 series which will allow players with different bankrolls to compete as well.
The highly anticipated USOP 2023 Da Nang Main Event kick-starts on 23rd November and has a guaranteed prize pool of VND 15 Billion (~$6,10,501 / ~₹5,09,73,460). Players can battle it out for one of the largest prize pools on offer from a buy-in of VND 22,500,000 (~$915 / ~₹76,455). You can check out the entire USOP 2023 Da Nang schedule by clicking here. Apart from the high rewards on offer, the trophies players will win are equally stunning.
---
ALSO READ: USOP Da Nang Nov 2023: All You Need To Know
---
USOP Da Nang 2023 Early Bird Offers
Poker enthusiasts eagerly awaiting the USOP Da Nang 2023 can access exclusive early bird packages designed for the High Roller and Main Event, enhancing their tournament experience. These packages not only secure participation but also offer extra perks for an enriched poker experience.
For the High Roller Package, three tiers—Platinum, Gold, and Silver—offer varying benefits. The Platinum package provides entry to events like Super High Roller and Billionaire Club Challenge, along with an eleven-night stay. The Gold package includes access to events like Super High Roller and Superstar Challenge, accompanied by a seven-night stay. The Silver package offers tournaments such as Superstar Challenge and a choice of one High Roller event, along with a five-night stay. Additional nights are available at VND 2,400,000 (~$97 / ~₹8,131) each.
In the Main Event Package, the Main, Premium, and Custom categories cater to different preferences. The Main package encompasses the Main Event buy-in and a five-night stay, priced at VND 37,000,000 (~$1,506 / ~₹1,25,380). The Premium package offers entry to events like Mystery Bounty and the Main Event, along with an eleven-night stay, costing VND 62,400,000 (~$2,539 / ~₹2,11,450). The Custom package allows players to tailor their events and nights for VND 2,400,000 (~$97 / ~₹8,131) per night. Each package includes perks like airport pick-up, breakfast, and VIP line access. Bookings close on 15th November 2023, based on availability. Payments are accepted via VND bank transfer or USDT (Tether Stablecoin Cryptocurrency).
USOP Da Nang 2023 Trophies
USOP has produced three different types of trophies for players, the most important being the Main Event trophy. Alongside that, USOP also has a special High Roller trophy with yet another coveted piece of silverware for all the side events.
Every trophy is a masterpiece design which is awe inspiring. Such contemporary designs and an elegant finish make players put their best foot forward. It is worth giving special mention to the Main Event trophy as it is plated with 18K gold and 925 Silver, making it the perfect tribute to a champion's triumph.

USOP Indian Winners
Quite a few Indian pros shipped titles at the recently concluded USOP Hanoi 2023, which took place in September. Vishal Ojha shipped the Main Event to take home VND 4,952,000,000 (~₹1,70,69,357) as Kunal Patni won event #32 High Roller: The Finale and earned a prize of VND 2,400,000,000 (~₹81,24,637). 
Similarly, quite a few Indians shined brightly at the USOP Hanoi 2023 event, with Abhinav Iyer bagging the Mini High Roller for VND 830,000,000 (~₹28,09,454) while Arjanveer Singh Chadha won the Megastack VND 372,000,000 (~₹12,59,177) and Sahil Agarwal shipped the Single Day High Roller for VND 680,000,000 (~₹23,01,463).
USOP Da Nang 2023 Tournament Rules
All the events will follow the Big Blind Ante format. It is also worth noting that a shot clock (30 seconds timer) will be used throughout the tournament, with 20 seconds on the clock for the Hyper events.
If a player fails to act before the shot clock expires with no time bank cards to use, the hand will be forfeited. The time bank cards are non-transferable and should be visible on the table during the course of the event. Remember the shot clock will be paused if the dealer needs to count chips with multiple denominations.
Players can grind in all the starting day flights during the tournament series for applicable events. Participants with multiple re-entries are allowed before late registration. It is also worth noting that these players will be handed a full starting stack.
However, these stacks will be blinded-off once all the players are allotted their seats. These players who have qualified via multiple stacks can only take their biggest stack forward with the other stack being forfeited.
USOP will keep 3% of the prize pool to cover the staff members' costs. Prizes above VND 10,000,000 are subject to a 10% government tax. The management reserves the right to cancel the total guaranteed prize pool owing to natural calamities, like earthquakes, flooding, typhoons, etc.
The management can also alter/ change the tournament schedule. The tournament director's decision is deemed to be final and cannot be challenged by any participant.
USOP Da Nang 2023 Travel and Stay
Indian players who are inspired by these winnings and wish to participate at the USOP Da Nang 2023, we got you covered! You can fly to Vietnam and make use of flight booking portals which offer discounts. You can check out platforms like MakeMyTrip, CheapFlights, SkyScanner among others to get your preferred flying options with a single return ticket costing anywhere between an average of ₹40,000 – ₹45,000.
From cities like Mumbai, Delhi, Bengaluru and Chennai, players can book tickets for VietJet Air, Vietnam Airlines, Singapore Airlines, and AirAsia. One of the best options we found online for players looking to get a return ticket would be to fly with IndiGo and take a connecting Thai VietjetAIR flight to land in Da Nang. 

It is also worth remembering that the cost of these tickets will vary based on the demands as well as when they are booked. It is always better to get the tickets sorted out first as they become expensive nearing the date of travel. If you are on a budget trip to Da Nang, one can also look at hotels which are easy on the pockets to stay that can cost anywhere from ₹2,800 – ₹5,000 per night near the event venue, depending on cost.
Places like the Monarque Hotel, which are roughly just 3.0 km away from the Furama Resort costing around ₹3,500 per night, acts as a good budget alternative. One can also look for apartments like the Daisy Boutique Hotel where one can find accommodations for less than ₹3,500 per night with the apartment set to be just half a km away from Furama Resort Danang.
You can also add a little flavour to your trip to Vietnam by enjoying some of the traditional dishes of the country. Here are some food items you must try in Vietnam, and you can also check out the souvenirs you can bring home too.
For more details and to have a soft copy handy with you at all times, you can download the USOP Da Nang 2023 Player Guide – click here. So, what are you waiting for? Get your travel arrangements sorted and be ready to win big at the USOP Da Nang 2023!
For more news and updates, keep reading GutshotMagazine.com. Follow us on Facebook, Instagram, Twitter, and Telegram.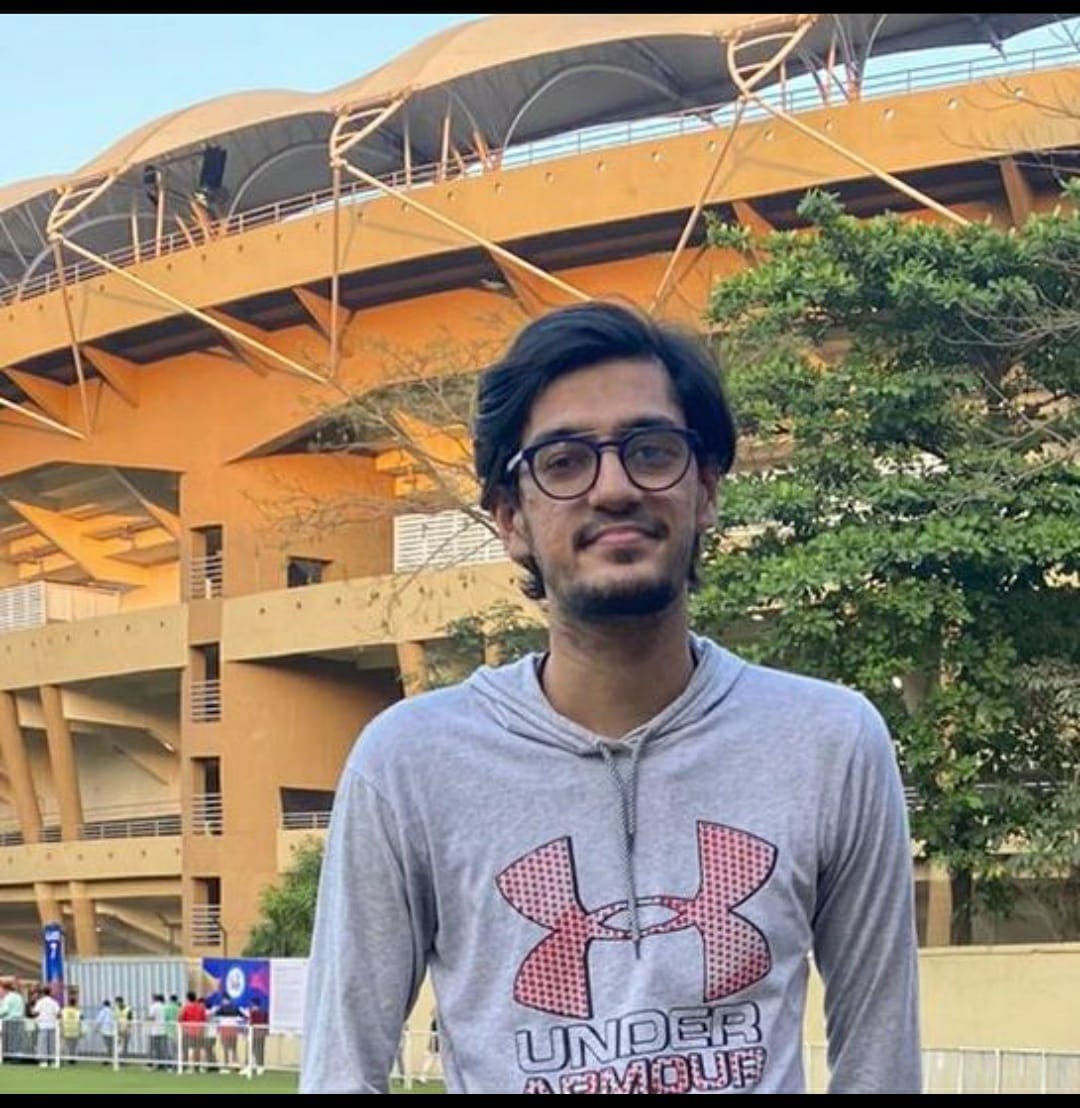 Smit is a sports writer at Gutshot Magazine. After completing his Bachelor's in Mass Media, and a Master's degree in Sports Management, this sports fanatic uses articles as a tool to express his opinions. Bring up cricket or football and you will find this usually quiet guy speak for hours! He also co-heads the official supporters club of Chelsea FC in Mumbai, wherein he hosts screenings, football meets and other such events.
---
---
More News
---
Comments