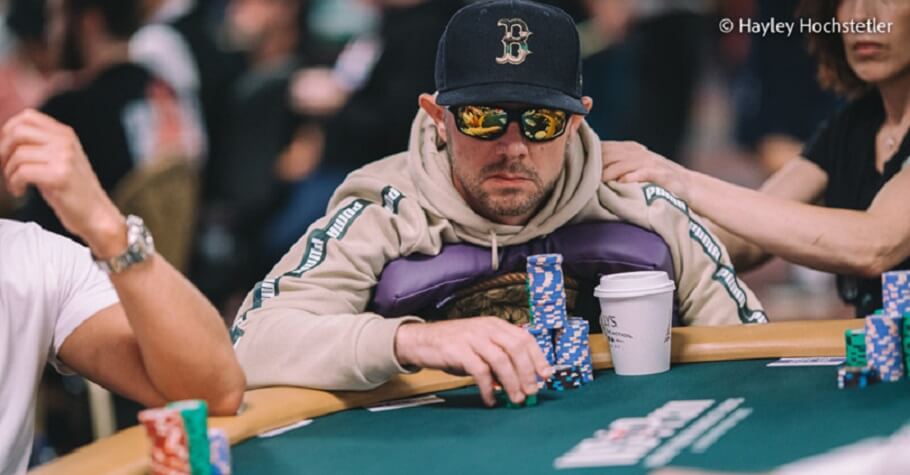 Poker
---
Who is WSOP 2022 Main Event Contender Jeffrey Farnes?
We've gone through six days of the World Series of Poker (WSOP) 2022 Main Event and there are just 35 players left from the original field of 8,663 entries. The field turned out to be the second biggest in WSOP Main Event history and slowly but steadily, we're reaching closer to the big payouts and to the crowning of the eventual poker champion of 2022.
We've been looking at multiple options of who could go on to be the WSOP 2022 Main Event winner and one of them was USA's Zilong Zhang while the other was last year's final tablist and PokerStars ambassador Alejandro Lococo. Both of these busted at some time during Day 6 while we're still looking at other potential winners of the most prestigious poker tournament in the world.
When Day 6 came to a close, players bagged and tagged and the person with the largest stack at the end of the night was USA's Jeffrey Farnes. He progressed among the final 35 players with a stack of 37.8 million chips, with a decent lead over the next best stack of Brian Kim's. He now has an advantage over his other competitors, and will be wanting to ride this chip lead on Day 7 too!
From the survivors, there's only one previous day chip leader in the mix and that's Day 3 chip leader Aaron Mermelstein who currently has a chip stack of 16.5 million. He'll be wanting to ensure he's not like the other day end leaders who busted quickly and couldn't make good of their advantage. Here, we'll let you know a little bit more of what we've learnt about Jeffrey Farnes…
Who is Jeffrey Farnes?
At the end of Day 5 of the WSOP 2022 Main Event, Farnes was among the top 20 stacks of the night, progressing with 7.7 million chips and ending with a stack of nearly 5x of what he began with today. Residing in Salem, Oregon, USA, the poker player has only $181k in live poker tournament cashes and whatever he takes home from here will be higher than his career cashes so far!
This is because payouts resume tomorrow on Day 7 for 35th place at $262,300 and this will be almost 4x of his previous highest live cash, which he got earlier this month itself for finishing 7th in a $2,500 buy-in tournament at the MGM Grand Summer Series. He got $61,250 for that final table finish and it shows that he's been in great form right now on the live felts.
We've seen a lot of less experienced players making the final few survivors and Farnes is definitely one of them as he's got only two other cashes in the ongoing WSOP 2022 series, finishing 570th in the $500 Housewarming Event and then 188th in the Mini Main Event. Regardless of where he finishes in the Main Event from here on, it's already the performance of his career so far.
Interestingly, it was Farnes itself who busted PokerStars ambassador Lococo, ending a dream of what could've been two consecutive WSOP Main Event final tables. It was a hand against Tzur Levy around an hour before the end of day that he catapulted into the chip lead, and he didn't feel like giving it away from there.
On a board of 5 ♦ Q ♣ 10 ❤ 9 ♣ 9 ❤ , Farnes was up against Levy and won a hand of over 9 million chips, as he overturned 9 ♦ 9 ♠ and shouted "Quads" to declare his victory. When he returns tomorrow, he'll want to resume with the same vigour and composure, to keep the dream alive of winning the WSOP 2022 Main Event. See that hand here: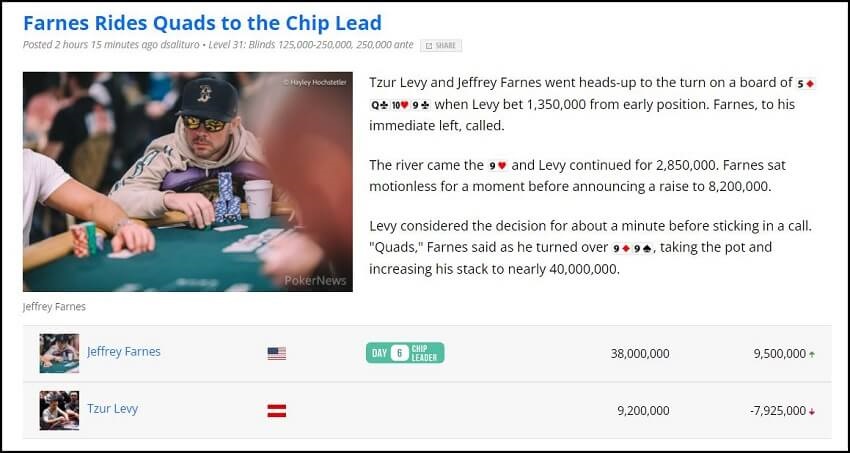 However, it's not going to be easy as there are a few gold bracelet winners still in contention in Espen Jorstad, Kenny Tran, and 2-time bracelet winner Marco Johnson, while WSOP 2020 Main Event champion Damian Salas is also still in the mix. Clearly, nothing is going to be easy when play resumes on Day 7.  
"I guess it's every poker player's dream. It's surreal. I think I'll pinch myself when this whole thing's over," said Farnes about ending Day 6 as the chip leader. He also commented about busted Alejandro Lococo from the field, saying, "I just kind of felt like it was time to get one of the toughest players in the field out, so I tried it." 
Image credits: Hayley Hochstetler / PokerNews
We don't have too much information on Jeffrey Farnes' journey so far and how he managed to get here and make such a deep run in the WSOP 2022 Main Event. But we'll be updating this space as soon as we have these details. So for more updates on his journey and on the WSOP 2022 tournament as a whole, stay tuned to GutshotMagazine.com…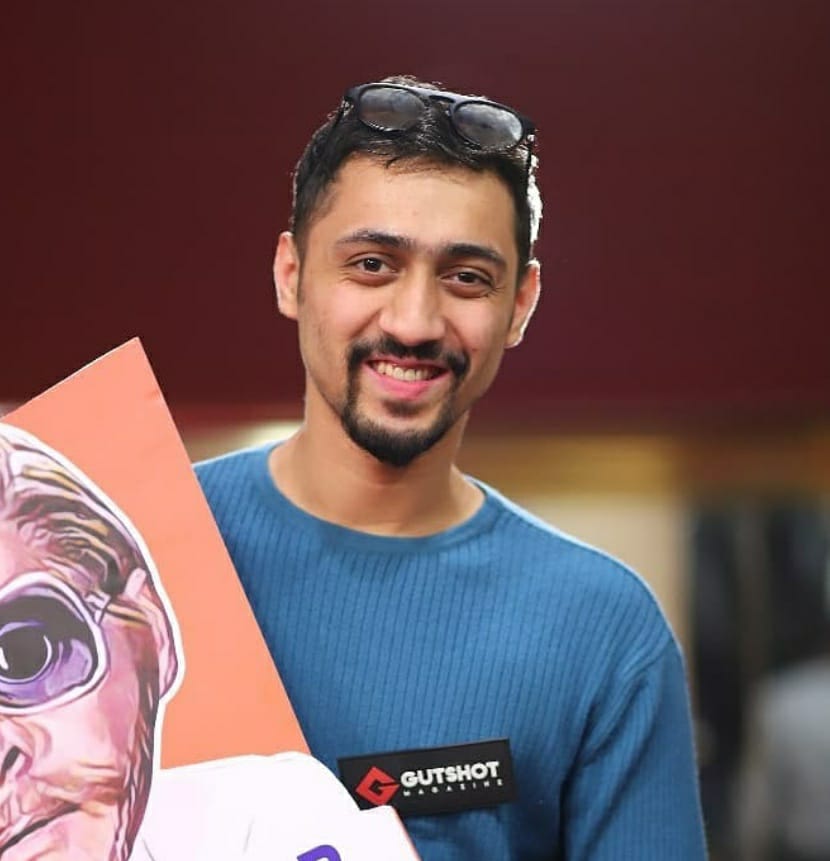 A graduate in Business Management, Dwayne began his career as a content writer for a virtual sports betting company and then for Gutshot too. Now, he heads marketing and business operations at Gutshot and while he's no expert in poker, he enjoys the occasional weekend home games. He was introduced to the industry in 2017 and has made quite a few friends along the way. Outside of poker, he is an avid cricket and sports fan, loves his bikes and of course, a good party! If you want to reach out to him for partnerships and collaborations, feel free to send a message at dwayne@gutshotmagazine.com.
---
---
More News
---
Comments