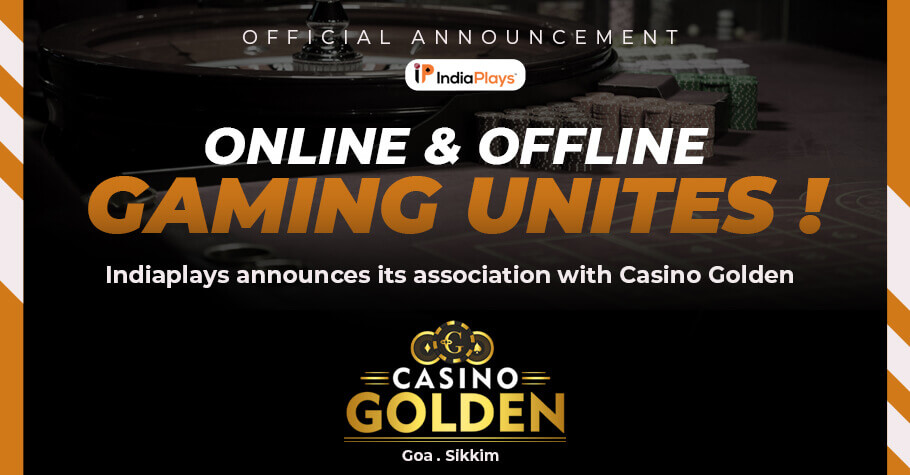 Casino
---
A Golden Chance: Casino Golden Shines In Goa's Casino Arena
A gateway to a golden gaming experience in Goa is now open! It will also join with India's most-rewarding online gaming destination. As much as the sun, the sea and the sand, the Goan landscape also boasts of bustling casinos, which are every gamer's paradise. The state has been a haven in a lot of ways for a lot of people. The newest entrant in this exciting casino arena is Casino Golden. It's a novel way of gaming, that's all about glamour, glory and grandeur.
This in-vogue destination that has recently opened to the public, is made jazzier with 24×7, unlimited, live entertainment, all days of the week. It also offers exciting packages, complimentary drinks and snacks for those who want a taste of all the fun!
With over 250 million gamers just online in India, the casino industry is only set to expand and touch new horizons. Mr. Mukesh Ganatra, founder of Casino Golden says, "There are casinos and then there is Casino Golden. Our casino is built with the focus on the players, who not only want to play but are also looking for an escape from the mundane. Goa is one of the most preferred travel destinations for Indians. By creating a place like Casino Golden, we are adding another star to the glory of the Susegad state."
As we surface through the COVID-19 pandemic, when everything was remote, even gaming, Casino Golden is here to once again make its customers experience the joy of being in-the-moment while playing. The casino follows strict COVID-19 safety protocols, performing temperature checks, sanitised chips & tables, contactless payments and social distancing.
At Casino Golden players can indulge in games like roulette, casino war, baccarat, andar bahar, teen patti, blackjack, slots and more! Packages for the casino start as low as ₹2000 that offers one-time play chips worth ₹1000, complimentary drinks, buffet and access to live performances and constant entertainment. To make it much more entertaining for its players, Casino Golden will also be joining hands with  IndiaPlays, a popular online gaming destination. This is an amalgamation of the online and offline worlds of gaming, with an aim to create an unforgettable experience for their players and to offer them a chance to win real money by using their skills.
ALSO READ: Don't Miss These Blockbuster Movies If You Love All Things Casino
IndiaPlays is a newly-launched poker platform that has gone 'all-in' when it comes to its player-first policy and customer service. Offering two poker game variants, Texas Hold'em and Omaha, it is fast becoming India's most-loved poker destination. Launched this year, poker enthusiasts and professionals can use their skills to play poker and win real money, 24×7, from anywhere. It is soon to launch rummy and fantasy leagues as a part of its game offerings.
"We want to offer the best of both worlds to our players by building an association with Casino Golden. This way, we are able to engage all six senses of our players and take their gaming experience to another level," says Mr. Jitendra Ganatra of IndiaPlays. This association between IndiaPlays and Casino Golden is sure to bring great news for India's gamers, online and offline. Casino Golden will soon be opening in Sikkim and the association will only grow stronger from there.
Located at La Calypso, Baga, Casino Golden, a state-of-the-art happening casino is just what you need on your next Goa trip! Follow Casino Golden on Facebook, Instagram and LinkedIn (casinogoldengoa) and stay tuned! The grand launch will be coming soon! Keep watching this space for more! You can also follow IndiaPlays and Casino Golden to know the latest updates.

---
---
More News
---
Comments