Poker
---
WSOP 1970 Main Event Winner – Johnny Moss
Every year, poker players from across the globe go gaga about the World Series of Poker (WSOP) during the June-July period. It's easily the most prestigious live poker brand on the planet and while the participation numbers are growing each year, have you ever thought about how this brand came into existence and what were its roots?!
In this article, we're going to take you back to the start of the World Series more than five decades ago, when most of you were not even born. Today, winning a WSOP event is every poker player's dream but back in 1970, it was just another poker gathering. Little did they known than so many years later, this would be a household name for poker professionals and even recreational players.
WSOP as a brand today takes place in Las Vegas each year, while other events like WSOP Europe is a regular feature on the annual calendar, and WSOP Asia-Pacific has also been hosted a couple of times. However, the initial few events all took place between a handful of players in Las Vegas, Nevada, USA. Today, we talk about the historic and momentous WSOP 1970 event!
Johnny Moss wins WSOP 1970 Main Event
This was the first time that an event called the World Series of Poker took place. For starters, you'd be surprised that the winner was decided from a vote by the players, and not by the usual freezeout format tournaments that you see in the modern day. A few players participated in an invite-only event where the best poker player in America was to be decided.
Clearly, the term 'World Series' didn't really apply back then because Jack Binion invited who he believed were the seven best poker players in America at the time, to Binion's Horseshoe Casino in Las Vegas. For those who don't know, Jack is an American business and son of casino magnate Benny Binion, currently still active at the age of 85 years.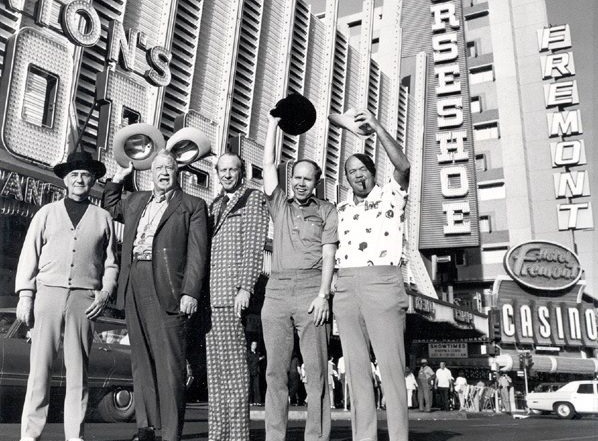 Johnny Moss, 'Amarillo Slim' Preston, Sailor Roberts, Doyle Brunson, Puggy Pearson, Crandell Addington, and Carl Cannon were the seven players invited to decide the best poker player in the country by vote. As the legend goes, each player only voted for themselves and there was a need for a second round of voting where they had to vote for the second-best player in the room.
Post the second round of voting, Johnny Moss was announced the winner of the inaugural WSOP event by result of vote of players. He was awarded a silver cup rather than a gold bracelet because the bracelets only came into existence as a prize since WSOP 1976. He didn't even need to battle it out with other players but just needed to play a small cash game session prior to the voting! Technically, it wasn't even a 'Main Event' back then.
It goes to show how WSOP has grown as a brand over the decades. From a single event in a room of seven players to hosting 100+ bracelet events every edition, this poker series has scope to become one of the biggest sporting events in the world. And you will always remember Johnny Moss as the first winner of this historic poker series, one which sees players from almost every country in attendance each year.
Who is Johnny Moss?
An American gambler and later poker player, Johnny Moss will always be remembered as the first WSOP winner of all-time. However, he also won the WSOP 1971 and WSOP 1974 Main Event, which was played in the format it is played today. He played the tournament-style events in the years to come as well and his WSOP stats include 25 ITM finishes and as many as 9 bracelets to his name, amounting to $800k+ in WSOP cashes.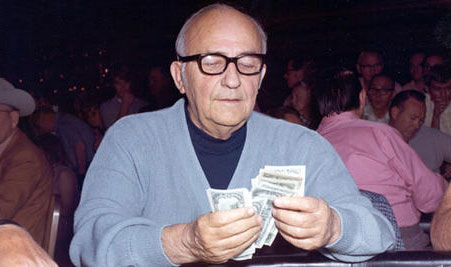 Known as the 'The Grand Old Man of Poker', he was born in Texas in 1907 and passed away in 1995 at the age of 88 years. At WSOP 1988, he won the $1,500 Ace to Five Draw tournament which was his last career gold bracelet. This also made him the oldest bracelet winner (at the age of 81 years) in history, a record which stands till date.
Moss is one of the few players in the world who have won the WSOP Main Event on more than one occasion and you can check out our list of all WSOP Main Event winners too, where some of the best poker players in the world have been featured over time. And for similar stories and reports on the WSOP Main Event winners from every edition over time, stay tuned to GutshotMagazine.com…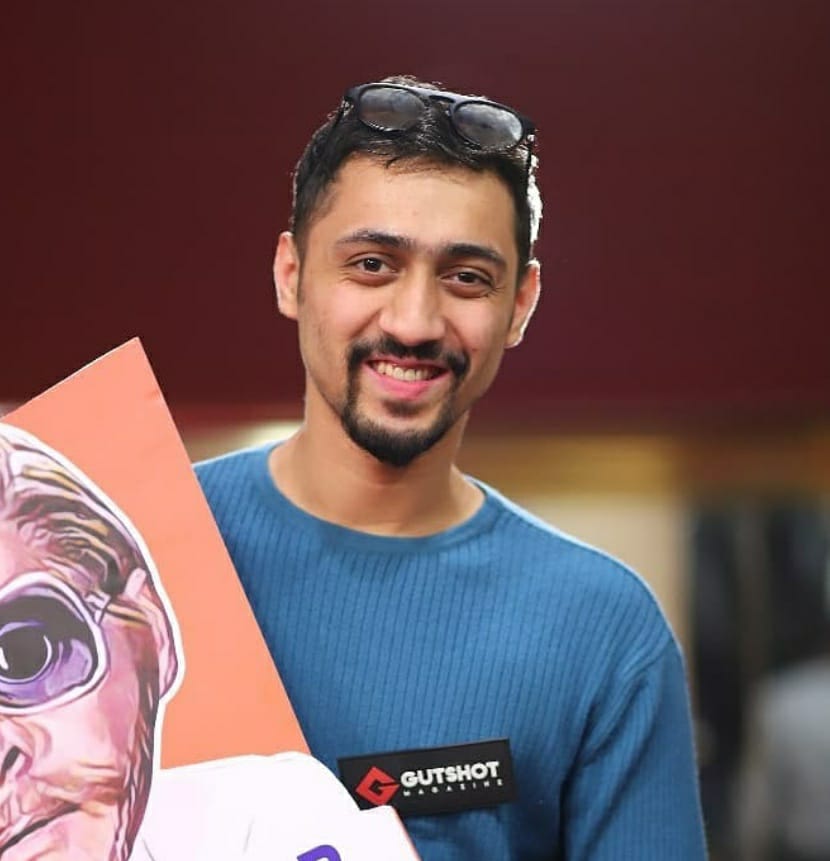 A graduate in Business Management, Dwayne began his career as a content writer for a virtual sports betting company and then for Gutshot too. Now, he heads marketing and business operations at Gutshot and while he's no expert in poker, he enjoys the occasional weekend home games. He was introduced to the industry in 2017 and has made quite a few friends along the way. Outside of poker, he is an avid cricket and sports fan, loves his bikes and of course, a good party! If you want to reach out to him for partnerships and collaborations, feel free to send a message at dwayne@gutshotmagazine.com.
---
---
More News
---
Comments