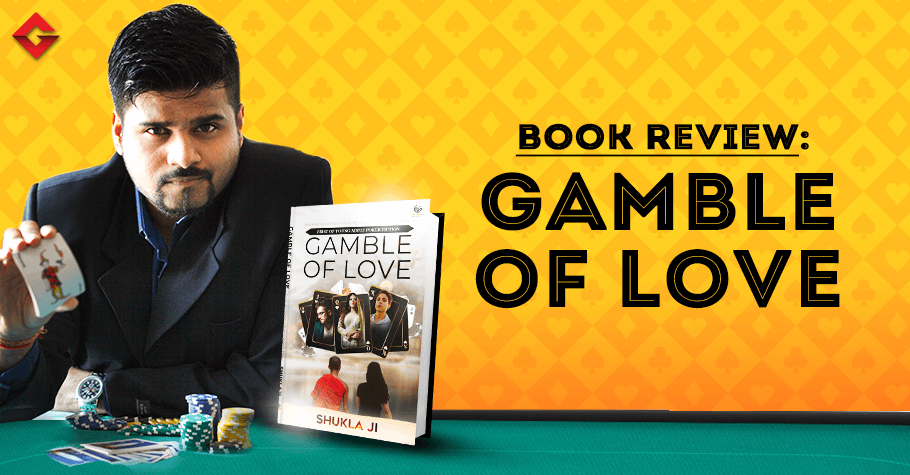 India
---
Shuklaji's Gamble of Love is Now Available in Stores!
"Weaving a story from Mumbai to London with a poetic fantasy derived from history of India and Pakistan, he takes you on a ride around the world in 250-odd pages and you're guaranteed to have a good time reading this one!"
Here's a small review you can read from me if you open a copy of 'Gamble of Love', a book on young adult poker fiction, launched only last week and available on Amazon and other online stores worldwide. The book resonates with millennials and of course, poker players, and is a good read overall.
It's a creation of Prateek Shukla, better known by his pen name Shuklaji – his second published work after Buddha's House of Mirrors. His second book has similar spiritual undertones and covers the lives of teenagers who are discovering love, relationships, spirituality, and our most favourite game of poker.
You could probably find hundreds of poker strategy books online if you want to improve your game. Shuklaji however, hasn't written to teach you a lesson about poker. He's taken the fictional route and created a story that speaks about the lives of multiple characters spread around the world, and poker is the only common link between them all.
Between these pages, you can expect plenty of thrill, adventure, twists and turns in the plot, and a lot of Full Houses beating Flushes and Ace-high bluffs. While the protagonist is Alia, other important characters are also depicted in Suhana, Karan, Jackie, Yuva and even a humourous and sarcastic AI bot in Sia! Very few fictional books are complete without the bad guys and there's a bunch of them in this story as well.
Without getting too technical into the strategies involved in playing hands or how to progress through the multiple stages of tournament poker, Shuklaji has ensured he's pointed out multiple times that poker is NOT A GAMBLE. All you readers will relate to the book at multiple stages but especially so when at one point, Jackie sits upright leaving a heavy laughter when another character refers to the mind sport as gambling!
The Industry Reacts to Gamble of Love
"An intriguing storyline around poker, echoing the idea that it is indeed a game of skill" – Roland Landers, CEO, All India Gaming Federation.
"Fast-paced story with beautiful poetic snippets. Poker is definitely more of a skill game than luck. Love is more of a luck game than skill to be honest. You got to be spiritual, you got to be within yourself – calm and composed – important qualities for a poker player" – Siddhanth Kapoor, Bollywood actor, DJ, entrepreneur and poker player.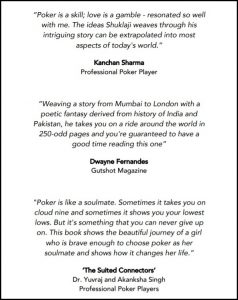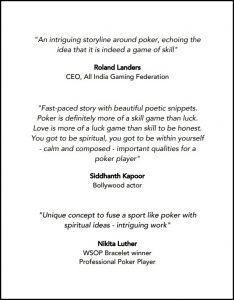 "Unique concept to fuse a sport like poker with spiritual ideas – intriguing work" – Nikita Luther, WSOP Bracelet winner, professional poker player.
"Poker is a skill; love is a gamble – resonated so well with me. The ideas Shuklaji weaves through his intriguing story can be extrapolated into most aspects of today's world." – Kanchan Sharma, professional poker player.
"Poker is like a soulmate. Sometimes it takes you on cloud nine and sometimes it shows you your lowest lows. But it's something that you can never give up on. This book shows the beautiful journey of a girl who is brave enough to choose poker as her soulmate and shows how it changes her life." – Dr. Yuvraj and Akanksha Singh, professional poker players aka 'The Suited Connectors'.
Who is Prateek Shukla?
An investment banker based in the United Kingdom, Shukla only recently ventured into the field of writing. After reading this second book of his, we surely think there's a bright future in his writing career.
No author could've attempted a book on poker without first understanding the nuances of the game himself. In our last conversation with Shuklaji, he told us how he was introduced to the game during his undergrad days and how he hopes to participate in a live tournament with our Indian pros sometime soon!
Gutshot reached out to him for a few insights into the book and you can read about it below…
Prateek, what inspired the book cover of Gamble of Love?
"The royal flush of hearts with characters in Alia's life shown in face cards and the presence of the monk makes it easier for some to guess there is an essence of spirituality that will weave this poker thriller and a pinch of history from the way Suhana is depicted as a dancer.
Tell us more about the main characters in your book?
Alia – An orphaned prodigy in poker. Her hero's journey takes us through her incessant need to belong. In search for familial love, Alia challenges her gift in numbers and narrates her past to a Buddha where the entire story line of the book is covered.
Jackie – Being a vagabond, giving the same vibe as our very own Jackie Shroff (Bhidu), he keeps us engaged in his distant yet caring attitude towards Alia.
Karan – A young spy who is portrayed with his bitter sweet bond with a sarcastic digital assistant Sia who work together towards dismantling a criminal network called Messiah Circle.
Suhana – Another orphaned prodigy who finds her past calling her back from Pakistan to India, where she gets embroiled into the Messiah Circle only to fall in love with her captor, Yuva. In her story, expect historical anecdotes of the Indus region.
After the successful launch of this book, Shuklaji will now also be working on getting a screen adaptation in place in the near future. We've seen iconic poker movies come around over the decades like Rounders, Molly's Game and others. Could Gamble of Love be the next? To get your Paperback or Kindle edition of Gamble of Love, available on Amazon.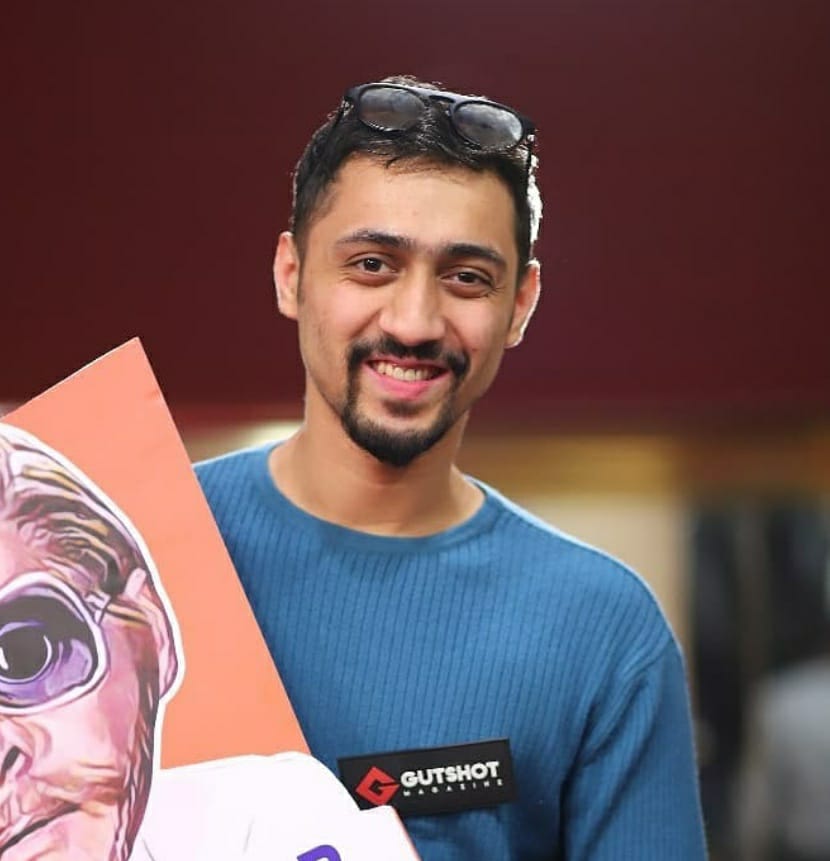 A graduate in Business Management, Dwayne began his career as a content writer for a virtual sports betting company and then for Gutshot too. Now, he heads marketing and business operations at Gutshot and while he's no expert in poker, he enjoys the occasional weekend home games. He was introduced to the industry in 2017 and has made quite a few friends along the way. Outside of poker, he is an avid cricket and sports fan, loves his bikes and of course, a good party! If you want to reach out to him for partnerships and collaborations, feel free to send a message at dwayne@gutshotmagazine.com.
---
---
More News
---
Comments