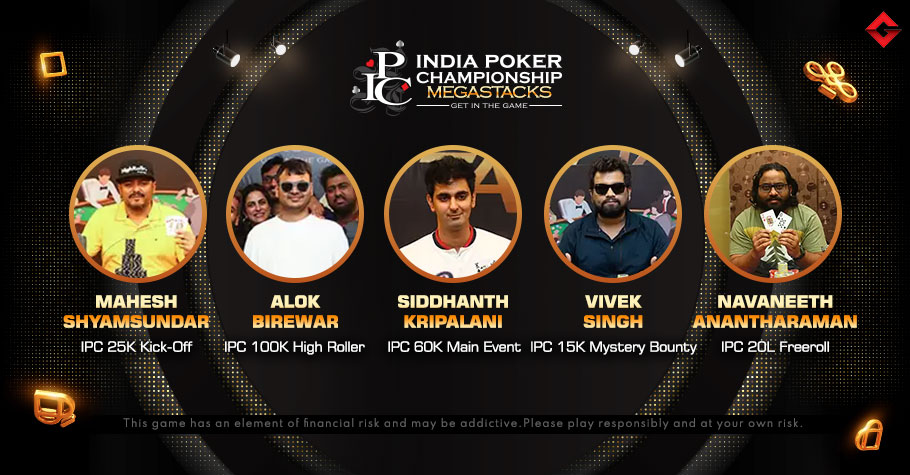 Poker
---
IPC Megastacks May 2022: The Success Story of India's Young Poker Talents
Earlier this week, the India Poker Championship (IPC) Megastacks May 2022 finally concluded, following a week-long extravaganza of exciting tournaments, glitz and glamour galore. Following a brief hiatus of two long and arduous years, imposed by a global pandemic, the IPC Megastacks which commenced on 17th May and ended on 23rd May, witnessed a tremendous turnaround of young and veteran poker players. The team at Gutshot Magazine also ensured its representation through pro-players Dhirendra Kumar and Anant Purohit, who flaunted the Gutshot patch on their sleeves and grinded deep. From fanciful chopper rides to courteous hospitality, players were in for a lifetime experience to cherish at the IPC Megastacks, May 2022, hosted at the Big Daddy Casino in Jhapa, Nepal. Incidentally, with its presence in Nepal, the current edition of the IPC marked its second international presence, following its inaugural international event at Colombo, Sri Lanka, in 2013.
Bringing their A-game to the fore, these players rushed to the live felts to grind with immense gusto and claim their moment of glory amidst celebrated poker greats which included WSOP bracelet winners Aditya Sushant, Abhinav Iyer and Nikita Luther. The event further witnessed a huge celebrity quotient with the attendance of actors Minissha Lamba, Siddhanth Kapoor, Aly Goni and others. With five big-ticket tournaments namely, the 25K Kick-Off, the 100K High Roller, the 60K Main Event, the 15K Mystery Bounty and the 20L Freeroll, this edition of the IPC witnessed the convergence of the best poker talents, established and emerging, play, socialize and exchange footnotes about the game. Although much lesser in comparison to their male-counterparts, it was interesting to witness a lot of female energy turn up on the live felts.
---
ALSO READ: IOPC June 2022 Schedule Out Now!
---
25K Kick-Off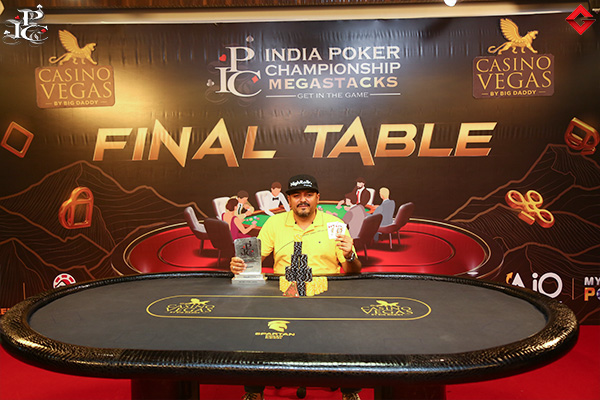 Beginning with the 25K Kick-Off, the event saw its first winner in Bengaluru-based 35-year old Chartered Accountant, Mahesh Shyamsundar. Shyamsundar crushed the event for an impressive ₹8,15,579, as he opted for a deal with Sameer Agarwal, who finished at the second spot with ₹9,87,442 and Kanishka Samant, who finished third with ₹6,74,788. Winning the admiration of everyone for his calm and composure, Shyamsundar swept the Kick-Off while competing against fellow Final Tablists including Harsh Bubna, Arjanveer Chadha, Vatsal Kumar, Samay Modi and Ashish Ahuja. For detailed highlights, click here.
Final Table Payouts:

| | |
| --- | --- |
| Mahesh Shyamsundar | ₹8,15,579 (Deal) |
| Sameer Agarwal | ₹9,87,442 (Deal) |
| Kanishka Samant | ₹6,74,788 (Deal) |
| Harsh Bubna | ₹7,19,791 (Deal) |
| Arjanveer Chadha | ₹2,72,000 |
| Vatsal Kumar | ₹2,25,400 |
| Samay Modi | ₹1,92,100 |
| Ashish Ahuja | ₹1,63,900 |
100K High Roller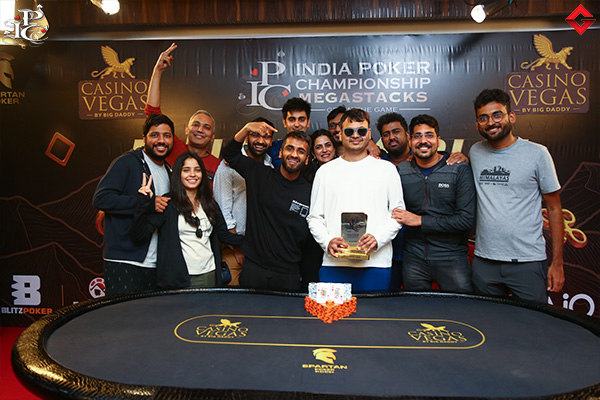 Next was the 100K High Roller which witnessed a rather action-packed showdown. The Final Table included heavyweights featuring WSOP bracelet winners Nikita Luther, Abhinav Iyer and Bollywood biggies Siddhanth Kapoor and Aly Goni. Ultimately, the event was shipped by Alok Birewar, former third-place finisher at the January 2020 IPC Main Event, for a mammoth ₹40,71,000, followed by Arsh Grover at the runner-up spot with ₹31,00,000 and Faiz Alam at the third spot with ₹16,72,400. For detailed highlights, click here.
Final Table Payouts:
| | |
| --- | --- |
| Alok Birewar | ₹40,71,000 (Deal) |
| Arsh Grover | ₹31,00,000 (Deal) |
| Faiz Alam | ₹16,72,400 |
| Siddhanth Kapoor | ₹10,17,900 |
| Nikita Luther | ₹7,85,700 |
| Anuj Yadav | ₹6,51,200 |
| Aly Goni | ₹5,64,000 |
| Abhinav Iyer | ₹4,97,200 |
60K Main Event
The third and the most important event of the IPC i.e, the 60K Main Event witnessed an epic heads-up between WSOP bracelet winner Aditya Sushant and poker champion Siddhanth Kripalani. Eventually, the event was shipped by Kripalani at a massive payout of ₹39,72,700 who opted for a deal with Sushant securing the second position with ₹33,50,000. The Main Event which opened its field to a total of 334 entries, saw Kripalani holding a gigantic chip lead throughout the event. Despite a deal between the final two players, the board witnessed an intense and electrifying heads-up. Players who made it to the Final Table also include Anand Thakur, J Raju, Siddarth Singhvi, Niharika Bindra, Sumit Sapra and Rajasekhar Puttamsetty. For detailed highlights, click here.
Final Table Payouts:
| | |
| --- | --- |
| Siddhanth Kripalani | ₹39,72,700 (Deal) |
| Aditya Sushant | ₹33,50,000 (Deal) |
| Anand Thakur | ₹19,40,300 |
| J Raju | ₹12,43,500 |
| Siddarth Singhvi | ₹9,58,900 |
| Niharika Bindra | ₹7,93,600 |
| Sumit Sapra | ₹6,66,300 |
| Rajasekhar Puttamsetty | ₹5,47,100 |
15K Mystery Bounty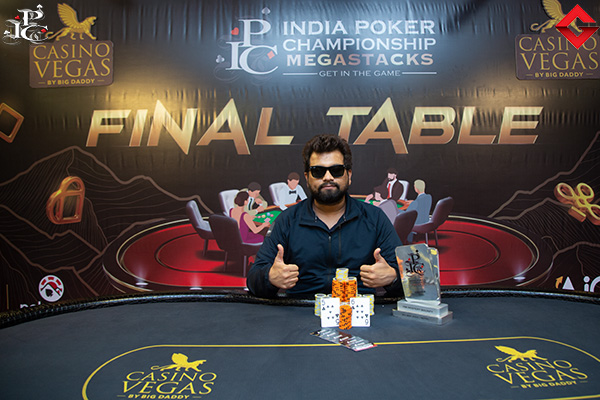 In a first, the IPC hosted the 15K Mystery Bounty event which aroused a great sense of enthusiasm and participation amongst the Indian poker fraternity. 105 players flocked to the felts of Casino Vegas and brought the final prize pool to ₹5,25,000. The team at Gutshot Magazine had also hosted a raffle draw through which three players namely, Sarala Ramakrishnan, Samay Modi, and Saransh Garg were chosen. The event was eventually shipped by Vivek Singh who achieved his second-best live felts performance with ₹3,14,900. Finishing second after him was Yuvraj Singh with ₹1,94,300. For detailed highlights, click here.
Final Table Payouts:
| | |
| --- | --- |
| Vivek Singh | ₹3,14,900 |
| Yuvraj Singh | ₹1,94,300 |
| Avijit Jaiswal | ₹1,16,600 |
| Abhishek Jain | ₹76,100 |
| Sarala Ramakrishnan | ₹58,800 |
| Faiz Alam | ₹48,300 |
| Harshad Barve | ₹41,000 |
| Vikaash Shah | ₹35,700 |
20L Freeroll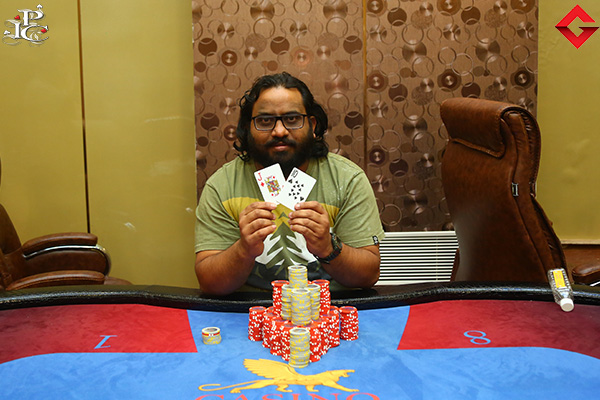 With the final tournament of the 20L Freeroll, the May 2022 edition of the IPC drew to an end. With 76 entries on the field, this event witnessed a two-way deal struck between the final two players, including a split pot and an additional ₹35,000 for the winner. With a min-cash of ₹30,000 guaranteed for the top 10 spots, the event also gave away tickets worth ₹10 Lakh for the upcoming 13th edition of the India Online Poker Championship (IOPC) in June 2022. The event was shipped by Navaneeth Anantharaman for ₹2,85,000. Finishing second in this Freeroll was Sameer Rattonsey at ₹2,50,000. The Final Table included Shashank Murarka, Nikita Luther, Varun Jain, Dipanjali Anand, Dzianis, Paawan Bansal, Kunal Yadav and Rishab Dalmia who made it to the min-cash. For detailed highlights, click here.
Top 10 Payouts:

| | |
| --- | --- |
| Navaneeth Anantharaman | ₹2,85,000 |
| Sameer Rattonsey | ₹2,50,000 |
| Shashank Murarka | ₹1,20,000 |
| Nikita Luther | ₹82,000 |
| Varun Jain | ₹62,500 |
| Dipanjali Anand | ₹50,000 |
| Dzianis | ₹45,000 |
| Paawan Bansal | ₹40,000 |
| Kunal Yadav | ₹35,000 |
| Rishab Dalmia | ₹30,000 |
To summarize briefly, the long and much-anticipated wait for a fascinating, happening edition of the IPC was worthwhile and extremely eventful. We can truly say that live events have resumed with a bang and how. While the series ended on a successful note, it has left all of us wondering when will the next IPC series be hosted?
For more news and updates, keep reading Gutshot Magazine or follow us on our social media handles. We are present on Facebook, Instagram, Twitter, and Telegram.

---
---
More News
---
Comments