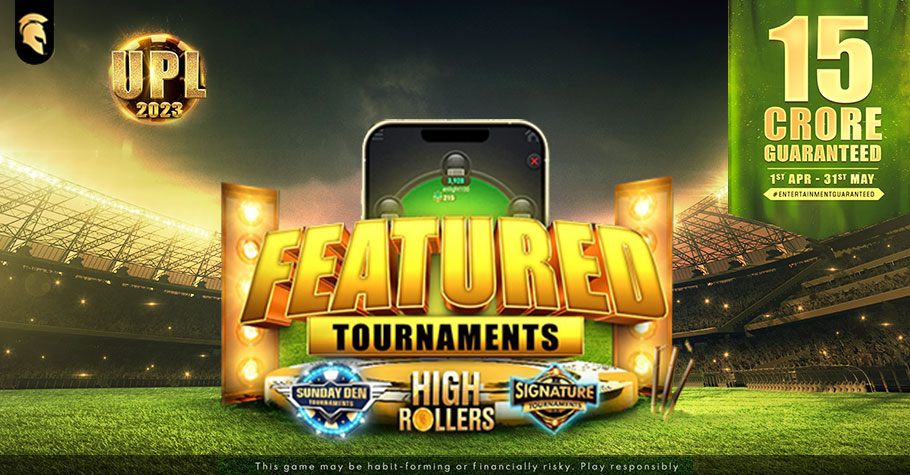 Poker
---
GTD of 15 Crore? Yes, Check Out Spartan Poker's Featured Tournaments
Earning money has never been easier, but with Spartan Poker's recently launched offer, the dream of making money quickly will undoubtedly come true. This offer will continue to reward poker players with large payouts for two months in a row. And all you have to do to win a large portion of the prize money is keep playing in Spartan Poker's featured tournaments.
To help players win maximum value, Spartan Poker has launched three blockbuster featured tournaments every week. Let's check out this terrific tournament trio.
High Roller
There are three high roller tournaments in which players can begin their quest for big wins. Tuesdays, Wednesdays, and Thursdays will be the days when you must stay glued to your devices to participate in these high rollers. The buy-in for Tuesday's High Roller tournament is ₹11,000, with a prize pool of ₹15 Lakh GTD. Wednesday's buy-in will be ₹16,500 for an ₹18 Lakh GTD, and Thursday's High Roller will be for ₹22 Lakh GTD with a ₹22,000 buy-in.
Signature Tournaments
Signature tournaments will include a host of some of the most exciting tournaments lined up throughout the week between Monday to Saturday. The best part is players who want to participate in these tournaments can begin with a minimum buy-in of ₹2,200.
---
Also Read: Ishaan Pandya's Unfathomable Gameplay Made Monday Night Magical
---
Sunday Den
Trust me! The final day of the week will be one to remember. You may have come across tournaments scheduled on Sundays that require a large buy-in amount to participate. However, with Spartan Poker's Sunday Den tournament, you can begin playing with as little as ₹330.
It is now time to awaken the magical dates that will allow you to compete in this magical tournament trio. The events will run from 1st April to 31st May 2023, and Spartan Poker has no plans to prevent any of you from winning big.So, get going for two months straight and be ready to fill your pockets with only money.
We won't let you leave before providing you with a benefit in addition to this. So now the sign-up offer appears. Use the promo code 'GUTSHOT' when you first sign up on Spartan Poker to be eligible for a 500% power bonus plus 750 tournament money (TM) after making a ₹1,000 deposit. Just remember that you will be qualified for this offer only if you use the promo code 'GS1K' when making a deposit.
We are aware of your commitment to both work and play. Therefore, Spartan Poker does not give you a small penny to simply satisfy you with something as a reward for your hard work. But it treats you with such a large payout that is both excessively rewarding and unthinkable. So, start playing poker on Spartan Poker right away and reap your rewards.
For more news and updates, keep reading Gutshot Magazine. Follow us on Facebook, Instagram, Twitter, and Telegram.

A young and passionate writer with a postgraduate degree in Radio and Television Journalism from the Indian Institute of Mass Communication, Kumar Shubham works as an Executive Content Writer for Gutshot Magazine and enjoys watching movies, making short films, and doing voice overs.
---
---
More News
---
Comments