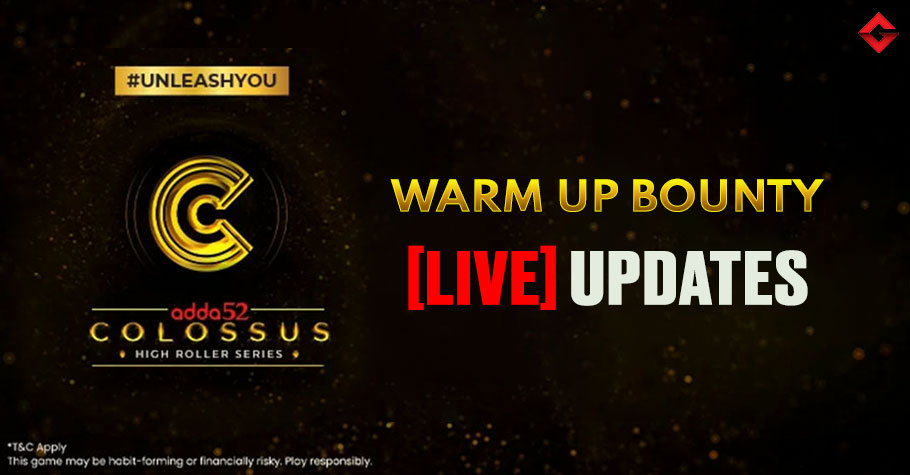 Poker
---
Adda52 Colossus Aug 2022 – 50K Warm Up Bounty LIVE Updates
Shravan Chhabria Wins 50K Warm Up Bounty Event
Popular playe Shravan Chhabria has clinched his first-ever Colossus title by shipping the 50K Warm Up Bounty Event for ₹8,96,000, along with ₹1.5 Lakh in bounties and the Colossus trophy. Pratik Kumar finished at the runner-up event for ₹5,68,000 and ₹60,000 in bounties. 
Read about the winning hand, final payouts, and more here.
2.58 AM: Gurpal Singh eliminated in the 7th position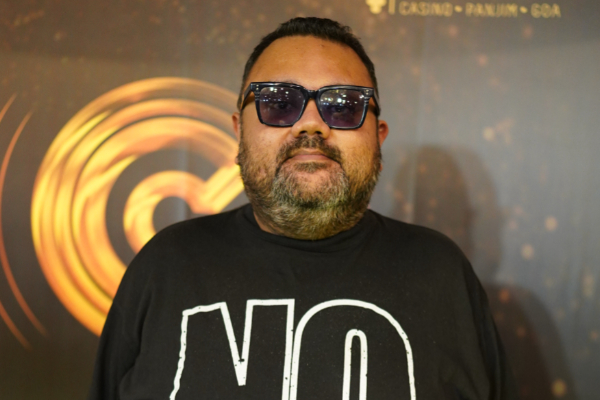 On Level 17 with blinds at 6,000/12,000, ante 12,000, Gurpal Singh shoved all-in for 127K. Rugal Advani called Singh's bet. Advani had Jh 10h and Singh showed Ah Jd. The community cards favoured Advani who got two pairs with his Jacks and Tens. Singh who had the second biggest chip stack when final table was set left the table with a pay cheque of ₹1,24,500.
2 AM: Somashekar KM out of the game in 8th spot
Somashekar KM out in the 8th position of ₹1,08,000. On Level 15 with blinds at 4,000/8,000, ante 8,000, preflop action had Rugal Advani (Ax 8x) raised it to 25K. Somashekar KM (Qx Qx) shoved all-in with 52K. Advani thought for a bit and made the call. The board ran out Ax 7x 6x 5x 7x and gave Rugal better two pairs.
1 AM: Aditya Agarwal out in 9th place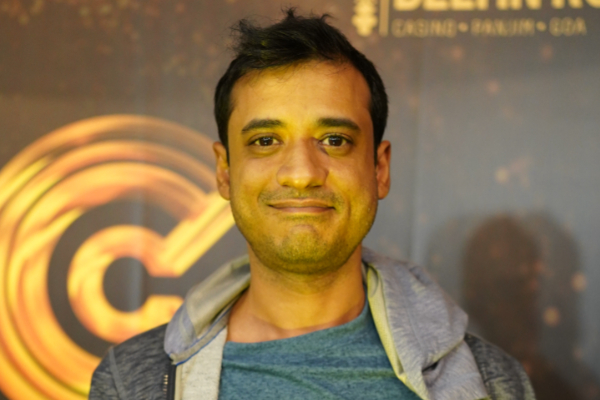 The former Colossus Main Event winner Aditya Agarwal sadly exited the tournament in the 9th spot for ₹95,000. Agarwal entered the final table with the shortest stack of 55,000 chips. The poker pro with Ax 3x shoved his chips (around 50K) and Shravan Chhabria (pocket sevens) from the big blind position made the call. The community cards fell 6x 7x 8x 6x Jx which gave Chhabria full boat and Agarwal was out.
10.50 PM: Final Table is set with nine players, Amarnath Chayanam leading the pack
| | |
| --- | --- |
| Player  | Chips |
| Amarnath Chayanam leading the pack | 4,09, 000 |
| Gurpal Singh | 3,17,000 |
| Rugal Advani | 2, 54,000 |
| Rajesh Jagannadham | 2,12,000 |
| Sreeram Immadi | 2,01,000 |
| Pratik Kumar | 1,89,000 |
| Shravan Chhabria | 1,71,000 |
| Somashekar KM | 1,52,000 |
| Aditya Agarwal | 55,000 |
10.30 PM: Two well-known players are out!
At Level 13, blinds 3,000/6,000, ante 6,000, poker pro Kartik Ved busted in the 12th position for ₹86,500. Another well-known pro who exited the tourney was Ratul Steves. He busted at the 13th spot for ₹80,000.
10 PM: Kartik Ved shows Prashant Jain Bhutoria the exit way
At Level 12, blinds: 1,500/3,000, ante 3,000, the preflop action witnessed Kartik Ved (Ax 5x) calling a bet by Prashant Jain Bhutoria (Ax Qx). The first three community cards were Ax Kx 8x. This gave both players one pair with their Aces. But Bhutoria was still ahead given his Queen. He made a bet of 3,500 and the WSOP (online) bracelet winner made the call again. The turn revealed 5x and took the lead away from Bhutoria as Ved now had two pairs. The river opened Jx and with that Bhutoria was out of the game.
9:34 PM: Srijan is the bubble boy of the 50K Warm Up Bounty event
Shravan Chhabria showed Srijan the door when making it in the money was an inch away. With this the latter also became the bubble boy of the 50K Warm Up Bounty event. Srijan's Jd 5d couldn't beat Chhabria's 6c 8d on a board of Jh 6s 8c 9d X. With two pairs Chhabria won the pot and some bounty cash.
7:15 PM: Payouts Announced
(Level 9: Blinds 800/1,600, Ante 1,600)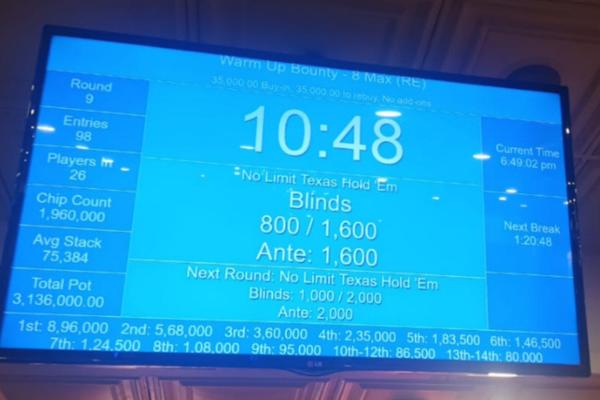 Adda52's Colossus 50K Warm Up Bounty tournament registered a total of 98 entries. The event generated a final prize pool worth ₹31,36,000. The payouts for the event were soon announced, and the top 14 players will finish in the money. The lion's share of the prize pool is worth ₹8,96,000 which the winner will take home along with his/her collected bounties. Take a look at the complete payout list.
| | |
| --- | --- |
| Place | Payout |
| 1st | ₹8,96,000 |
| 2nd | ₹5,68,000 |
| 3rd | ₹3,60,000 |
| 4th | ₹2,35,000 |
| 5th | ₹1,83,500 |
| 6th | ₹1,46,500 |
| 7th | ₹1,24,500 |
| 8th | ₹1,08,000 |
| 9th | ₹95,000 |
| 10th – 12th | ₹86,500 |
| 13th – 14th | ₹80,000 |
---
6:55 PM: Anmol Chawla Knocked Out!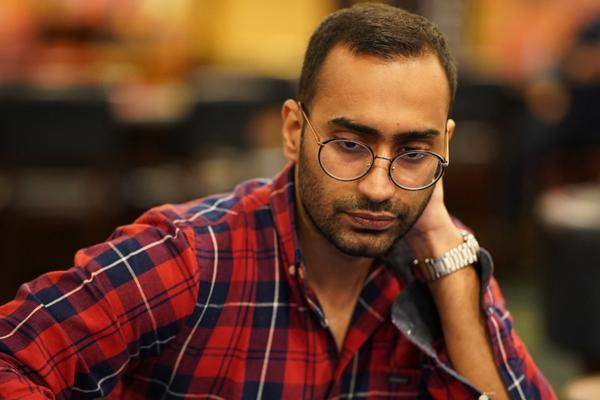 Anmol Chawla
In Level 8, with blinds at 600/1,200 and ante of 1,200, the table with Anmol Chawla saw an intense three-way action. Roshan Bhawdwaj, Chawla, and one player went pre-flop all-in. Bhardwaj was the first to move all-in with a 10 BB stack and hole cards J ❤ T ❤ . The unnamed player next to him shoved with pocket aces. Chawla had the shortest stack among the three and went all-in with pocket tens. 
The board opened to Jx Jx Qx Qx 7x. Bhardwaj hit a full house  on the turn and tripled up while eliminating Chawla in the process. He also collected Chawla's bounty. 
Bhardwaj: J

❤

T

❤

Unknown Player: A

♦

A

❤

Chawla: T

♣

T

♠

Board: Jx Jx Qx Qx 7x
---
6:40 PM: Chip Counts After Late Registration
Among the top chip counts at the end of the late registration period were Amarnath with 130k chips, Rugal Advani, with a stack of 110k chips, Somashekhar with 110k, and Loveleen Singh with 90K chips. 
Amarnath – 130k
Rugal Advani – 110k
Somashekhar – 110k
Loveleen Singh – 90k
Shravan Chhabria – 79k
Devbrat – 75k
Ram Kakkar – 60k
---
6:35 PM: Late registration ended with the end of Level 7. The tournament recorded a total of 98 entries which surpassed the record of 66 entries of the previous warm-up bounty. Level 8 will begin with blinds at 600/1,200 and ante of 1,200.
---
5.15 PM: There are 92 entries in the field now. The event is on Level 7 post which late registration and re-entry will be closed. The blinds are at 500/1,000, ante 1,000. Post Level 7, there's a 15-minute break. Stay tuned for the latest chip counts.
---
3 PM: 54 players are battling it out post the 15-minute break. Some notable chip stacks are listed below.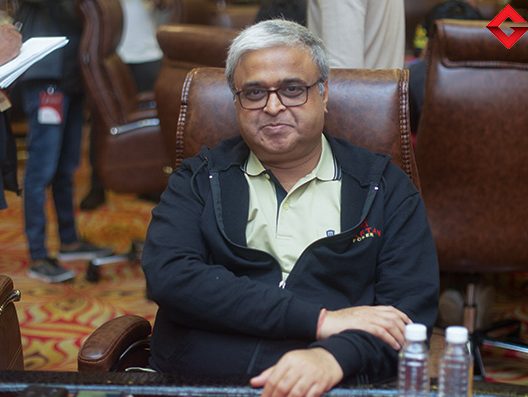 Vineet Kumar
Vineet Kumar – 70K

Roshan Bhardwaj – 62K

Ratul Steves -60.5K

Shashank Jain – 31K

Debashis Bal – 46.2K

Ayaz Khan – 42K

Myron Pereira – 39K
---
2 PM: The number of entries now stand at 50 entries, and more players are expected to join the game. The event is now on Level 2. Some notable names like Shravan Chhabria, World Series Of Poker (WSOP) Online bracelet winner Kartik Ved, Sumit Sapra and Niharika Bindra have joined the list of players.
---
3rd Aug, 1 PM: The much-awaited Adda52 Colossus Aug 2022 has kick-started with the cards being dealt at the 50K Warm Up Bounty. Level 1 features blinds 100/200 and ante 200. The event currently has 15 players seated at the tables. Players like Adda52 Game Ambassador Kunal Patni, Arjanveer Singh Chadha, Ram Kakkar, Vineet Kumar, Ratul Steves were seen queued up at the registration desk. For more timely updates stay tuned to Gutshot Magazine.
---
2nd Aug, 1 PM: Adda52 is back with a bang! This time around instead of an online event, Adda52 took the live poker route with Colossus. The much-awaited high roller series is being held aboard Deltin Royale, Goa. This live event kick-starts today and many high stakes pros are looking forward to crushing the events. The first event in the Colossus August 2022 edition—Warm Up will begin on 3rd August at 1 PM. As for players looking for a satellite tournament, Adda52 is hosting two sattys on 2nd August. The first one is the Main Event satty scheduled at 6 PM. This satty comes with a buy-in of ₹10,000 and late registration will be allowed till the end of Level 4. The second satty is for the High Roller event. This satty comes with a ₹20,000 buy-in and later registration for this event will be allowed till the end of Level 5. Adda52 Colossus Aug 2022 – 50K Warm Up Bounty LIVE Updates
Coming back to the Warm Up tournament, this one has a buy-in of ₹50,000 and players will be given a starting stack of 20,000 chips. The level duration in the Warm Up event is 30 minutes and players can enter the tournament via late registration till the end Level 7. Gutshot Magazine had covered the previous editions of Colossus and players like Meherzad Munsaf, Vivek Rughani, Sriharsha Doddapaneni and Aditya Agarwal have won events in the previous editions.It would be interesting to see if any of these players return to the felts for the August 2022 edition. 
Adda52 Colossus Aug 2022 Schedule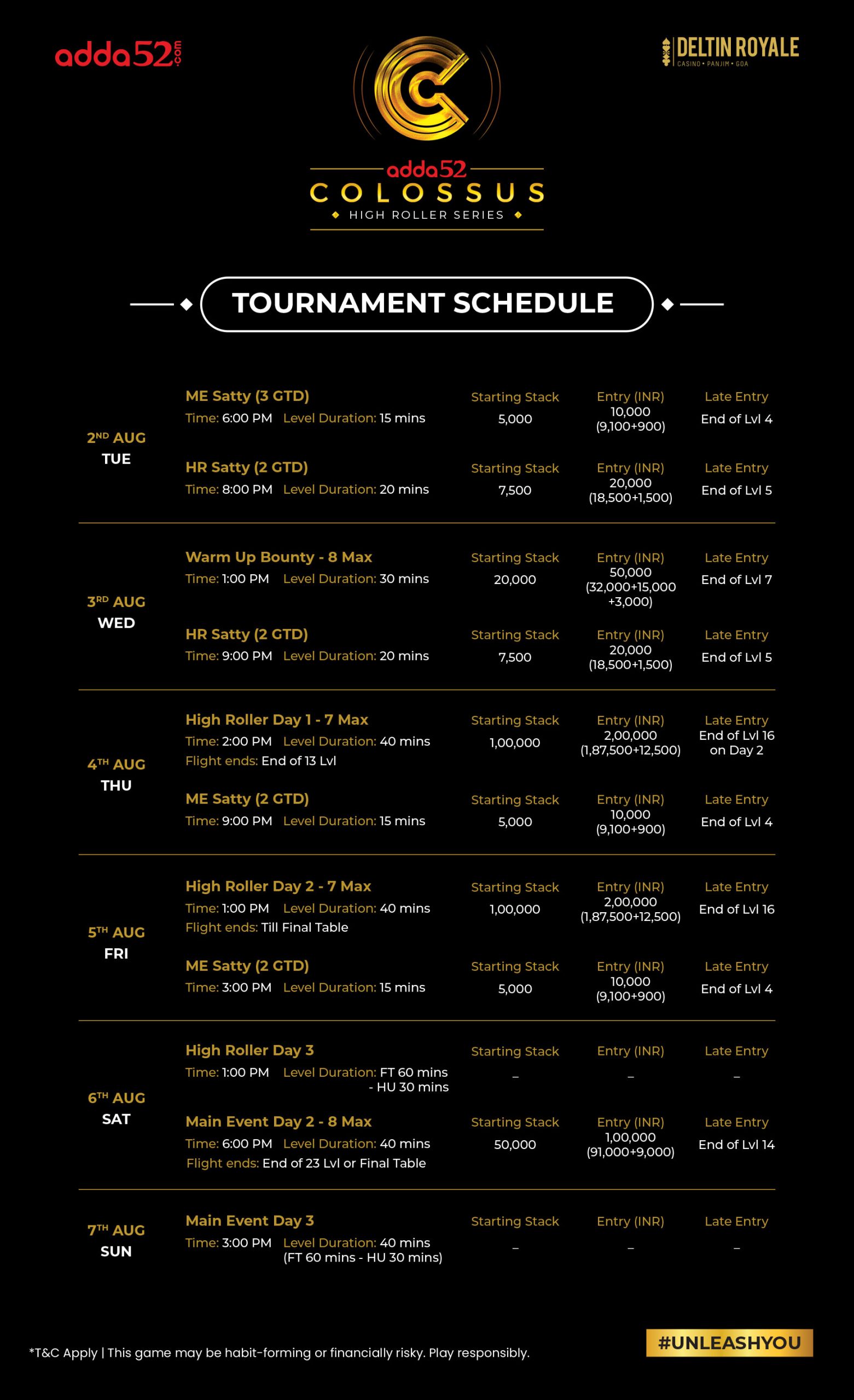 Adda52 with the August 2022 edition of Colossus promises some unparalleled high stakes action on the felts of Deltin Poker. Gutshot Magazine will be covering the live updates from the Colossus August 2022 Warm Up event so don't forget to bookmark this page. Stay tuned for more… 
Image Credit: Adda52 / Online Poker News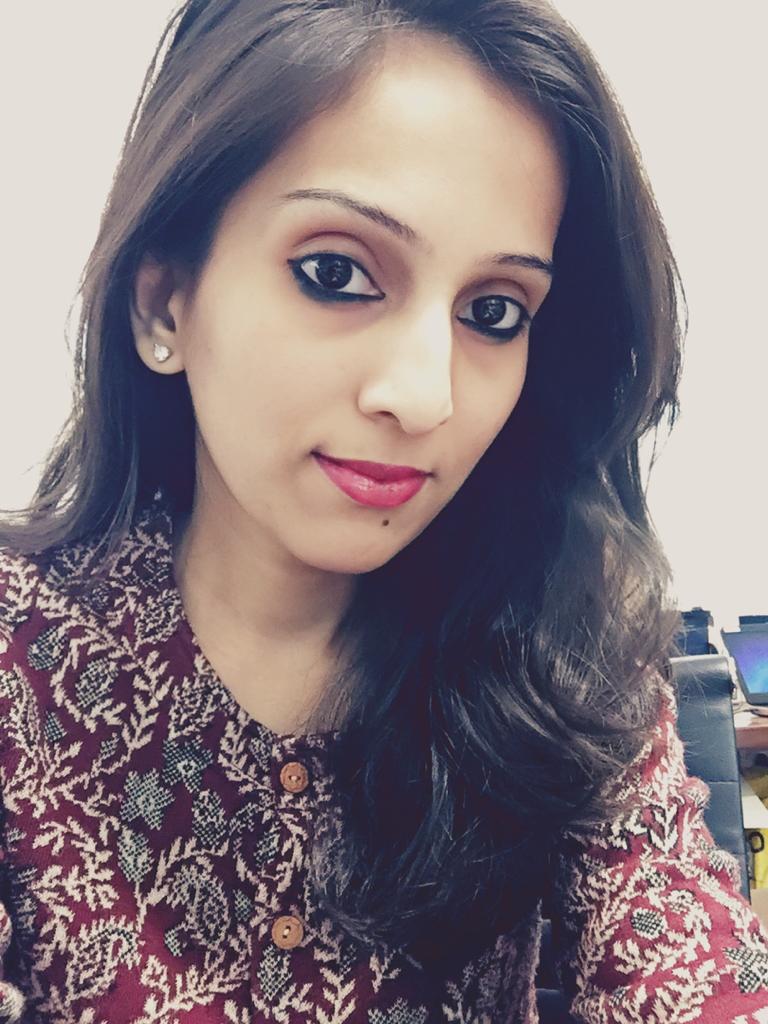 With a Masters Degree in Journalism and Communication, Mrinal Gujare currently is cruising through an exciting genre of writing and editing at Gutshot Magazine. Apart from being an Editor, Mrinal is an avid reader and a former contemporary dancer. She is also perennially hungry for intriguing scoops from across the globe. No holds barred is the rule Mrinal follows in life.
---
---
More News
---
Comments