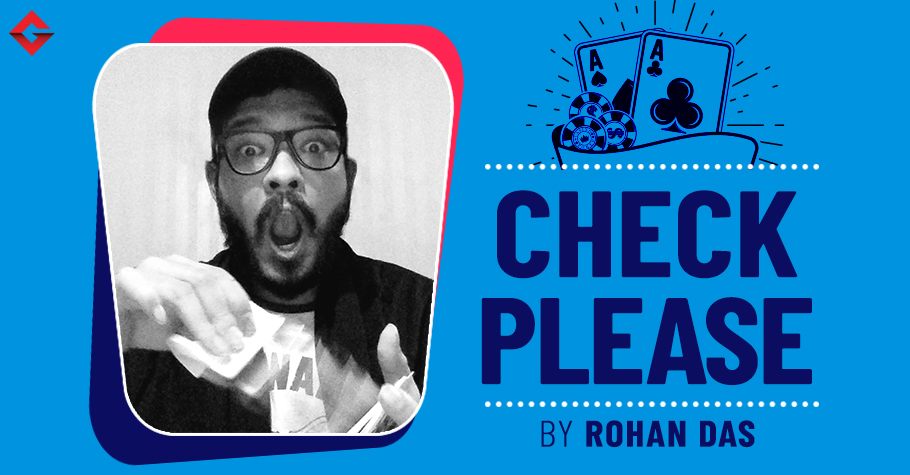 Poker
---
Tricolour in the Desert
There's no two ways about it, 2020 has been an absolutely terrible year. Not only can we not meet our friends and family, but the poker community has also been robbed of the World Series of Poker (WSOP) — in the traditional sense anyway. On a personal level, it has hit especially hard as I enjoy watching poker almost as much as I enjoy winning a big pot. The broadcast of WSOP is one of my favourite pieces of poker programming.
Every year for two months, the eyes and ears of every single poker player are focused on the Las Vegas strip trying to find out who would be the next name to be added to the winners' list and to idolize. Yes, past winners don't always fare well in the years after they have won the Main Event, but there are some great stories that always come out of the event, whether it be Chris Moneymaker and the legendary 'Moneymaker Effect' or Greg Merson overcoming his demons to bring home a bracelet.
The WSOP has managed to pivot this year in light of the ongoing pandemic and has been hosting online events on both their own app as well as on GGPoker and we will be seeing more names being added to the list of bracelet winners in 2020—so suck on that COVID!
In fact, Indian players have been winning bracelets at the WSOP every year since 2017. Just a few weeks ago 'Mandovi' took down the $840 Turbo Bounty online event. Yes, there are some downsides to playing online. We've already seen Daniel Negreanu go ballistic because of a faulty internet connection
That being said though, there has been an ever growing contingent of Indian players who have been making the trek each year and over the last few years have made sure that the tricolor always has some sort of representation at the podium. Having spent some time in and around the Indian poker fraternity, it's always a  big deal when a player racks up a big win in an international tournament, so here's some players who have been laying the ground work in the live space—and this is in no particular order.
Abhinav Iyer
Abhinav Iyer etched his name in the record books last year by becoming India's first solo WSOP bracelet winner. He achieved this feat by outlasting a field of 2,800 runners in 2019's WSOP Event #84 called 'the Closer.' The $1,500 buy in event saw Iyer beat Canada's Sammy Lafleur in the final hand and took home a payday of $565,346 (INR 3.87 crore).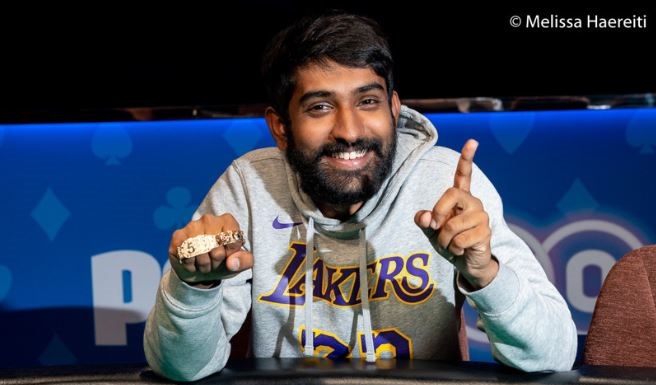 The previous year Paawan Bansal had to settle for a runner up finish in the same event. This time around however, Iyer managed to go the distance and ensured that the Indian flag was at the top of the winner's podium.
Iyer currently sits in 5th place on the India All Time Money List with live earnings of $870,437 (INR 6.4 crore). Even during the lockdown he has been keeping himself busy, playing the WSOP online events and has made a few deep runs, his best being a 4th place finish in Event #33 for $127,571 (INR 95 lakhs).
Aditya Sushant
A veteran of the Indian poker scene and a regular at Goa poker tournaments, Aditya Sushant has been grinding it out since 2010. Him and Nipun Java teamed up for the $1,000 Tag Team NLHE event in 2017 and they outlasted a field of 843 players to become India's first ever bracelet winners. This was a big day for the Indian poker fraternity.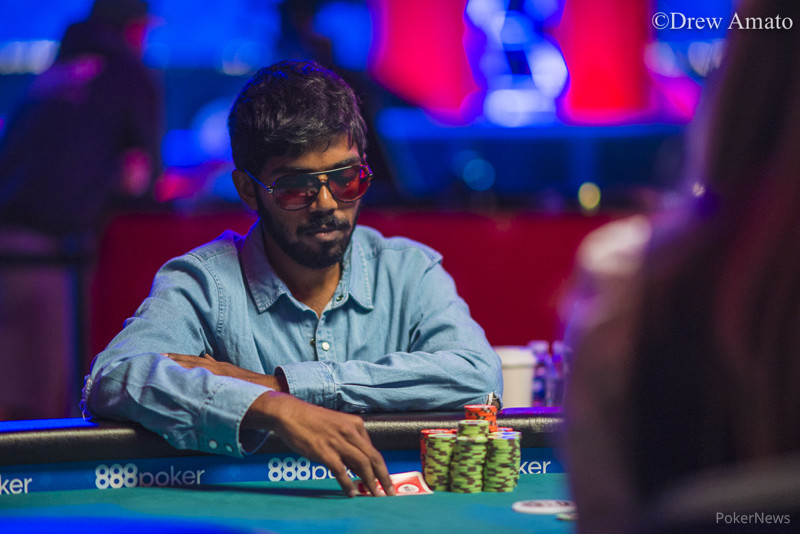 I remember my timeline had nothing but posts about this victory for almost a week after this tournament ended. There was a short video that had been shared of the national anthem being played at the Rio in Las Vegas and it was really one of those moments that gave us all goosebumps.
Along with bragging rights, the team also took home a first place prize of $150,637 (INR 1.1 crore). Sushant's first live score came back in 2010, but the Chennai based pro isn't one to rest on past laurels. He too has been busy grinding the virtual WSOP felts and has so far managed to rack up $43,712 (INR 32 lakhs) in earnings in the ongoing WSOP Online 2020 series, his best score so far being $12,052 (INR 9 lakhs) for finishing 17th in the $1,500 FIFTY Stack event.
Nikita Luther
Nikita Luther has been racking up tournament scores both in India and abroad since 2015. The Delhi based player boasts of live tournament winnings of over $300,000 (INR 2.2 crore) and a WSOP bracelet to boot! She paired up with German player Giuseppe Pantaleo for the $1,000 Tag Team Event in 2018 and the team went on to win that tournament.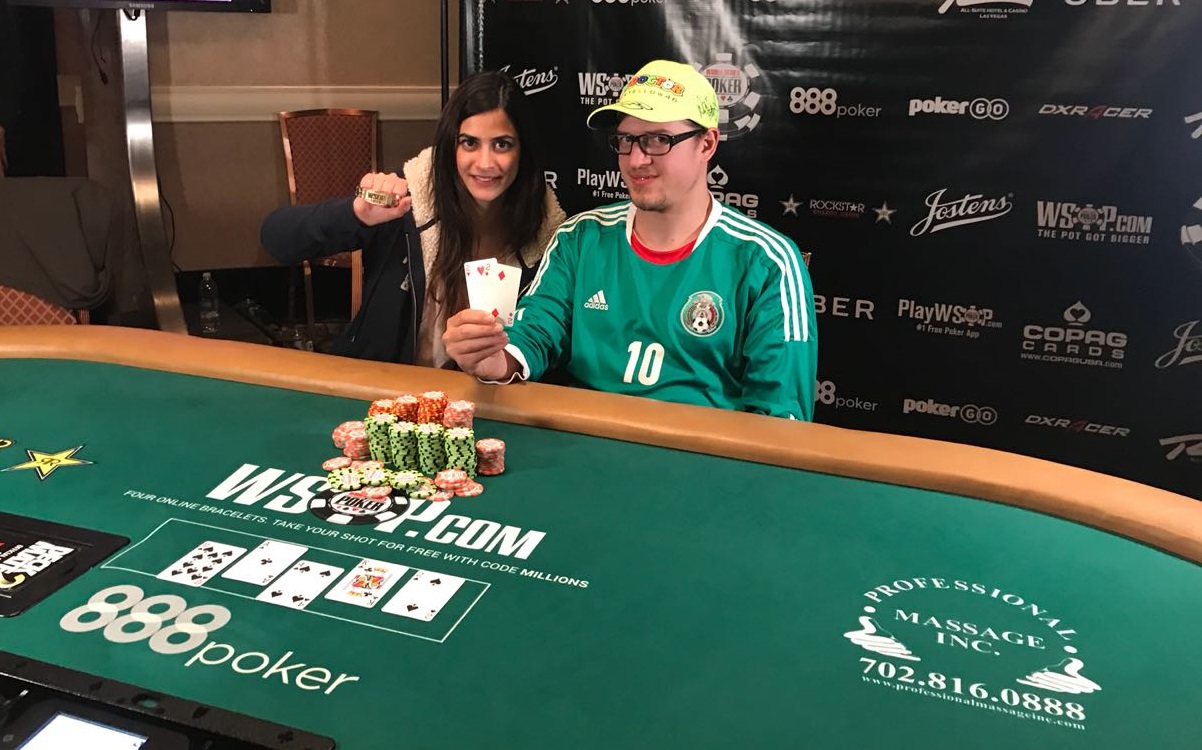 This win is significant for multiple reasons. It ensured that Team India's title from the previous year in the same event was defended. Also, this would make Luther India's first and (so far) only female bracelet winner.
Luther followed up this victory with a win at the Deltin Poker Tour Deep Dive event and a 2nd place finish at the 2019 Aria Poker Classic in Las Vegas where she took home a cool $109,300. Back in 2015 the recently minted Spartan Poker Team Pro got her inaugural live tournament win at the first ever IPC Ladies Only event.
Btw, all the players mentioned here have been featured in Gutshot Magazine in the past and you can check out the latest e-magazine by signing up for free here
Aditya Agarwal
Any list of Indian players' performances at the WSOP would be incomplete if it didn't include Aditya Agarwal. The Kolkata native started playing poker while attending college in America and has been making the annual trip to the WSOP for over a decade.
Over the years, I've watched him play at close quarters on multiple occasions. And yes, he is an absolute beast when he gets in the zone. However, there's something about the WSOP that makes him completely switch gears. It's almost as if he has blinders on with all his energy completely focused on the WSOP Main Event.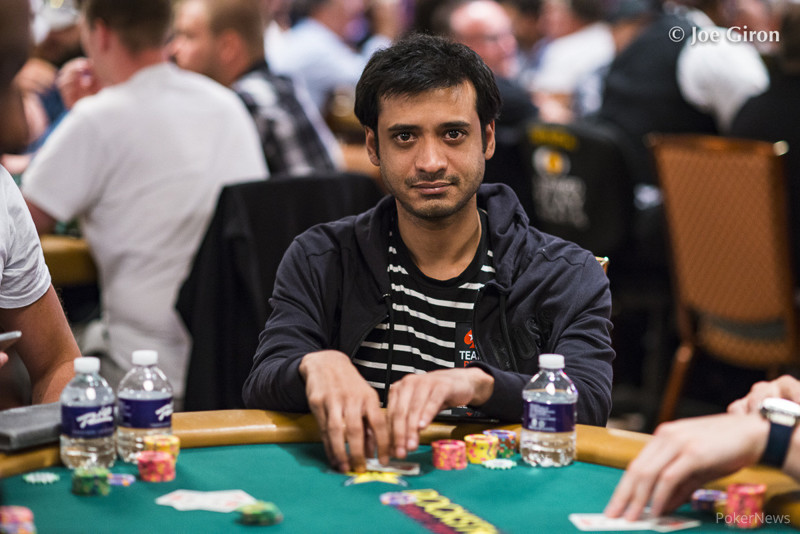 While a gold bracelet still eludes him, Agarwal has 8 ITM finishes in the WSOP Main Event and a total of 46 cashes in WSOP events. His first cash in the Main Event came back in 2007. Last year Agarwal surpassed Ronnie Bardah's record of consecutive cashes in the WSOP Main Event and seems to be well on his way to crossing Barry Johnston's record of most WSOP Main Event cashes.
Like I said earlier, 2020 has been terrible and in times of COVID and social distancing it feels like it'll be a while before we can get our fill of live poker. I know that there are a lot of professional players who have decided to put all travel plans on hold, poker related and otherwise. The silver lining though is that this would mean smaller fields at major tournaments so for players that do decide to brave their way to a live tournament (with gloves and masks on of course!) it would mean a higher chance of finishing in the money and possibly winning the tournament.
Fun fact: Poker pro and loveable goofball Phil Laak once decided to hit Ctrl+Shift+N irl and played an entire day of the WSOP Main Event incognito. And, pardon the pun, he went all in. His disguise included make up, a mask and a wig. The authorities had to introduce a new rule the following year which prohibited players from wearing masks at the table.
And now we live in a world where we make sure our faces are covered before checking to see if we remembered to grab our keys before we step out.
Sigh.
---
[1] Bracelet: Prize given to of World Series of Poker event winners along with cash prize
[2] ITM: In the Money; to finish high enough in a poker tournament to get a share of the prize money
---
About the author: Rohan Das is not now, nor has ever been a professional poker player, but has been associated with the Indian poker fraternity since 2011. He has a deep love for the game and is always encouraging new players to take up the sport. You can get in touch with him on Instagram @das.rohan

---
---
Comments