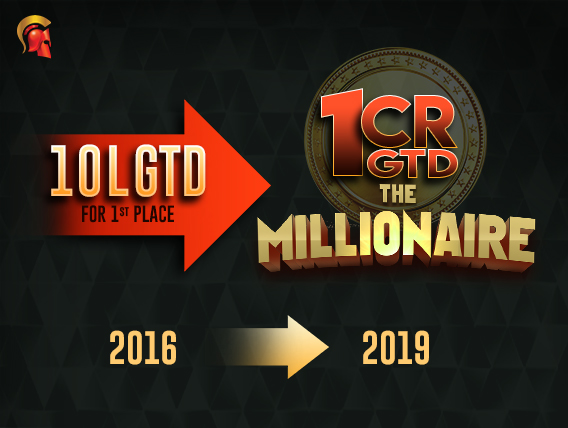 Poker
---
Spartan's 'The Millionaire' – An Unmatched Success Story
If we held a survey among the top poker players in the community and asked them what the biggest tournament hosted online is, "The Millionaire" would be the chorused answer. At a time when high-value tournaments were unheard of, The Spartan Poker had the audacity to host the first ever big money tournament in the Millionaire, which at the time, offered a whopping INR 10 Lakhs guaranteed prize to the winner!
This may not sound like much in today's online tournament environment, but the announcement nearly three years ago, came at a time when there weren't too many tournaments offering such prizes to players. It was also a time when poker was still lightly treaded upon, the size of the community not even being 1/5th of what it is today. Yet, Spartan decided to host this on a monthly basis. Soon, they turned out to be quite successful in their ambitions!
"We were looking at the bigger picture. If we had to create ripples in the industry, we had to do something on a much larger scale than the norm. We announced The Millionaire with INR 10 Lakhs GTD to the 1st place, which was the biggest tournament back then," said Sameer Rattonsey about the spark that made him create such a huge tournament in the nascent poker scene then. The Millionaire is the brainchild of Rattonsey, who heads tournament strategy and is one of the co-founders of The Spartan Poker, along with Amin Rozani, Peter Abraham and Rajeev Kanjani.
The first tournament!
"For me, Spartan's Millionaire is the starting point of the booming online poker scene in India. Back in 2016, winning the biggest tournament was very special and it will forever remain special for me," said Manoj Pentakota, champion of the inaugural Millionaire held on 4th September 2016. Pentakota took home INR 10 Lakhs out of the gigantic prize pool of INR 42+ Lakhs that was created.
Pentakota has played almost all Millionaire tournaments since then, watching it evolve over the years. "The Millionaire has grown so rapidly over the years, from paying INR 10 Lakhs to the winner to having a whopping INR 1 Crore as guaranteed prize money. I want to take this opportunity to thank Spartan for turning dreams of many poker enthusiasts into reality," he said.
A total of 576 unique players were in the race alongside Pentakota, but this figure was soon going to increase by almost two-fold in just two months of hosting the first Millionaire; such was the impact that it had in the country. Immediately, the graph of number of active online poker players in India saw a huge spike. Suddenly, those infrequent players and even those who didn't really play poker, started playing. Everyone wanted to be the next Millionaire.
Millionaire doubles up!
After just a couple of months of running this tournament, Spartan realized its potential and decided to make this great tournament even greater. The third edition of the Millionaire guaranteed DOUBLE the prize money. Yes, that's 20 Lakhs going to the winner! A total of 1,022 unique players signed up for this from across the country, nearly doubling the field that participated when Pentakota was crowned winner.
Another improvisation
Six such tournaments were hosted between the first one and the one in March 2017, when Spartan decided to level up their game once again by offering a guaranteed amount of INR 10 Lakhs to the runner-up, along with the existing guarantee of INR 20 lakhs to the winner. They hosted this new Millionaire on 5th March 2017, and it drew a total of 832 unique players. The winner and runner-up to emerge from this milestone tournament were Jaydeep Dawer and 'kid_fish'. 
Dawer is a veteran of the poker industry and he too has watched this signature tournament grow. He said, "The Millionaire has become the trademark tournament in the Indian poker circuit. I was privileged to get my hands on it on its maiden journey but now I am dying to get that tournament in my bag one more time. It is that luring for a poker player in India. The poker dream has grown leaps and bounds in our country and continues to grow at an unstoppable pace. The Millionaire will always be the benchmark for any poker player in the country. The formats and structure have evolved with time and they should continue to evolve as per the changing desires of poker players. If it has to be put in one sentence, I would say, The Millionaire Rocks!"
INR 1 Crore GTD
Another seven such Millionaires later, on 12th November 2017, something spectacular happened. As if Spartan wasn't already making a name for itself, they took everyone by surprise again, this time around they hosted The Millionaire INR 1 Crore GTD for the same buy-in of INR 5,500. As Rattonsey said, the aim was to create ripples in the community and this announcement made sure that the momentum continued for this branded tournament which was first hosted a year back.
The tournament was an enormous success, with Lawrence Sanjay winning the title and the 1st place cash prize of INR 27,50,675 from the record-breaking prize pool that was ultimately created – INR 1,17,05,000! The tournament was such a landmark moment in the history of Spartan and of Indian poker in general, breaking the previous Millionaire turnout and creating a new record of 1,365 unique participating players.
Millionaire meets IOPC, SSS
Spartan is also home to the India Online Championship (IOPC), a multi-day tournament series that sees some of the top high-stakes grinders taking part. The IOPC which held in July 2018 saw The Millionaire as part of it for the first time, once again offering INR 1 Crore in guaranteed prize money. The player to win this maiden IOPC Millionaire title was Nikhil Ramesh who won another life changing amount for his victory.
Another one of Spartan's signature tournament series, the Spartan Super Series (SSS), is usually a 5-day long series and it too gives away some staggering cash prizes and exciting goodies as leaderboard prizes. As part of the October SSS last year, the Millionaire INR 1 Crore GTD figured as the Main Event of the series for a buy-in of INR 7,700. Abhishek Jaiswal shipped the SSS Millionaire Main Event, beating 623 players to the rail and adding a huge amount to his bankroll.
Jaiswal, in an interview with us shortly after his win, contentedly said, "It has always been a dream to ship The Millionaire and finally, the dream has come true. It feels really great! I have already dedicated my winnings to my parents as they're everything to me and without them, winning this major tournament and becoming a Millionaire wouldn't have been quite possible. The Spartan Poker is a great platform and is doing wonders in its own way. Nothing happens overnight. Patience and discipline together matter a lot."
The latest Millionaire that happened in January 2019 was also a part of the IOPC and saw another up and coming player Joey Saha winning the tournament and the 1st place cash prize. Mumbai-based Saha, played his first Millionaire in early 2018 and had finished in the money before, but this was his first Millionaire Final Table finish, and it all came good for the young player on that particular day which led to his title win. About the tournament Saha said, "The huge turnout and prospect of winning a huge cash prize is the best thing about The Millionaire. I also like Spartan's website, so the entire experience of the tournament was a pleasant journey for me."
We even asked him if he expects the Millionaire to get a major boost in its guarantee soon, to which he replied, "I'm pretty sure that an INR 2 Crores Millionaire will happen sometime in 2019." By this statement, he echoes the expectations of thousands of poker players of the country, who are all expecting something spectacular in coming time. PokerBaazi recently announced The Game Changer INR 2 Crores GTD scheduled in February 2019, which is an overall good development for the community, and will prove to be a tangible challenge for Spartan to come up with something bigger and better in time to come.
Bollywood meets Poker; courtesy The Millionaire
Tournament poker, be it live or online in India, has been a star-studded affair all along. Along with the top names in Indian poker, popular TV actress and PokerRaj ambassador Anita Hassanandani Reddy, once finished at a respectable 4th position back in December 2017's Millionaire. Another TV personality turned poker enthusiast Chandan Dilawar shipped The Millionaire in September last year. Bollywood actor, DJ and entrepreneur Siddhanth Kapoor (brother of Shraddha Kapoor), has also indulged in his love for poker and is a regular player in various monthly tournaments at Spartan.
Coming back to the mastermind of The Millionaire, Rattonsey spoke in retrospect and offered the community a birds-eye view of this whole business. "Along with my friends and business partners, we entered the online poker business because we believed in the power of this game being able to change lives of anyone having a smartphone and an internet connection. Looking back on the success and growth of it, I think we've taken significant steps towards that goal with The Millionaire. However, the sky is the limit and we will continue to improve and better our value offerings to players."
The Millionaire, till now, has awarded in excess of INR 22 Crores since its inception, changing the lives of hundreds of players, especially with the advent of the INR 1 Crore GTD tournaments. As Jaiswal and Pentakota rightly mentioned above, The Millionaire has been a tournament where dreams come true. For someone coming from small beginnings, winning INR 25 Lakhs in prize money is a life-changing experience, giving them the opportunity to explore many more options in life, while it's quite a decent addition to those living in metropolitan cities like Delhi, Mumbai, etc. Clearly, Spartan seems to have achieved its goal of not just being a pioneer in the poker world, but at transforming lives as well.
This month, Spartan has given Millionaire a much-needed break from its monthly appearance, with the 'Big Ten' INR 10 Lakh GTD coming in as a replacement for February 2018. For similar success stories of poker tournaments, players and companies, keep reading GutshotMagazine.com.
Don't have an account on The Spartan Poker? Check out their review page here, and don't miss out on their bonuses, promotions, and guarantee-smashing tournaments. Sign-up now.
Image courtesy: PokerGuru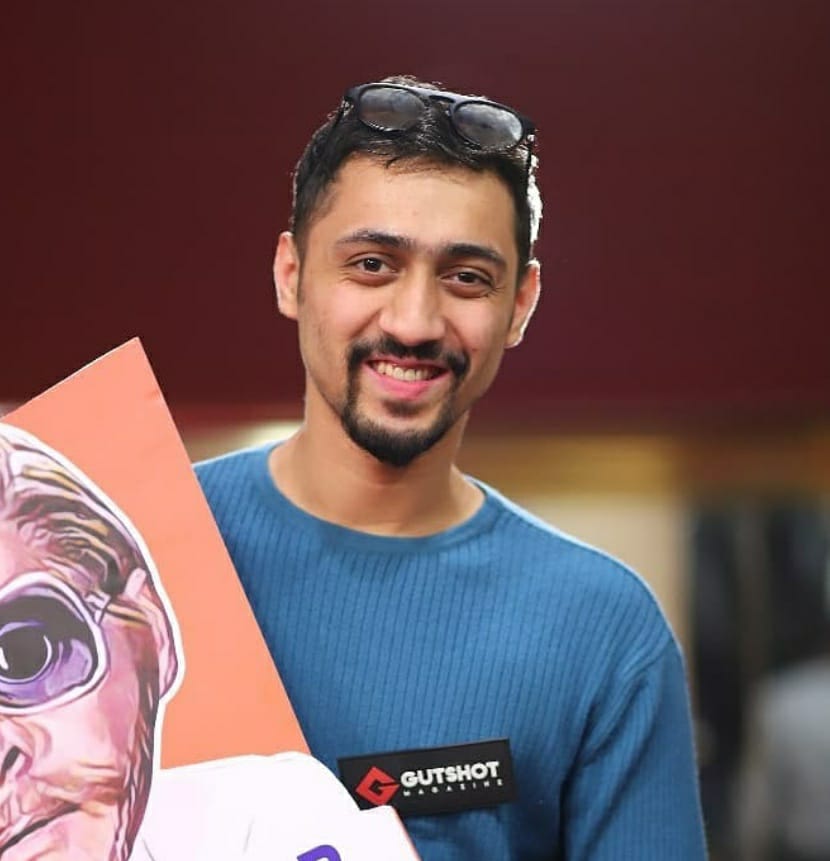 A graduate in Business Management, Dwayne began his career as a content writer for a virtual sports betting company and then for Gutshot too. Now, he heads marketing and business operations at Gutshot and while he's no expert in poker, he enjoys the occasional weekend home games. He was introduced to the industry in 2017 and has made quite a few friends along the way. Outside of poker, he is an avid cricket and sports fan, loves his bikes and of course, a good party! If you want to reach out to him for partnerships and collaborations, feel free to send a message at dwayne@gutshotmagazine.com.
---
---
Comments