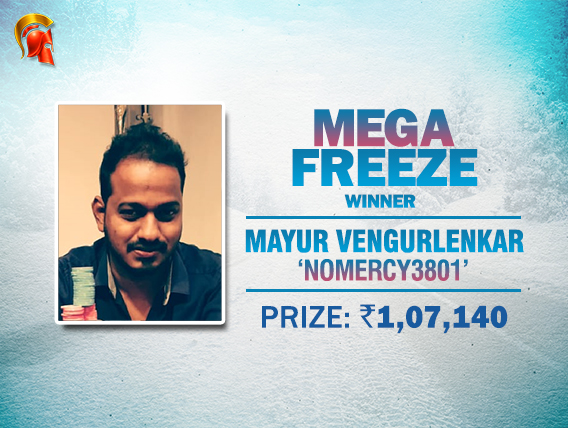 Poker
---
Mayur Vengurlenkar wins Spartan Mega Freeze
In a game that sees innovation on a regular basis, poker enthusiasts like to go back to their roots every so often. Those roots for many lie in the Freezeout format where every player gets just one chance with their buy-in and if you bust, that's the end of your run in a freezeout tournament. The Mega Freeze at The Spartan Poker which took place on Monday night was all about that one chance to make it or break it. The player who did make it with the biggest share of the prizepool and the title was Mayur 'Nomercy3801' Vengurlekar from Bangalore. The final four players remaining in the tournament chopped up the prizepool on the basis of ICM.
The INR 5,500 buy-in Mega Freeze took off at 7:30 pm yesterday evening and had a guarantee of INR 5 Lakhs for participating players. 125 entries took the overall prizepool up to INR 6.25 Lakhs so it was a nice juicy prizepool which surpassed the guarantee. The fifth player to bust out was 'Strangeplay' who had the shortest stack (76k) when the hand happened while the remaining four players had stacks 200-400k approximately.
Strangeplay from the small blind completed his mandatory bet and went up against 'Peace13' who was the big blind. With 8c 7d in hand, Strangeplay shoved his stack into the middle on the flop of 6s 5s 2d which gave him an open-ender straight draw. Peace13 decided to make the call with 7s 6c having hit top pair on that flop. The turn 3d and river Tc did not help Strangeplay any further and with his Six pair Peace13 went on to win that hand eliminating Strangeplay in 5th place.
Shortly thereafter the remaining players Peace13, 'ruparuppi', 'Prajit' and Nomercy3801 decided to make a deal with NoMercy taking the biggest share of INR 1,07,140 as he held the biggest stack at the time of the chop. Peace13 (2nd for INR 100,960), ruparuppi (3rd for INR 95,679) and Prajit (4th for INR 85,969) took up the rest of the top payout spots.
The winner Mayur Vengurlenkar started playing poker about 10 years ago mostly in home games. While he has playing aspirations of being a tournament player, Vengurlekar's been associated with the game as an industry professional. Being based in Bangalore which has plenty of card rooms, he has worked as a floor manager in at least 4 major clubs and currently is associated with the House of Kards poker room in Koramangla. On his tournament winning experience, he said, "It's Always a good feeling for me to play tournaments at Spartan and this Mega Freeze was one of them."
Vengurlekar has aspirations of continuing as a tournament player and generally prefers to follow a loose-aggressive approach in his online play, "I prefer to limp and then shove most times. One of the key hands in the Mega Freeze was similarly played. I had pocket Kings on the cutoff and limped into the pot. Big Blind woke up with Ace Queen and jammed. I snapcalled with my big hand and won it. That, I can say, was my comeback hand in this tournament."
Congratulations to Mayur on his win as well as to all the players who made the money. Follow GutshotMagazine.com for similar updates from the world of online poker.
---
---
Comments