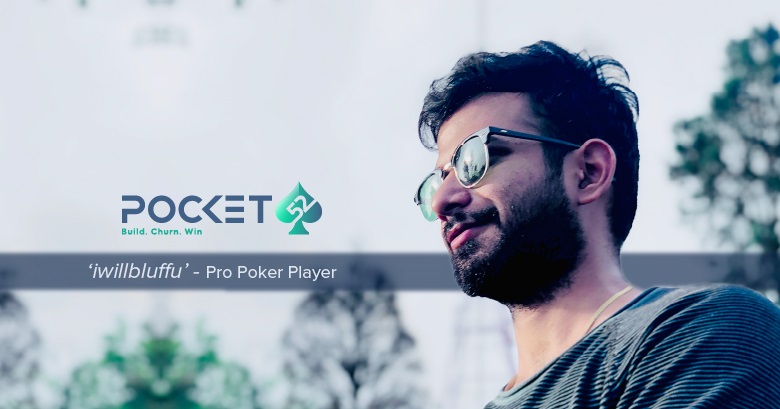 Poker
---
'iwillbluffu' wins INR 20L in Pocket52's Passport to Vegas II!
At the beginning of the year, poker community was eagerly waiting for the 51st annual World Series of Poker (WSOP) and Pocket52 came forward with an incredible chance for poker players to hop onto the flight and visit the mecca of poker, Las Vegas! However, looking at the current scenario around the world, these online platforms have experienced a growth in the number of participants and with players having more time to grind online Pocket52 crowned its latest winner 'iwillbluffu' who triumphed the 'Passport to Vegas II' and bagged a whopping INR 20 Lakh in prize money!
The cash game promotion was launched by Pocket52 on 1 February 2020, scheduled to continue till 9 June 2020, where the players could win up to 80% rakeback. The highest prize of INR 20 Lakh, with up to 30% TDS refund on withdrawals via Pocket Vault. Always surprising its userbase with plenty of offers, the platform invited players to bag tickets by playing No Limit Texas Hold'em or Pot Limit Omaha and make the minimum amount of Pocket Coins required to be eligible for the leaderboard.
The champion who is also a businessman started playing poker with INR 2 with his college friends, soon visited Goa and turned his INR 15K bankroll to INR 1.3 Lakh! After shipping INR 20 Lakh in the current promotion, 'iwillbluffu' said, "I am thrilled and amazed to win this package," he continued, "I managed to do it in just 3 months due to action being so good in 5 card PLO and later in Hold em."
Nitesh Salvi, the CEO of Pocket52 stated, "Since we are using our home grown platform, we do not have to pay royalties to some outside organization. Also, we are a funded startup, solely focused on growth, our focus is to provide the best rakeback program for our players".
So, Pocket52 got in touch with the champion who shared his poker journey and the incredible experience.
What does Poker mean to you?
"Poker is my passion. I can play for hours and never get bored. I love the game."
Do you like playing poker online or offline and why?
"I like playing online because I can play many tables at a time. The best part is I can play it from anywhere, at any time. Though offline poker is fun, due to geographical constraints it is not always possible."
Tell us about your Poker journey. How did you start playing Poker?
"I started playing Zynga poker on Facebook. At first, I used to play for 1-2 rupees with my friends in college. After my graduation, I went to Goa. I played 100-200 rupee stakes with a bank roll of 15,000 rupees and made Rs. 1.3 lakhs in the casino. That was my first real poker experience! Playing a high-stake game for the first time was a surreal experience. I was getting the chills whenever I was getting raised."
"My online poker journey started in the year 2015 on my trip to Goa once again and I visited a casino where I met two youngsters. They had quit their job and decided to play professionally. They introduced me to online poker and after that, I started my online poker journey. Those two players are now big names in the Indian poker industry."
At what point did you realize you were a winning player and what process aided that development?
"At first, I was losing. My first year was not particularly good. Then I learned about new poker sites and the promos they were launching. That was a good comeback for me. I decided to crack promotion and make a decent bankroll. After doing well in promotions, I realized it's these promotions which will help me build my bankroll and ever since I have been chasing promotions from various sites."
What is your favourite Poker moment?
"As I have never been a tourney player, I never experienced the kind of fame which comes with winning a big tournament. Winning the grand prize through Pocket52's 'Passport to Vegas 2' promotion is my favourite poker moment until now as this amount is really huge for me and the best promo package to date that I have cracked."
What is your long-term planning with Poker?
"Since I am not a professional poker player and I also have a business to look after, I will be giving poker 2-3 hours daily. I might start teaching poker to youngsters after retirement."
Any advice for youngsters starting their Poker journey?
"First learn, then play. You can learn from pro players, watch videos, read books. My advice is do not just jump into it without learning."
How do you see the future of the Online Poker Industry?
"The best thing about online poker is that even a person from a small town who has no exposure to the casino can play and win big. As the reach of the internet grows, so will the online poker industry."
What is it like to play on Pocket52? What is your perspective towards the cryptographically secure RNG+ provided by Pocket52?
"Well, it's good to play at Pocket52 as the action in all variants of poker is ongoing. There is plenty of player liquidity on cash tables. I made the Pocket Coins in just 3 months while the target was to achieve it in 4 months. I particularly liked the fact that both variants of poker, Hold em and 5 card PLO, had decent action so I didn't find any difficulty in achieving the target.
I think with cryptographically secure RNG tech helps the player to play their natural game of poker. Unlike many sites where players play on how good they are running and keep playing on junk cards, knowing they are going to win no matter what hand they are dealt."
You recently won the 20 Lacs Vegas Package by participating in Pocket52's Passport to Vegas II promotion. How does it feel? Please share your thoughts.
"I am thrilled and amazed to win this package. Yes, I did target this package but my target was for 4 months. I managed to do it in just 3 months due to action being so good in 5 card PLO and later in Hold em. I think these promos really help players to go for the promotion and achieve it and grind it as they add an extra booster in your bankroll."
How many hours did you grind to complete Passport to Vegas II? Which stakes did you play?
"In the first month, I played quite a lot of poker. I spent 9 to 10 hours a day and played 5 card PLO games, with stakes 100/200 and 200/400. But in the second month I lost the profits that I had made so I had to slow down a bit. I shifted to lower stakes and Holdem, which took some extra time to make remaining points. We all know that a 5 card PLO game is highly variant and with 200/400 stakes, all players being good, it is not that easy to survive at those stakes.
Later on, I shifted to 50/100 Holdem as well and 50/100 5 card PLO. I used to play 8-9 tables at a time. The most motivational thing for me was that whenever I used to play a lot of tables specially 50/100, many players would abuse me and call me house player as they thought I am sitting on every stake and every variant but I knew I had to grind a lot and that's what I did."
What was your biggest win & biggest loss while playing Passport to Vegas II?
"I don't remember the exact biggest won and lost pot, but both might be close to 2 lakh rupees."
How has been your experience with the Pocket Vault?
"I have never used Pocket Vault till now. This is the first time I am redeeming my all 270k points for a whopping 20 lakh rupees. Thanks to the team at Pocket52 which made it happen."
Now is the correct time to boost your poker bankroll by playing 'Passport to Vegas II' on Pocket52. So, get going and register yourself to become the next winner! Also, keep reading GutshotMagazine.com and stay tuned for further updates on poker industry.


---
---
More News
---
Comments