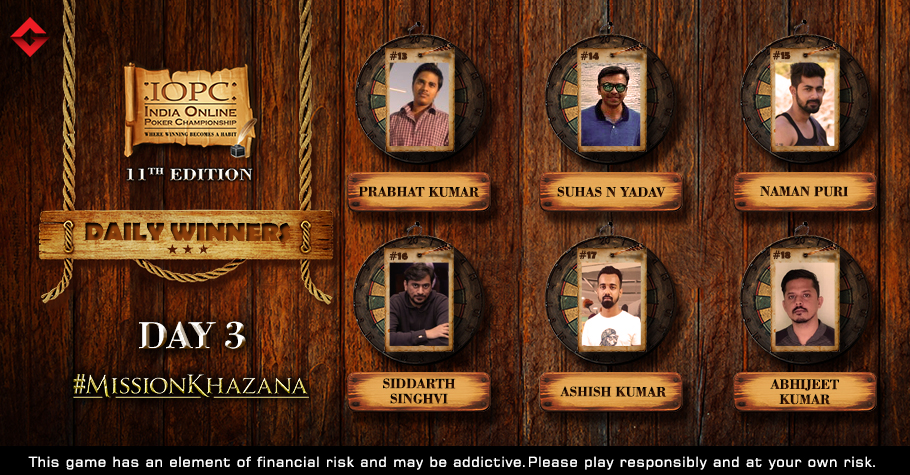 Poker
---
IOPC Day 3: Siddarth Singhvi Emerges As The Biggest Winner Of The Night For ₹6.16 Lakh
Day three of India Online Poker Championship (IOPC) July 2021 witnessed some intense gameplay. Being a highly-anticipated online poker fest, it was no surprise when many turned up to play this prestigious series. As always, the online felts of Spartan Poker, BlitzPoker, and PokerHigh were flooded with players looking to clinch titles and enjoy the ride. 
The prize pool of every single tournament was crushed and the action-packed day ended only at the break of the dawn. It was not a surprise to see Final Table Series (FTS) winner Siddarth Singhvi make the biggest cash grab of the night. For more details on all the tournaments, keep reading…
IOPC #13 – ₹3 Lakh GTD
Being the first tournament of the day, IOPC #13 kick-started with a total of 427 entries joining the action. The original guarantee was surpassed and the final prize pool stood at ₹5,11,500. While every player wanted a piece of the prize pool, only the top 87 entries made the money. The min-cash paid was ₹1,585.
In the last moments of the final table, it was down to players 'Tolltax' and Raghav Bhalla aka 'Rb21.' However, the two decided to shake hands and agree to a deal. 'Tolltax' pocketed ₹71,349 in prize money and Bhalla cashed ₹70,009 in prize money.
Total Entries: 427

Prize Pool: ₹5,11,500

Buy-In: ₹550

Places Paid: 87

Min-Cash: ₹1,585
ALSO READ: IOPC July 2021: Check Out The Spectacular Schedule
IOPC #14 – ₹6.75 Lakh GTD
The IOPC #14 PKO tournament was an intense and super long grind as it started at 3 PM and ran till a little after 10 PM yesterday. The ₹6.75 Lakh advertised guarantee was crushed in a big way and a new prize pool of ₹9,20,000 was formed. Welcoming a pool of 209 total entries, the top 39 places were paid a min-cash of ₹5,713.
Suhas N Yadav aka 'Drunkenstein' shipped the tournament and took home ₹1,66,014 in winnings, while runner-up Himanshu Bagdwal aka 'baagdi' walked away with ₹1,10,372. Yadav defeated Bagdwal after the latter went all-in on pre-flop and lost the game after Yadav got a three pair with an A for a kicker.
Pros who made the money were Nishkarsh Madavi (3rd, ₹80,730), Paras Jain (4th, ₹65,163), Vivek Singh (8th,₹20,865), two time IOPC leaderboard winner, Bhanu Prakash (12th, ₹12,668), poker coach Abhishek Goindi (13th, ₹12,668), Anant Purohit (21st, ₹8,114), IOPC July 2021 Blaze of Glory winner, Harshad Barve (33rd, ₹5,713), and FTS Monster Stack winner, Siddarth Singhvi who just managed to make the money in the 39th for ₹5,713. While players like Mohit Mehta (57th) and IOPC Monday Spotlight winner, Manish Lakhotia (59th) unfortunately left empty handed.
Total Entries: 209

Prize Pool: ₹9,20,000

Buy-In: ₹2,200

Places Paid: 39

Min-Cash: ₹5,713
IOPC #15 – Deepstack – ₹4.85 Lakh GTD
For the Deepstack tournament poker players didn't mind jumping right into it. Thanks to the enthusiasm of the 384 total entries, the prize pool was crushed yet again. This time bringing the final amount from ₹4.85 Lakh to ₹8.16 Lakh. Top 71 entries were paid a min-cash of ₹3,101.
Naman Puri aka 'Nammy09' clinched the title spot and took the biggest bite of ₹1,57,545 from the prize pool. Puri left Dinesh Pilkhwal aka 'DONKT@RD' in the runner-up position who took home ₹99,262 in winnings.
Total Entries: 384

Prize Pool: ₹8,16,300

Buy-In: ₹990

Places Paid: 71

Min-Cash: ₹3,101
IOPC #16 – Tuesday Prime – ₹33 Lakh GTD
Tuesday Prime was the biggest event of the day as it offered a massive guarantee of ₹33 Lakh. This drew in a sea of 553 total entries who were in search of an adventure on the online felts. The advertised guarantee was crushed yet again. The final prize pool stood at a whopping ₹38,85,000. A slice of this cake was given to the top 111 places, each of them took home a min-cash of ₹9,712.
FTS winner Siddarth Singhvi aka 'PeterPunter' was the night's biggest winner after he shipped the tournament and pocketed ₹6,16,713. Kapil Arora aka 'FengFu' was the runner-up and he took home ₹4,56,318 in prize money.
After firing two bullets Shardul Parthasarathi made it to the 7th place for ₹1,02,952, while online regs Avinit Bagri (6th, ₹1,43,356), Ankit Khattar (8th, ₹70,318), Ravi Jain (11th, ₹45,454), Anish Munot (13th, ₹40,404), and Umang Kakarania (14th, ₹36,519) made it in the money. 
Futuristic winner, Sanish Chhabra (20th, ₹28,749), Vikram Mishra (42nd, ₹13,986), Ankit Bajaj (47th, ₹13,989), Adda52 game ambassador, Kunal Patni (49th, ₹13,986), Mohit Mehta (65th, ₹12,237), Gutshot January 2021 cover star Gaurav Sood (67th, ₹12,237), FTS Main Event champion, Arjun Pasricha (69th, ₹12,237), and IOPC January 2021 Main Event winner, Laksh Pal Singh (73rd, ₹10,683) also managed to get some money for their efforts.
Total entries: 553

Prize Pool: ₹38,85,000

Buy-In: ₹3,300

Places Paid: 111

Min-Cash: ₹9,712
ALSO READ: Adda52 Signs Poker-Pro Kunal Patni As Game Ambassador
IOPC #17 – Tuesday Spotlight – ₹11 Lakh GTD
The Tuesday Spotlight event saw players grinding into the early hours. With a buy-in of ₹1,650, this tournament witnessed 541 entries slogging it out. The initial guarantee was crushed and the final prize pool stood at ₹17,71,500. The top 103 places were given a min-cash of ₹4,783.
A deal was struck between Ashish Kumar aka 'King$layer' and Paras Jain aka 'AAKKQQJJ' at the final table. This resulted in Kumar adding ₹2,77,204 to his bankroll while Jain cashed ₹2,15,731.
Players who made it to the top 103 spots were Rohit Agarwal (4th, ₹1,11,073), Mohit Mittal (5th, ₹88,397), Ankit Wadhawan (6th, ₹67,898), Mohit Mehta (8th, ₹33,481), Abhishek Goindi (12th, ₹18,600), Gutshot's Feature Friday star Dhirendra Kumar (22nd, ₹11,514), Shardul Parthasarathi (26th, ₹9,743), IOPC July 2021 commentator, Kanchan Sharma (38th, ₹7,440), Anant Purohit (44th, ₹6,556), Laksh Pal Singh (57th, ₹5,668), Bhanu Prakash (61st, ₹5,668), Sanket Arora (93rd, ₹5,137), and FTS 2.0 Main Event champion, Siddharth Karia (97th,₹4,783). 
Total entries: 541 

Prize pool: ₹17,71,500

Buy-In: ₹1,650

Places paid: 103

Min-Cash: ₹4,783                  
IOPC #18 – All Rounder Monster Stack – ₹10 Lakh GTD
Day three of IOPC was brought to an end with the All-Rounder Monster Stack event. Players paid a buy-in of ₹2,200 to participate in this tourney. The initial guarantee of this tourney was surpassed and the final prize pool stood at ₹13,50,000. A total of 338 entries were ready to battle it out. Those who survived and made it to the top 63 places were awarded a min-cash of ₹5,872.
Armed with a somewhat aptly named moniker, it was Abhijeet Kumar aka 'TheSupremeOne' who reigned supreme and walked away with the lion's share of ₹1,86,150 in prize money. Mystery player 'astersanpai' found himself in the second position for  ₹1,80,115. 
Prakash Gupta (6th, ₹57,645), Ankit Saurabh (9th, ₹24,570), Madan Kumar (10th, ₹20,385), Sandeep Bhatnagar (12th, ₹17,685), Nishkarsh Madavi (14th, ₹15,525), Rohit Uniyal (16th, ₹13,905), and Rajesh Kumar (21st, ₹11,205) were among the players who made it in the money.
Total entries: 338

Prize pool: ₹13,50,000

Buy-In: ₹2,200

Places paid: 63

Min-Cash: ₹5,872
For more news and updates on all IOPC events, keep reading GutshotMagazine.com. Follow us on Facebook, Instagram, Twitter, and Telegram.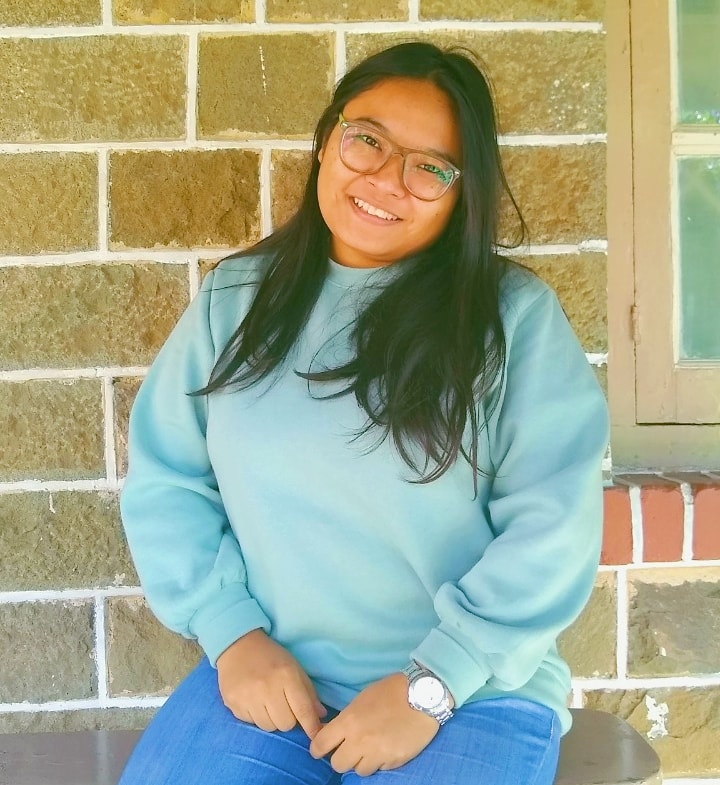 Donna Amo was a writer at Gutshot Magazine. She is a graduate from Sophia College of Women, Mumbai with a degree in English Literature. When this October born foodie is not writing content or poetry, she spends her time laughing at memes or watching series. Based out of Mizoram, she is drawn to all things nature and has a soft spot for puppies.
---
---
More News
---
Comments