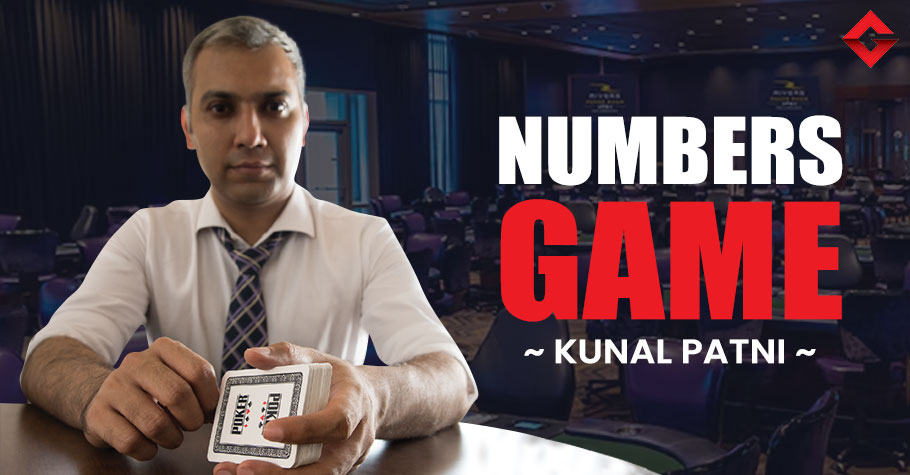 Poker
---
Gutshot Jun-Jul 2016 Cover Story – Numbers Game (Kunal Patni)
From banker to professional poker player, Kunal Patni has established himself as one of the mainstays of the Indian poker circuit.
---
From managing other people's wealth to breaking away and managing his own roll at the felts, Kunal Patni has come a long way in the past couple of years. A former banking executive, Patni fell in love with the game and chose to follow his heart by becoming a poker professional two years ago.
He met with immediate success in his initial outings scoring the high profile 'Spadie' trophy at his first ever Asia Championship of Poker (ACOP). That win spurred him on to seek greater heights in his newly chosen field and his numerous deep finishes especially in tournaments at Macau and Manila bear testament to the fact that Patni's decision to turn pro was one which has brought him due recognition on the domestic and Asian circuits.
It's been an interesting journey over the past few years for Kunal and here he shares with Gutshot some of the highlights of that journey…
Gutshot Jun-Jul 2016 cover story – Kunal Patni
Tell us a bit about yourself…
I am 36 years old and an MBA from IIFT Delhi. I was born in Nagaland where my dad used to have his business. Spent the first ten years of my life there and then we moved to Kolkata in 1990. I did major part of my schooling and college in Kolkata and then moved to Delhi for two years to complete my MBA. Been in Mumbai since 2003 when I started working. I had been a private banker (wealth manager) for about 13 years before I decided to quit my job and pursue my passion.
Nagaland must have been a great place for a young child to grow up…
I was born in Dimapur which is the largest city in Nagaland and spent the first ten years of my life there. It's a beautiful place and we totally loved our childhood there and were quite sad to move to Kolkata in 1990. My formative years were spent in Kolkata; I was there since I was 11 years old till I completed college. I pursued my Bachelors of Commerce from St. Xavier's, Kolkata before moving to Delhi for my MBA from Indian Institute of Foreign Trade (IIFT) where I graduated as a marketing major. Have been in Mumbai since 2003 and have worked with Birla Sun Life Insurance, HSBC, Anand Rathi and my last job was with IIFL.
My dad is now retired and loves exploring different places in India along with my mom who has been a housewife. I have an elder and a younger brother who are both married to wonderful ladies and have a son each. My two nephews are my favourite people in the world.
When did you begin playing poker?
Like most Indian players, I played poker for the first time on Zynga. I remember reading the basic rules of the game online and trying my hand on Zynga. And I was immediately hooked on to it. I think this was about 6 years back. Post that I was very keen to play live poker but all my friends were teen patti players and I couldn't play any live poker.
When did you play live poker in a proper card room/casino?
This must have been about 5 years back. I was hooked onto poker through Zynga but couldn't play any live poker as I didn't know anyone who played poker. So during one of my holidays to Goa, I decided to go to Casino Royale to play poker. That was my first ever live poker session and I loved the atmosphere. I fell in love with the game even more. I changed jobs in end of 2011 and joined IIFL. My boss, Karan Bhagat, the CEO of IIFL Wealth, is an avid poker player. We used to have friendly games with office colleagues once a week at his house. This is when I started playing poker on a regular basis. So I have actually been playing poker only for about 4 odd years.
What about your start in online poker?
I was sent by my company to Dubai in 2013 to head their Dubai operations. So my regular poker sessions at my boss's house automatically stopped. I searched for house games in Dubai but couldn't find any. But I was itching to play poker as I loved the game. That's when I decided to register on PokerStars and made an account there. Had to use a VPN as PokerStars wasn't accessible in Dubai (laughs). Played a little bit on Pokerstars on and off but it definitely wasn't serious poker.
---
ALSO READ: Rising Star in Poker – Griboshin Vellanthrov
---
You held a 'proper' 9-to-5 banking job. What made you decide to make the shift into full time poker? Was this something which was a long while in the making?
It's really funny but I had never thought or wanted to play poker professionally. It all happened by chance. So this is how the story goes. I shifted back to India from Dubai in April 2014. I heard about a poker tournament in Deltin Royale in June and decided to go for it. I had never played a tournament before this. It was a smallish tournament as most of the regular pros were in Vegas for WSOP. As luck would have it, I chopped this tournament. Post this, I realised that my game is suited more towards tournaments than cash games. I started looking for more tournaments to play in India. I remember having sent messages to IPC, Golden Aces etc to check when is the next series in India. Unfortunately, because of the TDS issue there were no more tourneys in India in 2014.
So I started looking for tournaments that I could attend in the SE Asian Region. That's when I found out about the Asian Championship of Poker (ACOP) happening in Macau in October. I went for ACOP with the sole aim of gaining tournament experience. I ended up winning the first event that I played at ACOP (the rebuy championship). This was my first ever international event and my second ever tournament. So it was an awesome feeling. 2 in 2! (laughing)
I seriously didn't realise how big my win was till I started getting flooded with congratulatory messages, friend requests and interview requests on Facebook. That's when I realised that this is HUGE!
I had a dream run in this series post that. Immediately after winning the event, I registered for the second event. Registration was closing and I ended up registering 2 minutes before end of registration. I came 13th in this event. Then in the 4th event, I made it to the final table again and came in 4th. I was later told by Fred Leung from the PokerStars team that I came so close to making history. No one had won 2 Spadies till date and I was so very close to it. Played the satellite to the high roller and ended up winning it. Played the 250,000 HKD buy in high roller event and made it to Day 2 of the same. It was a super awesome run that I had in this particular series.
When did you take the decision to go pro and what prompted it?
In January 2015, Adda52 got in touch with me and told me that they are planning to launch the first team of pros in India and wanted me to be a part of it. I didn't know whether I should go ahead with the same. I immediately called up Aditya Agarwal (who had already been signed up by Pokerstars by then) to take his views on the same. Adi told me that the other 3 members who have been approached have already spoken to him about the same! (laughs) Adi told me that I should go ahead with the same as it's a great opportunity. That's when I signed up with Adda52. I was still continuing with my job and within a month or so realised that it's not possible for me to focus on both my job and poker at the same time. So I finally made the very tough decision of quitting my job and taking poker as a career in March 2014.
What did your wife and family think about your decision of playing poker professionally?
I wouldn't have been able to take the decision of playing poker professionally if it wasn't for the support of my wife and family. They have been so supportive of my decision that it's unbelievable. My dad started reading up on poker when I won the Spadie in Macau. When I told him in March about my decision to pursue poker, he gave me the thumbs up. He had read enough online to realise that this is a game of skill and not gambling. I remember him telling me "If you had told me that you wanted to play BlackJack, I wouldn't approve of it. But I have read about poker and I know it's a game of skills and you have shown that you have the flair for it. So why not go for it?! All the best son."
My wife was equally supportive. She had seen my love for poker over the last couple of years and when I explained to her that this isn't gambling, she was like, "I am with you totally with your decision. Not too many people have the courage to pursue their passion in life. You are getting a chance and you should go for it". My mom, my brothers and my sisters-in-law were equally supportive. So I have been blessed to have such a strong line of support at home to follow my dreams.
My friends have also been extremely supportive of my decision to pursue my passion and that's once again such a big help. A special word of thanks to some of the guys who regularly buy my action before a series; Rajeev Raut, Nipun Java, Rajat Sharma, Vikram Kumar and Rajeev Kanjani.
You made quite a splashy introduction of yourself in 2014 to the domestic scene with that Spadie win. Tell us more about that title win.
Like I mentioned earlier, I had gone for ACOP with the sole aim of gaining tournament experience. Before this I had only played one tournament and ended up coming joint first in it in Goa. In fact, I had taken my core leave from office and gone for this series as it was a 17-day long series. I had read the three series book by Jonathan Little on tournament poker in preparation for ACOP and that helped me immensely during the whole series. And I had a dream series here. 1 title, a 4th place finish, one 13th place finish, winning the high roller satellite and a couple more deep runs kind of made me feel that it wasn't all luck and I had some sort of a flair for poker.
Besides the Spadie, any other memorable finishes?
The most unfortunate part for me is that I haven't won a single trophy since the Spadie. I had a great 2015 in terms of tournament poker results. I made 12 final tables since my Spadie win and came in 2nd four times but that trophy has still eluded me. I am really hoping that I will make up for it in 2016. However, I was pretty happy with my tournament results in 2015. I ended up being ranked number 2 in India in the Global Poker Index and that was the most memorable achievement for me considering that it was my first year as a professional poker player.
How did the sponsorship deal with Adda52 come to be?
Adda52 got in touch with me in January 2015 and wanted me to be a part of their team pro. This was the first team of pros in the country and the other members were all extremely well-known names in the Indian poker circuit; Amit Jain, Aditya Sushant and Muskan Sethi. My only claim to fame was the Spadie win in Macau. So I was like the wild card in the team. Rupal Bansal who was managing the Team Pro was instrumental in ensuring that I was in the team. She bet on me even though I was new and I will always be super grateful to her.
It was a privilege to be a It was a privilege to be associated with a brand like Adda52 and I jumped at the opportunity. It has been an absolutely delightful experience working with Adda52 and we renewed our contract earlier this year. Right from my first interaction with Anuj Gupta, the founder of Adda52, I got very positive vibes from him. His vision of taking Indian poker global is so motivating. They really want the game to grow in India and are so passionate about it. I am extremely proud to be associated with such a brand.
You are an absolutely dedicated poker traveller attending as many events as you can in the Macau and Manila region especially. What have been some of the highlights of your travels to these places?
 I am one of the youngest poker players in the country in terms of experience. The opportunity to interact with the other Indian pros that travel for these events is definitely the highlight of my travels. These guys have been playing for so long and learnt from their mistakes over the years. I have the advantage of picking on their brains and learning so much from them. So I don't need to reinvent the wheel. The Indian contingent which travel for these events is usually restricted to 3-8 members and we are thus a close knit group during these series. I have learnt so much about the game from guys like Dhaval Mudgal, Amit Jain, Jasven Saigal, Danish Shaikh, Aditya 'Sushi' Sushant, Rajeev Kanjani, Akash Malik, Shravan Chhabria, Kavish Kukreja, Romit Advani and others. They are all so helpful and always ready to give their tips to improve the game. And yeah, they are a great bunch of people to party with also at the end of a tiring day! (laughing)
How realistic is it for someone to be a traveling pro and be relatively (if not more) profitable? Any insights you would like to share?
One thing I have learnt over the last year is that it's extremely difficult to make a living as a poker player from live tournaments only. We are all looking for that one big win which can take care of our poker bankroll. But that win might not come. Even if it does, it might be a long time waiting. Therefore, every poker player has to play cash games on a regular basis to ensure that they have a regular income. Also regular tournaments online are a necessity. I had a fantastic 2015 but it still wasn't a profitable year for me. The travelling overheads, plus the events which you brick makes it very difficult to break even. Also, if you brick one series then your bankroll can go for a toss. My Vegas series last year was a total brick and unfortunately the most expensive series. So if I remove Vegas, I had a slightly profitable year last year but with Vegas included it wasn't the case. Therefore, it's imperative for every poker player to play enough cash games to deal with the tournament variance.
Are there other destinations in Asia which you are keen on going to?
I am very keen to go for the Aussie Millions and am hoping that I can do it in 2017.
What about the WSOP this year? Any plans of heading to Vegas?
I am still in two minds whether to go for WSOP this year. It's a very expensive trip and you are like a kid in a candy store in Vegas during WSOP. You have a bunch of series happening simultaneously at other top venues like the Aria, Venetian, Planet Hollywood etc. So one needs a lot of discipline to ensure that you play only the tournaments you are going for. I will take a final decision on WSOP after my return from WPT Nottingham.
Anything on the poker bucket list which you have yet to tick off?
From the pictures and what people have told me, New Caledonia as a poker destination looks like an exquisite poker destination and I would love to go there sometime.
Having played a fair bit abroad, what in your opinion are the key differences between their setups and players versus ours?
In terms of setups, I have to say that they are way more professional than the Indian tournament setups. Their ability to conduct 4-5 tournaments at the same time side by side without a hitch is amazing. I think, barring IPC, all the other Indian tournament series have to become professional; beginning with simple things like starting a tournament on time. As regards to the players, I have said this earlier and would say it again, the Indian poker pros are amongst the best in the Asian circuit. Most of the Indian players know their game so well and no wonder we have done so well in these series over the last couple of years. I would prefer if none of these pros from India are on my table (laughing).
You must a few interesting poker stories from your travels…
Actually, I have two three of them, a couple from the ACOP in October 2014. Before heading for ACOP, my only preparation was reading poker books by Jonathan Little and Bertrand 'Elky' Grospellier. During the High Roller Event (where I won a seat through a satellite), my table changed and I was sent to the table where Elky was sitting. I was super-duper excited as I learnt about poker through his book, the Raiser's Edge. I tweeted immediately that it was such a privilege to be on the same table as Elky and tagged him on the tweet. To my surprise, I saw that he favourited the tweet in less than 5 seconds. In his book, he had also mentioned that there are no friends on the table and wherever you find a weak player on the table, you need to put a lot of pressure on him. After the tweet, I thought that he must thinking that I am in awe of him and he will thus try and put pressure on me. In less than 2 minutes, I was dealt QQ in big blind. Elky opened from late position and I 3-bet him. He tanked for a bit and 4 bet shoved over the top. I really thought he was making a move and I was anyway never folding my queens there and I instantly called. He has AK and I won the hand. I had him covered and he busted. So it was a little unfortunate that I couldn't play with him on the same table longer but it was a huge high for me to have busted Elky out and that too within 5 minutes of tweeting about him.
---
ALSO READ: Rising Star in Poker – Griboshin Vellanthrov
---
I am usually a friendly guy on the table and make conversations with at least the players to my immediate right and left. During the same high roller event, I was chatting up with this young chap on my right. I introduced myself and so did he and we were chatting generally for about 3-4 minutes when we weren't in a hand. Aditya Sushant who was hanging nearby saw me chatting with the guy. During the break after 15 minutes he came up to me and said, "Do you know who that guy on your right you are chatting with is?!" I was like "I have no clue, but he is a friendly guy and I like him". So Sushant told me to take out my phone and just Google his name. The name that he asked to me Google was "Daniel Coleman!" (laughing). It was very funny and I realised that I was chatting up with the poker player who had the maximum tournament earnings in 2014, a staggering 15 million dollars at that time I think.
This other story happened during WPT Manila in January this year. I had Brian Rast sitting to my immediate right in one of the events. Akash Malik had already told me that he is a super aggressive player and will put you in on the spot a lot. I kind of set up this particular hand – There were a couple of times when I opened light and folded to a 3-bet/shove after tanking a lot. He asked me what I folded and I said JJ and AQ in those two occasions. He was very surprised that I made such big folds to 3-bets/shove. (laughs) I gave him a feeling that I fold to 3 bets easily. After a few minutes, he opened from the button with 23bb behind. I had AJ in the small blind and 3 bet him big and had a feeling that he's was going to 4-bet shove. And that's exactly what he did and I called instantly. He sheepishly showed K-7 off and my AJ was good and I busted him. Felt amazing to have set him up in this hand by portraying an image that I fold easily to shoves and 3 bets.
Who did you consider as some of the top players in the country?
I have started playing cash games on a regular basis only in the last 4-5 months. So I haven't really played cash games with some of the very well know cash game specialists like Samay Parikh, Nikunj Jhunjhunwala, Sumit Asrani etc. But obviously from what I have heard they are the best in the country. One person with whom I have played a lot of cash games in the last few months and who has helped me a lot in improving my cash game is Zubin Panthaki. He is a solid cash game player and been doing extremely well in the Mumbai and Goa circuit. He keeps giving me advice on how to tweak my game in a cash game as compared to a tournament and his tips have been very useful. So I have a lot of respect for him.
Gaurav Gala is definitely one of the best Omaha players in the country and he has taught me so much about Omaha, a game that I am still trying to get a grip on. Just sitting next to Gala and watch him play Omaha online is a huge learning experience. My Omaha game has improved a lot thanks to him. Danish Shaikh in my mind is one of the best poker minds in the country when it comes to tournament poker. His understanding of the game and his ability to explain his thoughts in a clear and precise manner is outstanding. I had the privilege of sharing the room with him in Macau for a week and was so impressed with him. He should definitely take up coaching.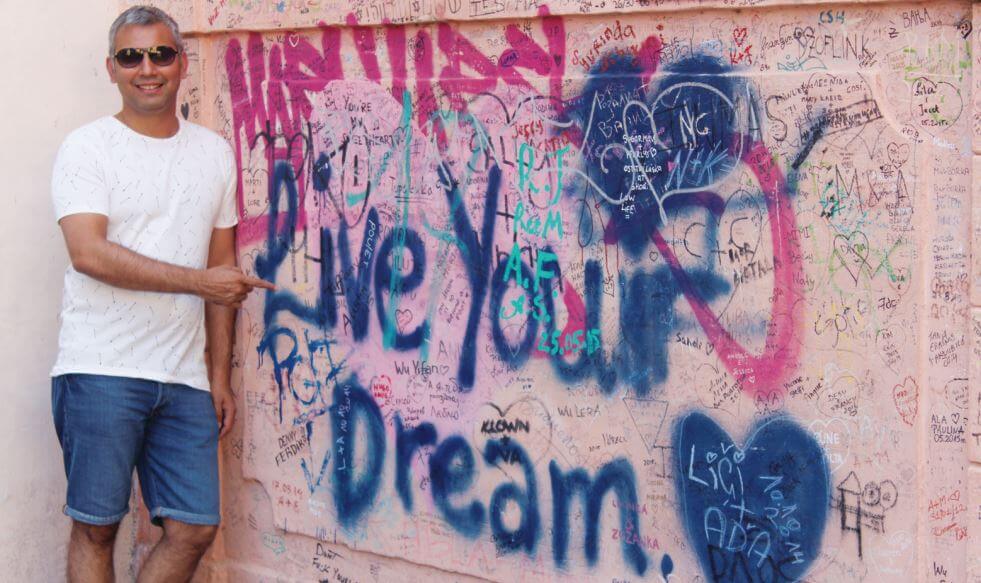 Amit Jain according to me is the best all round player in the country. His ability to adjust between cash games, online tournaments and live tournaments is amazing. A lot of cash game players aren't good at tourneys and vice versa but in case of Jain, he's really good at all the formats of the game. If you ask me one player whom I wouldn't want on my table, I would say it is Amit Jain. He is a feared player. The best thing about Jain is that he is a super helpful guy and would always tell people (without sugar coating) where they are going wrong in their approach to poker or a particular hand. I share a special bond with him. He treats me like a younger brother (even though age-wise I am older to him). He is genuinely happy when I do well and he scolds me when I play a hand badly or when I do something wrong.
Some of the other players I have a lot of respect for are Dhaval Mudgal, Jasven Saigal, Akash Malik, Shravan Chhabria, Aditya Sushant and Aditya Agarwal is obviously like the Amitabh Bachchan of poker in India. He is ranked 1-10 and everyone else comes after him. It's really unfortunate that I got into the poker scene a little late and didn't get an opportunity to train under Adi, like some of the other top Indian pros.
How did you handle fatigue for so many hours of play? Any tips you'd like to share?
It's very important to have a disciplined life to handle the fatigue caused due to poker. I try and ensure that I get a good night's sleep before a big game. I avoid partying too much during any series. We usually have one night where we go buck but other than that I try and ensure that I get 7-8 hours of good sleep.
The two things that I need to work on very seriously are eating healthy and exercising regularly. I have been guilty of not working on the above two things but I have promised myself that I will ensure that I don't lag on these two going ahead.
What advice would you give to a) players who are starting out and b) players who are making their first international trip?
Play cash games regularly – you cannot survive being a tournament player only.
Be very careful with your bankroll – one brick series can have a huge dent to your bankroll.
Plan well in advance for international trips – Book your hotels and flights way in advance for the international trips. It saves you a lot of money and in the long run the savings end up being huge.
Poker resources for improvement you recommend.
Jonathan Little's 3 book series for new players. It's a fantastic book to get your basics right for tournament poker.
The Raiser's Edge by Elky – for intermediate level players.
Kill Phil and Kill Everyone – for advanced strategies.
There's also the 2Plus2 forum for regular discussion on poker strategies and sites like RunitOnce for some amazing videos.
What are your future plans, within India and abroad?
I am heading for WPT Nottingham in less than a week. Haven't really planned my schedule after that. Really keen to go for WSOP but still in two minds. Will definitely be doing the next Macau Poker Cup and the APT in Manila.
Favourite holiday destination for chilling and favourite destination for poker?
For Poker – It has to be Vegas. Nothing compares to Vegas.
For Holiday – Every country in Europe has its own charm and there's so much to see. Till now my favourite holiday though has been to New Zealand. It's by far the most beautiful country in the world. I am very keen to go to Maldives for a relaxing holiday in the near future.
Thanks Kunal. we wish you all the best for the future!
---
Rapid Fire with Kunal Patni
FAVOURITE HAND – 7-9 suited.
FAVOURITE PROS – Amit Jain, Adi Agarwal, Daniel Negreanu and Sam Razavi.
3 SONGS THAT REV YOU UP FOR A POKER SESSION – I usually don't listen to music when I am playing poker. I would rather pay attention to the table talk and pick up small pieces of valuable information.
FAVOURITE FOOD – Because of the extensive travelling, I have to say I love my "ghar ka khaana."
---
(This piece was originally published in Gutshot Magazine Jun-Jul 2016 edition, and you can take a look at such pieces in our repository of all past editions by clicking here)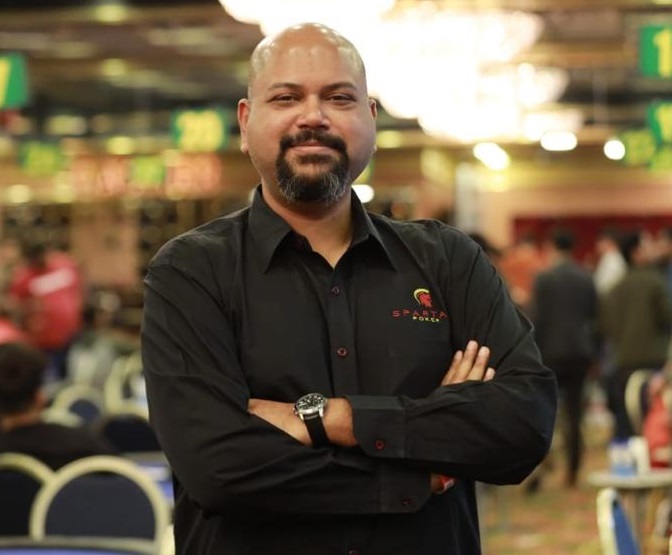 Peter Abraham is the editor-in-chief and co-founder of Gutshot Magazine. Involved with the Indian poker industry since 2009, he is also the co-founder of the India Poker Championship, a live tournament brand and online gaming platform SpartanPoker.com. Outside of poker, he is also a voiceover artist, fronts a classic rock band and is enthusiastic about teaching personal finance.
---
---
More News
---
Comments