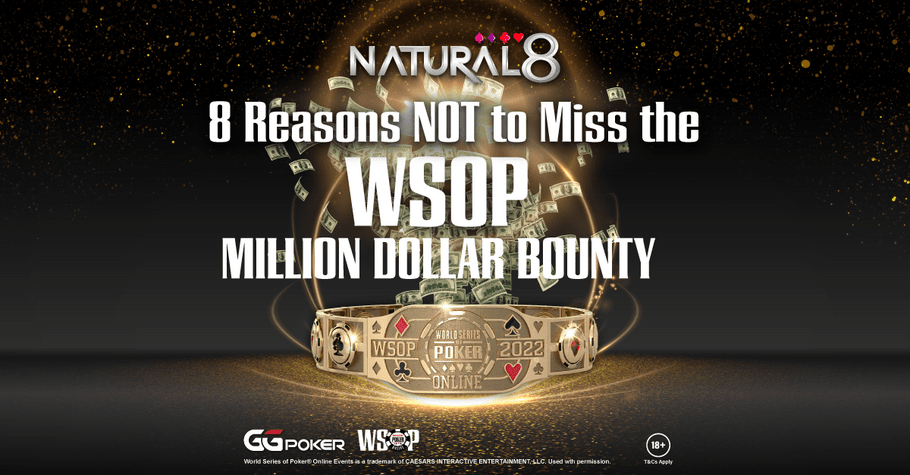 Poker
---
8 Reasons NOT to Miss the Million Dollar WSOP Bounty
A Million Dollars can make dreams come true. If you've got an amazing talent, you could audition for "America's Got Talent". If you've got brains (and a really smart friend for a lifeline), you could try "Who Wants to Be A Millionaire?". Perhaps you could try your luck with the Mega Millions Jackpot.
What if we told you there is an easier way? Would you take it?
This August, the World Series of Poker together with GGPoker Network will be going online at Natural8 with 33 online poker tournaments. Hidden within these 33 events is a special Mystery Bounty poker tournament. Why is it special? Let us count the ways… 8 of them to be exact.
#1: $1 Million Dollar Bounty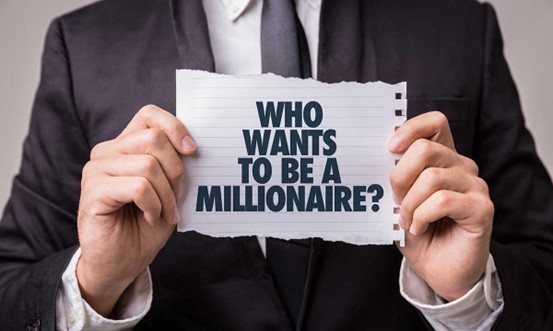 One lucky player will walk away with $1,000,000 on the 22nd of August, 2022 and that player could be YOU! All you need to do is hunt and eliminate the player with the million dollar bounty. There is one catch; nobody knows who it is so you'll have to eliminate as many players as you can to find it before someone else does. At the time of writing, there are 2,307 players in the Mystery Bounty final stage. That's better than the 1:302,575,350 odds of winning the Mega Millions Jackpot.
💡What is a Mystery Bounty?
A "Bounty" is typically a reward for capturing (or in some cases killing) a person. In the case of poker, a bounty would be rewarded for eliminating another player from the game. In regular bounty tournaments, the bounty on each player is equal in value. For a Mystery Bounty, the bounties vary in value and are randomly assigned.
#2: Low buy-in of $210
It still is a significant investment but a $210 buy-in is one of the lowest buy-ins for the WSOP Online 2022 where the buy-ins range from $100 to $10,000. You could multiply your investment 4,762 times and turn $210 into $1 Million. To put it into perspective, $210 could get you 35 Big Mac meals, or you could turn it into $1 Million Dollars for roughly 166,945 Big Mac meals.
#3: You don't have to win to be a Millionaire
The beauty of the Mystery Bounty is that you don't have to be the last one standing to win the million. You just have to eliminate players and hopefully hit the one with the $1 Million bounty. That doesn't mean you shouldn't try to win the tournament for the additional cash prize but let's just say the 1st place cash prize is just the cherry on top. The hidden $1 million is the motherload.
#4: You don't have to be a Pro
Basic knowledge of how the game works is needed but advanced knowledge is not necessary. Perhaps you're interested but afraid that you're not good enough. Or you shy away from poker tournaments because you fear the unknown. Let's just say that this special Mystery Bounty event is for everyone and anyone that has basic knowledge in poker. You'll definitely need just enough skill to survive the first stage but once you get to the second stage, it's anyone's game.
💡Learn The Basics of Poker
It's good to get yourself acquainted with the basic rules and strategy. We wouldn't want you to go into this blind so if you need some guidance, find a simple and free poker school to help you get started.
#5: $10,000,000 in Guaranteed Prizes
And how can we overlook the sweet $10 Million guaranteed prize pool (inclusive of the $1 Million Bounty). That's $10 Million Dollars minimum looking for new owners. It could be more but no less. That's the second highest guaranteed prize pool at this WSOP. If you're interested in a higher prize pool you should check out the $20,000,000 GTD WSOP Online Main Event.
#6: Accumulate Chips For A Better Hunting Experience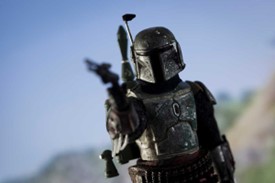 To be a good bounty hunter you'll need to channel your inner Mandalorian. One way to improve your experience is to put in a little extra time and effort and play in multiple Day 1s to build up your chip stack. All your qualifying chipstacks will be brought over to Day 2 and if you've built up a mega stack, you'll have more ammunition to hunt for the Million Dollar bounty.
#7: Satellites for as low as $1
Wouldn't it be the ultimate story if you turned $1 into $1,000,000. If you're not ready to part with $210 just yet you could try your hand at the many satellites that are available for a fraction of the price.
💡What are Satellites in Poker?
A satellite tournament in poker is a qualifying event. Winners of these satellites usually win the buy-in fee to a larger target tournament. Below is an example of the stages for the Mystery Bounty Satellites. In this example, the cost of the buy-in is $1 and you'd need to successfully complete 2 satellites in order to gain entry to the main show.
$1 Mega Step to WSOP Million Dollar Mystery Bounty
↓
$10 Mega to WSOP Million Dollar Mystery Bounty
↓
$210 WSOP Million Dollar Mystery Bounty
#8: A WSOP Gold Bracelet

In the event the stars align and you manage to be the last one standing, you'll also receive a coveted WSOP Gold Bracelet on top of the 1st place cash prize. With this piece of jewelry comes great responsibility and there are only 33 of them being given out at this year's WSOP Online 2022. All bracelet winners will get to be part of Team Bling which comes with some additional perks and bragging rights.
Ready to take the leap?
Becoming a millionaire isn't such a far fetched idea now. A million dollars can change a life so don't let this opportunity pass you by. All you need to do is sign up for an account at Natural8 and start playing and you could win a million dollars.
For more news and updates, keep reading Gutshot Magazine. If you're on social media, be sure to follow us on Facebook, Instagram, Twitter, and Telegram.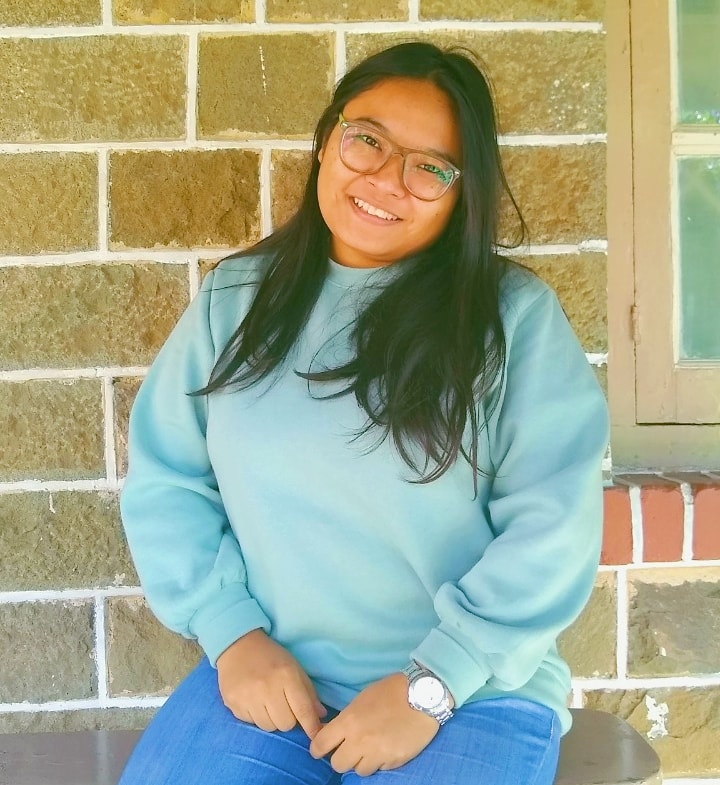 Donna Amo was a writer at Gutshot Magazine. She is a graduate from Sophia College of Women, Mumbai with a degree in English Literature. When this October born foodie is not writing content or poetry, she spends her time laughing at memes or watching series. Based out of Mizoram, she is drawn to all things nature and has a soft spot for puppies.
---
---
More News
---
Comments