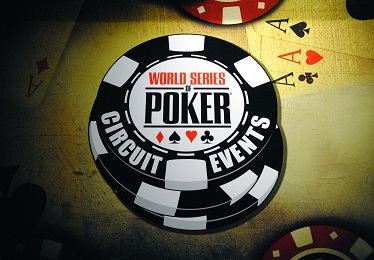 Poker
---
WSOP Circuit 2018-19 season schedule released
A recent press release sent by the World Series of Poker announced informationa about their Circuit Events schedule for the 2018-19 season. A record 28 stops are expected to be part of the upcoming season which will start from 2 August at Harrah's Cherokee in western North Carolina. The season will culminate stop at another Harrah property at New Orleans in that edition which begins on 9 May, 2019.
Coming off a record 133,892 entries awarding a record $66,585,658 in prize money this past season, the 2018-19 season will see more benefits for players, including more starting chips and new price points for the refreshed WSOP U.S. Circuit's fifteenth season. Instead of running with the status quo after a record-setting year, the WSOP has introduced several new updates and offerings to the Circuit. 
Here's the information as per the press release sent out:-
More Starting Chips – Each official WSOP Circuit ring event now gives players many more starting chips than previously.  The most popular price points, the $365 (now $400) and the Main Event (now $1,700) will increase starting stacks 50% each.  So the $400 buy-in will start with 15,000 chips and the Main Event begins with a 30,000 starting stack.
Price Point Polishing – Both to ease customer and cashier process time and to help beef up the prize pools, the WSOP Circuit will introduce some new price points in 2018-19.  Buy-ins will now feature $250, $400, $600, $1,125, $1,700, $2,200, $3,250 and $5,300 ranges.  The new primary price points will be $250, $400 & $600, while higher buy-ins remaining the same at $1,125, $2,200, $3,250 and $5,300.
Introduction of Big Blind Ante – Some ring events offered in 2018-19 will feature the Big Blind Ante format.  The popular new innovation that replaces players anteing every hand, to anteing once an orbit when in the Big Blind, was tested at points during the last circuit season and has been introduced in some play at the 2018 WSOP.  Gaining widespread approval and adoption, Big Blind Ante takes away the frustrations faced when players are slow or forget to ante, as well as eases dealer chip collection, thus making for a more fun and positive experience.
"For our fifteenth season, the time was right to take a hard look at our offering and refreshing it to give players a better experience all around," said WSOP Tournament Director Jack Effel.  "Everyone loves more starting chips, and we think things like the Big Blind Ante and larger prize pools will be big hits for all players."
In addition to the WSOP U.S. Circuit tour, the International WSOP Circuit will return, with a future announcement planned to detail the stops planned during the 2018-19 season.  Confirmed already, is a new International stop in Montreal, Canada at Playground Poker from August 23 to September 4, 2018.
As has become tradition, the Circuit season will culminate with the Global Casino Championship, a special invitation-only event which has a minimum prizepool of $1,000,000. Players can qualify for the 2018-19 Global Casino Championship several ways (a.) win a Circuit Main Event at any U.S. or international stop (b.) win a "Casino Championship," which is defined as the player at each stop who accumulates the most points throughout the open event gold ring schedule at any U.S. or international stop (c.) be one of the top 50 cumulative point earners over the entire season who hasn't otherwise qualified (U.S. tour only).
The 2018-19 WSOP Circuit U.S. schedule is given below:
---
---
Comments