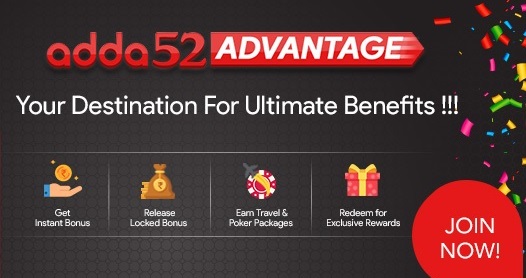 Poker
---
'WORLD OF ULTIMATE BENEFITS' introduced by Adda52
Adda52, one of India's leading poker websites, has come up with a program for its players with high rewards and opportunities to win luxurious prizes. The program is called Advantage – a loyalty program that will provide online poker players with exciting benefits. This online program is a grand opportunity for poker enthusiasts to compete with world class poker players.
Launched around mid-September, Adda52 Advantage is a program designed for the benefits of the players playing on the site and the program also offers both rake-back and rewards will be provided to players simultaneously. As soon as a player plays a game and wager, he/she gets to become a part of the Adda52 Advantage Club.
There are 5 clubs the program – Rookie Club, Jacks Den, Queens Haven, Kings Court and Acers Adda. Higher the club, bigger the benefits. Interestingly, there are 4 crates (mystery boxes) in each club that provide instant bonus, crowns (a special Adda52 currency) poker packages and much more. The moment a player completes required hands, tournaments & streaks, he/she is notified if the crate is ready to open. All rewards in the crate are random in nature and nothing but full of surprises.
Commenting on the recent launch, Mohit Agarwal, CEO and Co-Founder of Adda52 said, "The need of the multidimensional program arose when our research showed that each user has unique playing style in terms of hands they play or the stakes they choose. Thus, it was imperative that each be rewarded appropriately for the effort they are putting in. We have made use of complex algorithm to factor in the playing style, thus, keeping the distribution of points or bonus and rewards as seamless as possible."
Kapil Arora, product head at Adda52 had a few words to say. He said, "We have both rake-back and rewards stitched together in our new loyalty program. This combination gives players maximum benefits (cash bonus & rewards) and flexibility to open as many crates based on the volume of their game play. There are a lot of other cool gadgets like Smart phones, Speakers, Headphones, Laptops, Watches, Motor-bike and Luxury Car in Adda52 store which can be purchased by redeeming crowns earned from the crates. Adda52 Advantage is full of surprises & benefits and an ultimate destination of exciting rewards for all the players"
Not only this initiative by Adda52 is one of a kind but it mainly concentrates on returns for players for the invested time and money of players on the site and as most things in the game are judged on the bases of returns on investment, Advantage is most likely to prosper and be a successful initiative. One of their players has already won an INR 55,000 WPT Main Event ticket through this program.
Don't have an account on Adda52 as yet? You can join their platform and be one of the big winners of the Adda52 Advantage loyalty program, or any of their other top tournaments and promotions. To do so, sign-up HERE.
---
---
Comments