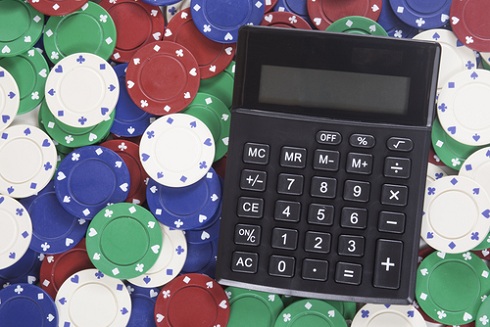 Poker
---
What Makes you a Better Poker Player? Math or Gut?
Math and Gut are the two sides of the same coin. It is like a comparison between two types of players – One naturally gifted and the other who has become good over a period of time with practice and hard work.  It is never easy to understand which style of playing is better. In this article we will make an attempt to understand what play style might be better.
First, let us clear up the differentiation between the two types of players. A Gut player is the one who will make use of his gut feeling and instincts to play the game. Based on their experience, they make use of their instincts to call, bet, raise or go all-in. A Math player is the one who looks at each round and hand as a mathematical problem and tries to find a solution to it based on statistics and logic. Gut players will play according to how they 'feel' and adjust their game by studying their opponents. Math players with use minimal observations and will adjust their games based on the analysis that they do of their hands.
What works better? The math or the gut.
There have been multiple debates about what works better in Poker and there always been a divided amongst the players of these two contrasting styles. However, we feel that both players have distinct advantages based on when and how they are playing. Gut players should have a slight edge while playing at live events. Here, you can see the opponent and understand tells and tendencies. The feel quotient is high when you play live.
On the other hand, math players have an advantage when it comes to online poker. The online game is mostly based on logic and math and that is exactly where calculative players flourish. A gut player takes spur of the moment decisions which might not be the best in online poker as you cannot see your opponent.
Players who believe in their instinct should do better when it comes to no limit games. There is a lot of psychological pressure waiting to be leveraged upon in these games making it ideal for a gut player. On the other hand, math players play online games based on their calculations. They have two advantages here – one is that they can play wherever they are at maximum comfort and the second advantage is the variety of tools that help them calculate their odds of winning. There is less psychological pressure in limit games on math players because there is a lower possibility of someone betting all their chips and losing all their money.
It is difficult to determine which style works best in Poker as there have been successful players on both sides. The math style of playing can be learnt. However, you cannot learn to be a gut player. One can simply mug up the pot odds, bet sizes and other numerical aspects and enter the game well prepared. You can read books and online forums to get information. However, only experience can help you become a good gut player. The more you play, the more you realize how you feel about being in certain situations in the game and only then can you take decisions based on it.
In conclusion, we would like to say that there is no one tracked way of becoming a successful poker player and then maintaining the success. Math and Gut are just two sides of the same coin. A player who is good at both the facets can use both according to the situation of the game. The only thing common between both types of players is hard work. No matter what your strategy is, it the amount of hours you spend grinding at the table that makes the difference between a good and a great player.
What is your strategy when you play poker? Can you balance both Math and Gut? Got a different hybrid strategy? Feel free to let us know in the comments section!
Get latest updates on Poker right in your inbox – Subscribe Now!
---
---
Comments