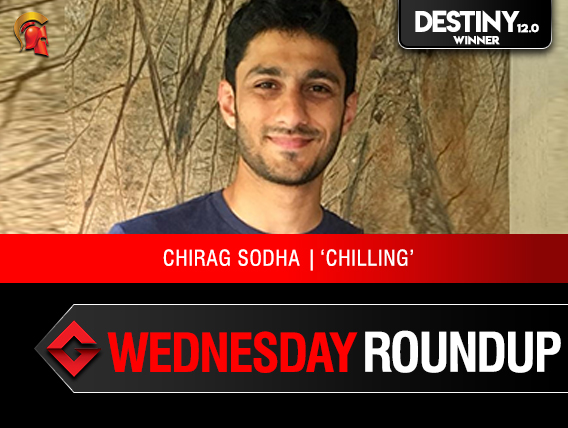 Poker
---
Wednesday Roundup: Chirag Sodha takes down Destiny 12.0 on Spartan
Do you feel the mid-week existential crisis getting on your nerves? The best of the online poker platforms come up with daily major tournaments. Spartan Poker is back again with Destiny 12.0 series, recently crowning the Destiny 11.0 SnG Finale winner an upcoming poker enthusiast Divyank Prasoon. And here is a quick peek of the day…
Spartan – Destiny 12.0 INR 25 Lakhs GTD
As stated, Spartan Poker hosts Destiny which comprises of 10 tournaments crowning 10 winners who ultimately meet and compete neck to neck to grab the Las Vegas packages in the SnG Finale. And one such player reserving his seat to the SnG Finale was Chirag Sodha aka 'chilling' at 4:41 am this night. The Wednesday featured tournament always observes a good field, and this time each player entered for a buy-in of INR 5,500. Eventually, the guarantee was surpassed owing to the massive number of entries and a new prize pool was created which was later shared among the top players.
Total Entries – 597
Prize Pool – INR 29,85,000
Places Paid- 60
Min-Cash – INR 11,940
Also recorded for his 5th place finish in the recent 2019 Baazi Poker Tour Main Event in the heart of India's poker capital, Goa, Sodha is fairly known in the online circuit. Nonetheless, the champion defeated Rajat Sharma aka 'Garammasala', who is also among the leading players and winner across all major platforms in the country.
Yesterday night was lit with some of the frequent faces on Spartan Poker including another Destiny 11.0 SnG finalist Harshad Barve aka 'omglukbox' (3rd), Rajat Mahajan aka 'BloatedBelly' (6th), Anish Patra aka 'Illusionist' (8th), 'gareeeeb' (11th), Kanishka Samant aka 'Wildflower' (21st), Neel Joshi aka 'Worm33' (29th), Arjanveer Chadha aka 'bazzingaa' (30th), Rubin Labroo aka 'kornkid' (35th), Yowan Patel aka 'PAPITO' (36th), Guneet Kwatra aka 'PAPITO' (36th), Raman Gujral aka 'tathagat' (55th) and so on.
Pokerbaazi – G.O.A INR 20 Lakhs GTD
Wednesday night on Pokerbaazi belonged to the runner-up of Tuesday's The Endeavour, the anonymous player 'comeon' who took away the limelight after defeating 'AceRag' in heads-up battle, adding INR 3,89,637 to his poker bankroll.
Total Entries – 437
Prize Pool – INR 21,35,000
Places Paid- 63
Min-Cash – INR 8,540
At 8 pm, players registered for a buy-in of INR 5,500 and the guarantee was seen slightly surpassing only to create a prize pool which was shared among notable players including Suresh Kolli aka 'oil_trader' (3rd), Ujjwal Narwal aka 'Mr_Robot' (5th), Arjanveer Chadha aka 'holdupbaby' (6th), Faiz Alam aka 'AilaGaya' (15th), Tuesday's The Endeavour winner Jayjit Ray aka 'england' (19th), Rubin Labroo aka 'kornkid' (24th), Arsh Grover aka 'Button_Hai_Bro' (25th), Siddhant Kapoor aka 'Bullzeye' (29th) and so on.
Adda52 – Maverick
The previous night at 8 pm sharp, Adda52 hosted Maverick which was an intense 7-hour long affair, ultimately awarding the title to 'billZ' who emerged victoriously after defeating 'MontyCristo' in heads-up. The winner took away the glory of the night by adding INR 2,55,835 as the first-place prize money. The runner-up however managed to secure INR 1,51,413.
Total Entries – 459
Prize Pool – INR 10,44,219
Places Paid- 49
Min-Cash – INR 5,743
The competition halted at 3:20 am and before that the top players received the min-cash including Anil Adiani aka 'spewtard' (5th), Sreekanth Narayan aka 'n0thing' (7th), Shagun Jain aka 'sogani94' (18th), Abhishek Kumar aka 'degen88' (36th) and so on.
PokerStars Night on Stars INR 5 Lakhs GTD
Yesterday was all about Night on Stars INR 5 Lakhs GTD, a Wednesday daily hosted only on PokerStars. The field was good enough to slightly surpass the guarantee. Taking away the valuable title and adding to his poker achievements was 'gaur88' who wished to stay anonymous. The champion defeated 'brockLesnar95' who fired 5 bullets only to end up in the runner-up position. The winner took home INR 1,11,405.
Total Entries – 239
Prize Pool – INR 5,86,000
Places Paid – 47
Min-Cash – INR 4,132
Other notable players to cash out include Rachit Parihar aka 'hack_R27' (3rd), Rubin Labroo aka 'kornkid4' (18th), Amit Kumar Sahu aka 'NuutsLagGaye' (21st), Shashank Desai aka 'GOAT-245' (30th), and unfortunately Ashish Ahuja aka 'Spewushhhiiiii' busted just before the payouts at 48th.
9stacks – StackUp INR 2,50,000
For a buy-in of INR 1,650, a moderate field was observed in 9stacks StackUp INR 2.5 Lakhs GTD at 7:59 sharp. 5 hours and 43 minutes into the game we had a new champion of the day, powering through the field, claiming the first-place prize money was 'Dhappa' adding INR 67 500 to his poker bankroll only after the anonymous player defeated 'Wickedsid' who managed to grab INR 47,500 to settle in the runner-up position.
Total Entries – 123
Prize Pool – INR 2,50,000
Places Paid- 15
Min-Cash – INR 3,500
Other notable players include Rajkumar Gahlot aka 'Fireman' (3rd) and yesterday's StackUp winner Dhawal Bagaria aka 'Mr.Performer' (15th) and so on. For latest updates on live and online poker tournaments keep reading GutshotMagazine.com and stay tuned!
Check out our online poker rooms section, where you can read reviews on the biggest and best poker rooms in the country, while also taking advantage of their bonuses and promotions. Check out these top poker rooms HERE.
---
---
Comments