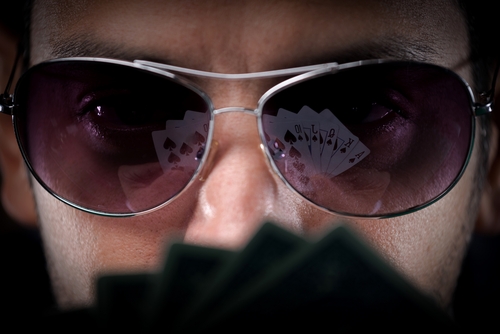 Poker
---
Wearing Sunglasses and Headphones at the Poker Table
It is the most stereotypical/clichéd choice of accessory in every poker room. You'll see at least one person sporting either a pair of sunglasses or headphones or both at every table. These have been considered as a symbol of poker seriousness. Many players wear them – professional and beginners alike. Maybe you wear them. Here we'll discuss the pros and cons of wearing either of these.
One of the advantages of wearing sunglasses at a poker table is to recognize tells that involve eye movements. For example, a person who stares at the flop for too long to recognize something that he has missed and can use it to his advantage. There are many other tells that come to mind which are based on eye movements. These are unconscious behaviors that tend to give away the true strength of your hand. You may do it too without realizing. Since the eye movements of your opponents can help you, in the same manner, you can shield your eyes from your opponents probing stare by wearing sunglasses. When hidden behind sunglasses, your eyes will not betray any tells. You can also stare at your opponents looking for signs all day through your glasses without them knowing.
Don't wear those reflective ones though or you may end up giving your hand to your opponents. Might as well dip it in honey and stake it to the ants, right? Or you could fashion something out to mislead your opponents (remember SRK's Baadshah?). Hey, it's just a thought 😉
Similarly, headphones can block out unnecessary and sometimes absurd chatter around the table. It can block out all the negativity that goes around and listening to soft music can help you focus on your game.
However the disadvantages of wearing either of these outweigh the advantages. Consider what can be gained if you engage in small talk. First of all, it tends to bring a person closer (not the BFF's type). Secondly, it portrays you as a kind and humble person, which is sufficient enough for your opponents to play softly against you. "Kill them with kindness", ever heard that phrase? It does make people feel better about you than if you are a silent cipher sitting next to them. It's human nature.
Uncovered eyes and ears can pick up things that might not be visible or audible otherwise. A spoken word can reveal a lot. If you have headphone shoved in your ears you may miss out on some serious remarks. There are things you might also miss by wearing sunglasses, such as a little smile or frown in response to a flop, the slight tremor of a hand reaching for chips etc. And then there's also the occasionally flashed or marked card — it happens — that sunglasses might cause you to miss those.
At the end of the day, you're your own jury. You decide what you want. If it seems like a tough choice to make, then stick to online poker!
---
---
Comments