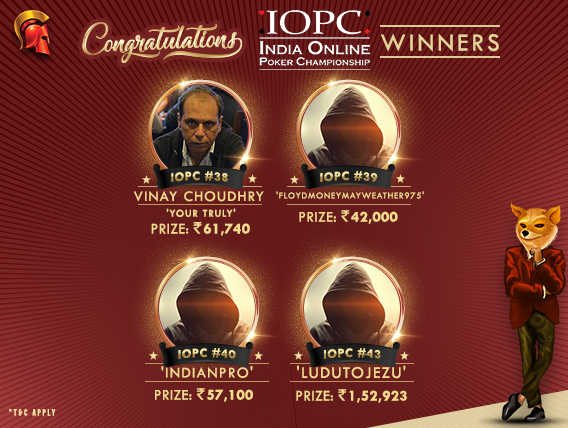 Poker
---
Vinay Choudhry among 4 side-event winners on IOPC Day 8
The India Online Poker Championship (IOPC) Day 8 got over yesterday. A total of 6 tournaments saw its winners being declared on The Spartan Poker. The biggest of them, The Elite, was won by well-known circuit player Kanishka Samant for INR 12,74,534 and the Triple Bubble by Rajesh Shukla. Along with these two exciting tournaments, there were four other side-events hosted.
IOPC #38 – INR 2 Lakhs GTD
The tournament attracted 226 entries, thereby breaking the guarantee and bringing the prize pool to INR 2,94,000. The top 30 paid places with min-cash of 2,205 saw the lion's share 1st place cash prize go to Vinay Choudhry aka 'Your Truly' for INR 61,740. He beat Ashutosh Pandey aka 'indianpro' in heads-up to bag his title.
The final hand saw some interesting poker. With 8c 7d hole cards and more than 2:1 chip lead, Choudhry called Pandey's pre-flop raise, who was packing 8d 5s. The flop of 3h Ah Js saw both of them check. The turn of 7s made a pair for the eventual champion, but not knowing this and making a costly misake, Pandey bluffed with a bet of 594k and received a call. The river came to 2h and Pandey went all in to increase his bluff game, but Choudhry called and won the tournament with a pair of Sevens.
We spoke to Choudhry after his win and he quite emotionally said,"This is my first ever IOPC title and I would like to dedicate it to my mother whom I lost last week. #ChotiSiKhushi." The words that he expressed are heart-felt and convey true emotions. He'll be hoping to make a few more wins in the future using the earnings.
IOPC #39 – INR 2 Lakhs GTD (FO)
This was the second tournament of the day and attracted a decent 223 entry turnout for a buy-in of INR 880. Top 30 places were paid, and the min-cash was INR 1,500. 'floydmoneymayweather975' shipped the tournament for INR 42,000, beating 'killer786' in heads-up.
The final hand saw a pre-flop all-in by the eventual champion and received a call. Floydmoneymayweather975 was with over 2:1 chip lead and was packing pocket Twos. The flop gave him a 2 and he made his set, beating killer786's Td Ad on a 4c 5s 2c 9d 6c board. The runner-up ultimately had to settle for INR 29,400 as his cash prize.
We spoke to the champion after his win and he had a lot to say about it. "The experience was amazing as I have recently joined Spartan. I used to play mostly on PokerStars but never made this much money on the platform. Besides, yesterday was my birthday and my mother was elated."
He also gave good suggestions, saying "I would also suggest Spartan to provide more progressive bounty events in the future. I felt bad that it wasn't a progressive bounty tournament, but still I want to thank Spartan for making my birthday all the more special." The player wishes to stay anonymous but has promised to reveal his name if he wins a big title in coming days.
IOPC #40 – INR 2.5 Lakhs GTD
This event also broke the guarantee and created INR 2,85,500 in prize money for a buy-in of INR 550. The top 36 places were paid and the winner to emerge from the field of 270 entries was the runner-up of the first tournament of the day, indianpro' bagging INR 57,100 for his 1st place finish after beating 'ace_bob' in heads-up.
The final hand of the tournament was played at Level 34 with blinds at 12.5k/25k/2.5k (ante). indianpro had a huge chip lead of over 13:1 and was set to win the tournament already, so his opponent went all-in pre-flop in with Jc Kd and received a call. indianpro had 7d Qd made with a flush made on the flop itself on a board of Td Ad 3d Th 7s and took down the title immediately after.
IOPC #43 – INR 6 Lakhs GTD
The final tournament after the Elite and Triple Bubble extravaganza was a cool INR 6 Lakhs GTD. The tournament also broke the guarantee and created INR 8,96,000 in total prize pool by the 449 entries coughing up the INR 2,200 buy-in.
The winner to ship the final event was IOPC #26 winner 'ludutojezu' for INR 1,52,923 after a heads-up deal with runner-up and known online reg Ashish Ahuja aka 'Spewushhhiiiii'. Ahuja took home INR 1,51,717 out of the deal, just a wee bit smaller than the winner's cash prize. Ahuja has finished in the money four times this IOPC and would be a lead contender in the IOPC Leaderboard.
The champion of this event though, having made two wins already has a far greater chance to win the Leaderboard and be a proud owner of the brand-new Skoda Octavia. Keep reading GutshotMagazine.com as the IOPC isn't over yet and the crown jewel, Main Event INR 1.5 Crores GTD, is yet to see the light of the day. We'll always bring you timely updates of the series.
Don't have an account on The Spartan Poker? Check out their review page here, and don't miss out on their bonuses, promotions, and guarantee-smashing tournaments. Sign-up now.
---
---
Comments