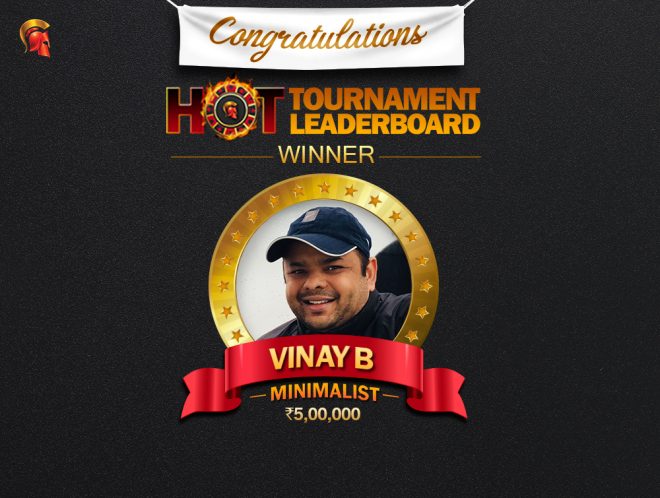 Poker
---
Vinay B wins Spartan Flash and Hot Leaderboard Challenge
Talk about a double whammy! Not only did Bengaluru's Vinay B win The Flash tournament last night at The Spartan Poker, but in doing so he made enough leaderboard points to surge into the lead and claim the win on the Spartan Hot Tournament Leaderboard challenge! Vinay who plays as 'Minimalist' at Spartan was running neck and neck with Arsh 'BigggTymeR' Grover, Ashutosh 'stupefy' Balodhi and Mithun 'ThePokeRaja' Kookkiri but cometh the hour, cometh the man as they say. Last night's win in the Flash sealed the deal convincingly in Vinay's favour along with the sweet INR 5 Lakhs that he gets up top for winning the leaderboard.
First off, let's take a look at what went down in The Flash on Thursday evening. 229 entries came together to crush the guarantee in the tournament making it a prizepool of INR 13.48 Lakhs. 31 positions would be paid out with a minimum guaranteed sum of INR 11,862 going to each money finisher. As mentioned earlier it was a close points race and perhaps the end result may have been a bit different had 'stupefy' gone on to win this tournament and he started well on his way to headsup. In 3-way action between stupefy, 'rivering' and Minimalist (1.6 million chips), the former two were very much on the short stack with stupefy holding 467k and rivering 376k. It was time to double up or bleed out and with a great hand like a pocket pair in 3-way, stupefy (5d 5s) moved his stack into the middle risking his tournament life. Minimalist backed out but rivering had an Ace and decided to make the call with his Ad 3s. While he did make a pair on the board of Jc Qc 8s Kh 3c, it was not the pair he was hoping to make and with that, it was down to headsup.
Headsup between Minimalist and stupefy began with the former having not quite a 2:1 chip lead over his opponent. Less than 20, hands later we came upon the title-deciding hand in Level #42 16,000-32,000-4,000. Minimalist won this 300k pot with Nines and Twos over stupefy's Threes and Twos. At this point, both players decided to make a deal for the rest of the money in the prizepool. It is likely that stupefy realised that perhaps even winning the title was not good enough to secure him the necessary points to take down the Hot Tournament leaderboard. And so both players made the deal giving Minimalist the title and INR 2,56,943 for the win. stupefy would take the runner-up prize of INR 2,20,113.
Stay tuned to GutshotMagazine.com for more such stories from the live and virtual felts! 
---
---
Comments