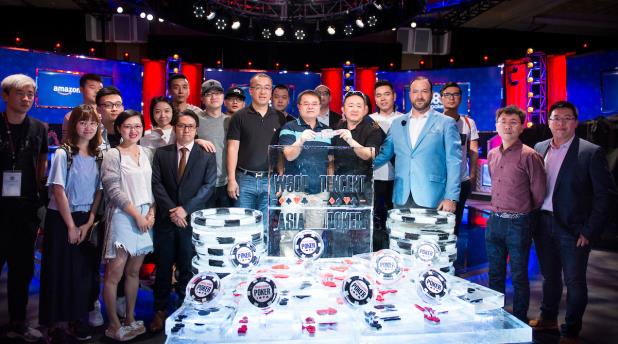 Poker
---
Top Poker Stories of 2017 – Part 2
Yesterday, we published Part 1 of our top poker stories of 2017. Here's a look at Part 2:
#8 – Scott Blumstein Wins 2017 WSOP Main Event for $8.15 Million
We all know that poker is a game of skill but there surely was a bit of luck involved in 25-year old Scott Blumstein's huge win at the 2017 WSOP Main Event. He won in one event, an amount that most poker players don't win in their entire careers – $8.15 million (approx. INR 52+ crore).
The WSOP Main Event is one of the most prestigious titles in the poker world and Blumstein won the event this year. He was always on course to win, reaching the final table with an overwhelming chip lead. Over the days of the Main Event, he beat a massive field of 7,221 players and took home one of the highest live cashes in poker history.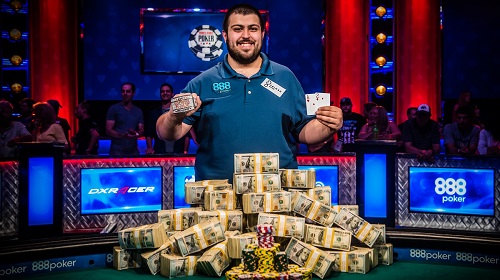 In heads up, Blumstein went all-in against his countryman Dan Ott, holding A-2, while Ott held A-8. The board until the turn gave both players nothing, with Ott set to win on a higher card. However, the 2 on the river gave Blumstein a win with a 2-pair and the rest is all history!
#7 – WSOP & Tencent Sign Deal to Bring WSOP to Asia
This agreement made in July 2017 was one that would be a huge boost to the game of poker in Asia. Global leading internet provider Tencent signed a multi-year deal with Caesars Interactive Entertainment's World Series of Poker (WSOP) to bring WSOP, the world's most popular poker brand, to Asia.
This announcement was made at the opening of the 48th annual World Series of Poker Main Event and the first ever WSOP China was also scheduled for December. The move was a huge one, with the primary motives being to help educate people about and grow the sport of poker in Asia.
After years of being played in America, Europe and Australia, Asia's time is come, with WSOP seeing a lot of 'untapped potential' in the continent. "There is so much untapped potential in Asia and we've found the perfect partner in Tencent to help spread the great game throughout the entire continent," said Ty Stewart, Executive Director of WSOP.
#6 – Poker Playing AI 'DeepStack' Defeats 10 Pros
AI (Artificial Intelligence) developers have been using poker as a testing ground for their AI software as the game involves a lot of unpredictable circumstances, much similar to those we find in real life every day. This year has been a breakthrough one in this regard. In March 2017, an AI called 'DeepStack' defeated ten poker pros following 'Liberatus' defeating 4 pros earlier in the year.
A total of 11 poker pros, including the famous Phil Laak, took part in the experiment in which over 4,000 hands were played and DeepStack ended up defeating 10 out of the 11 human poker pros. One of the Irish pros that took on the algorithm said that he felt he was playing a human player and also warned of the fact that there already are bots winning money from players in online poker games.
The algorithm was created by scientists from the University of Alberta, the Czech Technical University and the Charles University in Prague. The victory represented a paradigm shift in AI that could have monumental implications on the world as a whole.
#5 – Muskan Sethi Gets Women's Achiever Award From President
2017 saw India elect a new President in Ram Nath Kovind and this President handed out awards to 100 women achievers in the country, for excellence in primarily male-dominated professions. Former Adda52 female pro Muskan Sethi received the award from the Indian President for being 'India's First Woman to Play Professional Poker'.
Muskan currently has over $44,000 in live tournament winnings and over $115,000 in online tournament winnings and she has carved out a name for herself in the Indian poker circuit, making her truly eligible for such an honourable award. "It's hard to express how I feel. My journey so far is flashing before my eyes, feeling blessed and really looking forward," said Sethi.
Her selection for this award was done by the Women and Child Development Minister, Maneka Gandhi in October this year, with the awards ceremony being hosted a month later. The 28-year old is also a social worker and regularly donates some of her winnings to charity. Very rightly was she recognized with this award, as she is an inspiration to women and upcoming female poker players in the country.
#4 – Telangana Government Bans Online Gaming
A couple of years back, the Andhra Pradesh Government ruled that rummy was a game of skill and that it wouldn't be considered illegal. Similarly, Telangana Rashtra Samiti (TRS) earlier proposed to give incentives to those who invested in the online gaming sector. However, all that was about to change.
In June this year, the Government contradicted its own proposal and passed an ordinance to ban online gaming in the state of Telangana. Reports say that there were a rising number of complaints of financial loss due to these games so the government decided to crack down on all those playing and promoting online gaming.
Telangana Deputy Chief Minister Kadiam Srihari mentioned that they wanted to bring a new meaning to cyber gaming in the state and modify the existing Telangana Gaming Act, 1974. The primary motive became to eradicate all forms of gambling in Telangana and while online gaming in India has been growing by leaps and bounds in 2017, this decision was indeed a major setback to the industry.
#3 – Global Poker League Announces India Launch
Looking to increase its presence in Asia and other parts of the world, the GPL (Global Poker League) made an announcement in August 2017 that they will be bringing an edition of the poker league to India very soon. Owned and operated by Mediarex Sports & Entertainment, the competition would see six city-based teams competing against each other.
The winning team from these six would then get a chance to compete with other GPL winners from around the world at the World Championship of GPL. Later in December, Mediarex made another announcement saying that they had partnered with Kwan Entertainment, the largest talent management company in India, to bring GPL to India.
However, there was a twist. When the league comes to India, it won't be the Global Poker League, but the Global Player League, with focus shifting from just traditional poker to esports and online gaming in general. The six teams to participate will be Delhi Diehards, Mumbai Jetsetters, Bengaluru Hackers, Chennai Sharks, Kolkata Creators and Ahmedabad Alphas.
#2 – Raj Kundra Partners With IFP to Launch Match IPL
Raj Kundra has been associated with the IPL (Indian Premier League) since its inaugural edition in 2008 and he came back with another IPL in June this year. His company Viaan industries signed an agreement with the IFP (International Federation of Poker) to launch the Match Indian Poker League and help take poker in India to greater heights.
The league was the first of its kind in India and it consisted of 8 teams representing different cities of the country. The final was later even broadcasted on MTV in India. Mumbai All Stars were the eventual winners of this league, captained by Bollywood star Harman Baweja and consisting of other known poker stars like Abhishek Jalan, Nikunj Jhunjhunwala, Sacheen Ramchandani, actress Anita Hassanandani and others.
The All Stars then travelled to UK to represent Team India in the Poker Nations Cup in December, where they finished at 5th place. The league was the second big poker league in the country after the Poker Sports League and it certainly helped the sport grow in India.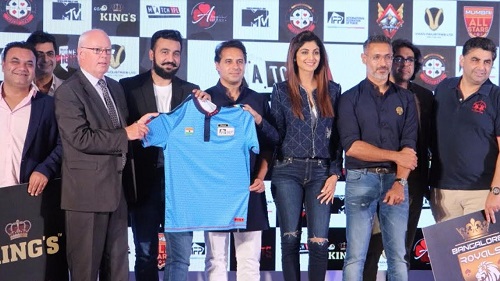 For those who follow poker, you would definitely remember our last and final top story of 2017. This was truly the biggest news for Indian poker players and the poker industry as a whole:
#1 – Aditya Sushant & Nipun Java Win India's First WSOP Bracelets
A WSOP bracelet is considered the most coveted non-monetary prize for any poker player in the world and India never managed to win one, since the first one was awarded in 1976. Since then, bracelets were awarded to the winners of all events at the annual World Series of Poker (WSOP).
In June this year, India's WSOP history was about to change as the team of Aditya Sushant and Nipun Java won Event #10: The $1,000 Tag Team event. Team Sushant and Java battled with a total of 843 entries and made it to the final table. The Indian pair took the lead on the 101st hand of the final day and had a huge chip lead going into heads up.
Team Pablo Mariz – David Guay went all in with K-Q, while Sushant made the call holding A-8. The board opened Q-Q-3 and hopes of a win almost disappeared. However, A opened on the turn followed by another A on the river, giving India its first WSOP bracelets. Java also went on to win Event #71: $1,000 WSOP.com ONLINE No-Limit Hold'em Championship and get his second bracelet soon later.
---
---
Comments