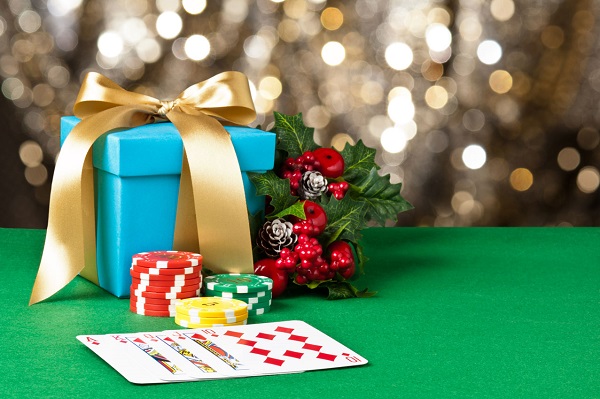 Poker
---
Top 10 Christmas Gifts for Poker Players in India
The game of poker is experiencing steep growth in India in recent years and we're seeing a wide range of people discovering their talents in this popular card game. Right from students fresh out of college to home-makers and retired citizens, there are thousands of people playing the game recreationally as well as professionally in recent years.
It's the Christmas Season now and the gifting season as well. While you will be receiving plenty, it's also the season of giving and here's an article on some of the best gift ideas this Christmas, for your friends or family members who have taken a liking towards the game of poker.
Right from books and training classes for those who are starting off, to grinding stations and chairs for the more serious players, this article has covered it all. So, wish your friend a very Merry Christmas this year, along with a gift that will help his/her endeavours in the game of poker.
Top 10 Christmas Poker Gift Ideas:
1) Poker Books
While math and probability are what makes you good at the game, learning is a very important aspect of poker. Even though we've progressed a long way technologically, books will always be the best teachers. Some of the best international poker players and authors have penned down their knowledge of the game in various books and these have helped many budding players in India. On Amazon and other Indian marketplaces, you can get some of the best poker learning books in the industry, including but not limited to:
Thinking in Bets: Just earlier this year, Annie Duke, professional female poker player, WSOP gold bracelet winner (2004), and author, released a book called 'Thinking in Bets: Making Smarter Decisions When You Don't Have All the Facts'. There's always an element of luck in poker that you can't control, and there is always information that is hidden from view. That's why you need to think in bets.
Super System and Super System 2: Doyle Brunson needs no introduction, having a professional poker career that lasted over 50 years. His achievements include 10 WSOP gold bracelets as well as 2 Main Event titles in 1976 and 1977. Doesn't that say enough? He shared his knowledge through Super System where he and others tell you when to raise, call, bet, and fold in various poker games. The book was released in 2002 and part 2 came out in 2009.
Every Hand Revealed: After winning the 2007 Aussie Millions Main Event, Gus Hansen decided to share the details of every hand that he played to win the tournament and earn the prize money of AUD 1,500,000. He penned down all his winning strategies in a book which later released as 'Every Hand Revealed'.
2) Poker Gear
Here's a one-stop shop for poker aficionados. When we talk about gear, we mean all sorts of poker equipment that one would need to play games at home or even host poker sessions between friends and family. After all, poker is the best for festive occasions. Poker Stuff India specializes in poker equipment such as card decks, chip sets, home game tables, and much more, all of which come in an assortment of shapes and sizes.
See prices:
Varied card decks – Starting at just INR 324!
300-piece chip sets – Starting at just INR 2,450!
Customized home tables – Starting at just INR 25,000!
3) Poker training
Now here's a gift for someone who's looking to dive right into the poker world and for someone who aims to be among the top players in the country. There are plenty of good online poker coaching websites that offer a wide variety of training options, one being Run It Once. Phil Galfond boasts of having won 3 WSOP gold bracelets and his initiative offers training for every kind of player, right from cash game specialists to those who play MTTs. Options are available for high-stakes, mid-stakes as well as low-stakes players.
For just strategy forum access, a free subscription is available while the 'Essentials' package for low-stakes payers begins at just $24.99 (~INR 1,755) a month. Similarly, the high-stakes players who are more into the game can avail of the 'Elite' training package for $99.99 (~INR 7,000) a month. Trainers include the likes of Steve Paul, Akira Ohyama, Jason Koon and Phil Galfond himself. So, help your friend learn and gift them a Run It Once training package this Christmas!
4) Poker HUDs
For those who don't know, a HUD (Heads-up Display) is a very handy tool for poker players aiming to get better at what they're doing. This computer app collects and displays statistics about your opponents while you're playing, which will help you get to know your opponents' playing style quicker. One of the most commonly used HUD in the poker world is Hold'em Manager 2. Apart from a 30-day free trial, HM2 allows you to buy the entire software, with crypto-currency also available as a payment option. They have 3 different packages available:
Small stakes version – $59.99 (~INR 4,200)
Hold'em Manager 2 Pro – $99.99 (~INR 7,000)
Pro Combo 2: Hold'em+Omaha – $159.99 (~INR 11,200)
See how it works:
PokerTracker's PT4 software is another similar app you can download and use on the virtual felts.
5) PokerGO subscription
Poker Central's PokerGO is an online, subscription-based poker service that offers exclusive poker media and entertainment content worldwide. They cover a handful of WSOP featured tournaments as well as other high-stakes tournaments taking place around Las Vegas. Recently, Isaac Haxton won the 5th edition of the Super High Roller Bowl and this tournament was live-streamed only on PokerGO.
So, if you want your friend to be able to get access to content from tournaments like SHRB, WPT, WSOP, US Poker Open, Poker Masters and more, so that he/she can watch the best in the world play, get them a subscription right away:
Monthly pass: $10 (~INR 700) billed monthly.
Annual pass: $8.25 (~INR 570) a month, billed annually at $99.
6) Poker apparel
When it comes to poker apparel in the country, The Big Stack is a pioneer, with a wide range of clothing and accessories for every poker lover in India. Choose from various polos, tees, tops and dresses, and guess what? The website also has a separate section for gifting, so your Christmas gift hunting can end right here. Recently, Big Stack launched a new collection called 'Poker Riviera' and you can get a look at this elegant collection at heavily discounted prices.
Since it's the festive season, Big Stack is giving you the chance to win up to 40% discount on checkout. Simply head over to their website and you will get 3 chances to pick a card that can give you anything between 0-40% discount on everything you buy. If you aren't as lucky, use the code "GUT20" to get a 20% discount anyway.
7) MasterClass with Negreanu 
Now here's a Christmas gift that your friend will love. Here's something that will make your friend remember you for years and years to come. Who doesn't want to be trained by the best? Daniel Negreanu was for very long the #1 richest poker player in the world until passed by Justin Bonomo earlier this year. In these MasterClass one-on-one classes, get tutored by the master himself, and learn his strategies to advance your cash, tournament, and online play. Unlock winning strategies by learning on the go, regardless of PC or mobile.
Moreover, the prices are pretty unbelievable. You get two options. One, choosing an all-access pass with early access to every class right round the year for as little as INR 15,550 a year, while you can also proceed with just a single class with the legend, at INR 7,775 for the single class. It's Christmas and MasterClass knows that too, giving you the limited-time chance to pick up one All-Access Pass and get one FREE – offer valid till 26th December only. So, gift your friend one, and get a free pass too. Who knows, you could be the next Negreanu!
8) DVD gift set
Nothing says Merry Christmas better than an assortment of the best DVDs, as this kind of a gift is personalized and relevant too. Get yourself a basket and create a hamper for your friend this Christmas, with DVDs of some of the greatest poker movies ever made. I'm sure you all remember the 1998 film Rounders, which is said to be the best poker movie ever produced till date, while some other very popular films include Mel Gibson starrer, Maverick (1994), The Cincinnati Kid (1965), biopic High Roller: The Stu Ungar Story (2003) and others. Some of the more recent poker films include Leonardo DiCaprio's Runner Runner (2013) and the latest one Molly's Game (2017) which also won itself an Oscar nomination.
9) Pro gaming chairs
Now we're moving into the gift section for the extreme pro-level grinders, who spend a few hours each day on the virtual felts of any of the top Indian poker websites. Now gaming chairs are not just for those who grind all day in poker, but they can be ideal for anyone who spends over 10 hours a day in front of their computer screens. You could get one of these for an eSports lover as well. Apart from offering an improved seating position and posture for gamers, these chairs increase comfort and sometimes even come with cupholders, speakers and other features designed to enhance your enjoyment.
See some options here:
10) Grinding station
Again, here's a gift you would want only for those who are very serious about poker. Having high-quality screens is vital if you are one of those who grind for long hours each night, or if you are a poker professional. Take a look at an ideal online grinding station:
Having good displays is a must for your friend who is a professional or is going professional soon. Check out Amazon India's best collection of gaming monitors and select from among the top brands like Samsung, LG and others.
We hope you enjoyed our article on the top gifting ideas for the 2018 Christmas Season. From everyone here at Gutshot, we wish you a very Merry Christmas and a Happy New Year 2019. Keep grinding, keep winning and keep reading GutshotMagazine.com for all things poker.
Check out our online poker rooms section, where you can read reviews on the biggest and best poker rooms in the country, while also taking advantage of their bonuses and promotions. Check out these top poker rooms HERE.
---
---
Comments