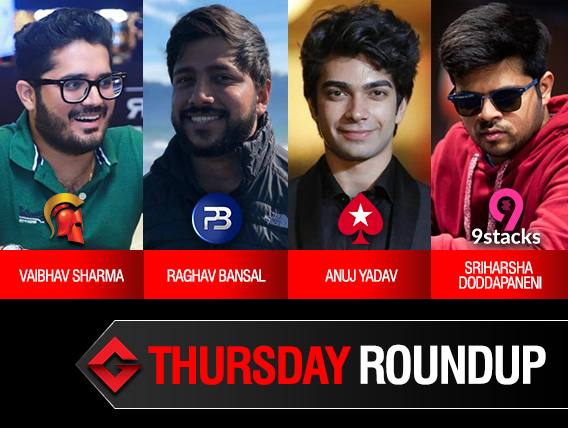 Poker
---
Thursday Roundup: Vaibhav Sharma wins Ultron on Spartan
It was a smashing Thursday night across the leading online poker sites in India! Ignited and kindled by the top players of the country taking away the valuable titles and of course the cash prizes! Last night saw breaking of the guarantees, huge prize pools being created and the top finishers walking away along with their bundles of joy. And cash! Let's take a quick look at Thursday majors…
Ultron
Yes, its Thursday night but with a new blend, Spartan Poker is here with a twist and that's Ultron guaranteeing a whopping INR 20 Lakhs! As usual, the tournament kicked off at 8 pm for a buy-in of INR 4,400. And what a marvelous night it was! The first edition itself pulled out a massive 558 entries, surpassing the guarantee to create a higher prize pool of INR 22 Lakhs with the top finishers well-receiving a pay cheques. Outlasting the field and claiming the first-place prize money was a well-known face on Spartan, Vaibhav Sharma aka 'Nikka Zaildar'. The event closed with a 2-way deal and Vaibhav Sharma's larger stack secured him the first-place position, while his opponent Rajat Sharma aka 'Garammasala' finished in second place.
Total Entries – 558
Prize Pool – INR 22,32,000
Places Paid – 55
Min-Cash – INR 10,936
Other notable players in the money include Ratul Steves aka 'Atriohm' (6th), Guneet Kwatra aka 'guntz' (8th), Rajat Mahajan aka 'BloatedBelly' (11th), Abhishek Gubba aka 'messi010010' (14th), Nitin Arora aka '0HUMAN0' (16th), Manish Lakhotia aka 'thekid' (17th), Sahil Mahboobani aka 'HomelessOnWiFi' (20th), Ashish Munot aka 'Donkey 07' (21st), Yowan Patel aka 'PAPITO' (23rd), Aniket W aka 'Anteman' (28th), Summit winner (read below) Raghav Bansal aka 'thatssosick' (39th), Nadeem Basha aka 'blindgame' (49th), Gokul Raj aka 'Super Kings' (53rd), Ram Kakkar aka 'TheLagLawyer' (55th) and so on.
The Summit
PokerBaazi hosted The Summit INR 15 Lakhs which was a 7+ hour affair. Once again attracting a pretty good field, each player paid a buy-in INR 8,250 buy-in. The star of the night was the leading face of the online poker industry, Raghav Bansal aka 'thatssosick' bagging a massive INR 4,05,892 after beating Shashank Shekhar aka 'Iverson003' who settled in the second place for INR 2,84,797.
Total Entries – 230
Prize Pool – INR 17,25,000
Places Paid – 27
Min-Cash – INR 14,317
Other notable players to cash include Jayjit Ray aka 'england' (4th), Rajat Mahajan aka 'happyfish' (7th), Manish Lakhotia aka 'thekid' (9th), Neel Joshi aka 'Worm33' (10th), Aditya Sushant aka 'gangajal' (11th), Nadeem Basha aka 'SpadeHunter' (16th), Guneet Kwatra aka 'guntz' (27th) and others.
Godfather
Thursday night Adda52 hosted Godfather INR 20 Lakhs GTD at 8 pm sharp, and Nagendra Singh Tomar aka 'gameank123' appeared to be the champion, taking away the title and shipping the tournament for INR 5,64,725. Tomar defeated 'Stackattack7', who in the end settled for runner-up position for INR 3,34,225.
Total Entries – 461
Prize Pool – INR 23,05,019
Places Paid – 49
Min-Cash – INR 12,678
The guarantee was surpassed creating a bigger prize pool of 23 Lakhs which was shared among the top players including Ujjwal Narwal aka 'fourteenk' (4th), Anujkumar Kodam aka 'thekinganuj' (21st), Anveesh Munjal aka 'IamAM' (30th), Nikita Luther aka 'nikitaluther' (35th), Sreekanth Narayan aka 'n0thing' (41st) and so on.
Highroller
Anuj Yadav accomplished the featured tournament last night on PokerStars India – Highroller INR 12 Lakhs GTD. A well-known player across the major online felts, Yadav playing under the username 'brockLesnar95' strengthened his poker bankroll by adding INR 2,46,291. He beat another prominent player Ashish Munot aka 'chipcharity999' in heads-up who ultimately managed to walk out with INR 1,83,684.
Total Entries – 177
Prize Pool – INR 12,39,000
Places Paid – 31
Min-Cash – INR 12,207
Notables who ran deep enough to cash but missed on the final table include Rony Chowdhury aka 'GoGetters1' (3rd), Sagar Choudhury aka 'sagarpupull' (4th), Raman Gujral aka 'zazen0' (6th), Anirban Das ka 'nocluewho' (8th), Rajat Sharma aka 'sharabikebabi' (23rd) and so on.
Thunder
Thursday night on 9stacks devoted to Thunder INR 5 Lakhs GTD commencing sharply at 7:59 pm. Pulling out a pretty decent field with each player equally paying a buy-in of INR 4,400. The WPT India Big Bounty champ Sriharsha Doddapaneni appeared as the star of the night, adding healthy INR 1,35,000 in prize money. He defeated 'chickentikka' in heads-up, the anonymous second-place finisher managed to bag INR 95,000.
Total Entries – 133
Prize Pool – INR 5,00,000
Places Paid – 15
Min-Cash – INR 7,000
Arjanveer Chadha aka 'ballistik' (4th), Ankit Saxena aka 'killing_spree' (5th), Goonjan Mall aka 'gmtesting' (7th), Renu Arora aka 'babadada' (9th), Amresh Kumar aka 'Termi' (14th) and others were a few notables to finish in the money. For latest updates on live and online poker tournaments keep reading and stay tuned!
Check out our online poker rooms section, where you can read reviews on the biggest and best poker rooms in the country, while also taking advantage of their bonuses and promotions. Check out these top poker rooms HERE.
---
---
Comments