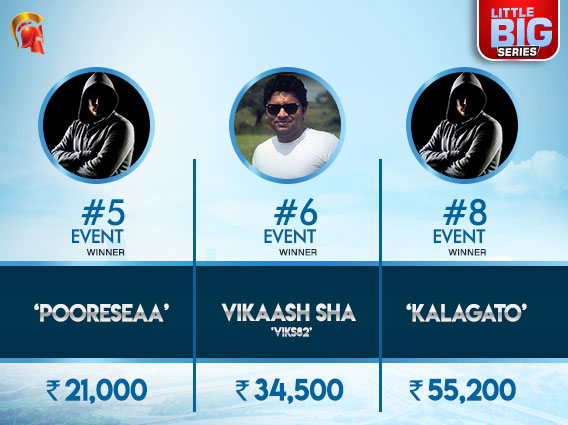 Poker
---
Three more winners crowned on LBS Day 2
Another day and another set of tournaments at The Spartan Poker's Little Big Series (LBS) crowned more winners on Friday. We will bring you the update on the featured tournament of the day i.e. The Elite a little while later but here we will do a quick round up of the other tourneys on schedule for Day 2 of this series. 
As the name of the series suggests, the LBS is about small buy-ins and big guarantees and The Spartan Poker took it up by several notches in this Special edition of the LBS. As our readers are aware, there is more than 81 Lakhs in guaranteed prizes on offer at this LBS. This is close to 40% higher than the prizepools which were offered in the August edition of the series which had 31 Lakhs as its series guarantee.
Let's take a look at the tournaments which took place on this day:
LBS Event #5 (100K GTD)
242 entries took part in this INR 440 buy-in tournament where 30 players got paid out a minimum of INR 750. Heads-up came down to 'PooreSeAa' and Spartan reg 'chalhatbe' who battled for the first title of this day. The latter had a 2:1 lead over his opponent but soon lost that. In final hand chalhatbe (6s 5c) lost to PooreSeAa's 7s Ah on a board of 7c As 4d 6d Kh making two pair and winning first prize of INR 21,000 while chalhatbe made INR 14,700 for his efforts.
LBS Event #6 (150K GTD)
As the day progresses, so does the prizepool in the follow-up events. 184 entries got into this tournament putting up a buy-in of INR 660 and in the end it was down to 'jc9605' versus 'viks82'. The former had a 3.5:1 deficit and in the final hand, despite having pockets, jc9605 (Js Jd) finished in second place to viks82 (7d Kd) on a board of 5s Qc Kc 8d 6s.
Gutshot caught up with the winner Vikaash Shah who hails from Siliguri in West Bengal. Shah is a 36 year old business who also calls himself a part time poker player, "I am running good in the LBS series and currently leading the leaderboard. Hope to win the series".
LBS Event #8 (240K GTD)
We will bring you the Elite tournament update in another article but for now the final tournament of the day was the INR 1,650 buy-in Knockout format which promised 2.4 Lakhs in prizes to its participants. 170 entries took part of which 24 got paid out. Heads-up went down between 'kalagato' and 'NamahShivaay' for the top prize. Both players were almost even stacks with half a million but towards the latter part, kalagato took the lead. kalagato (7c Ac) was ahead of Namahshivaay (6s Kh) and the flop ensured that it stayed that with 4c As 9s Kc Jd giving the bigger pair to the eventual winner and the top prize of INR 55,200. NamahShivaay took second place prize of INR 37,080. 
And so another day comes to a close at The Spartan Poker's Little Big Series. Stay tuned for the update from the Elite tournament which is coming up shortly!
Don't have an account on The Spartan Poker? Don't miss out on their bonuses, promotions, and guarantee-smashing tournaments. Sign-up now by clicking HERE.
---
---
Comments