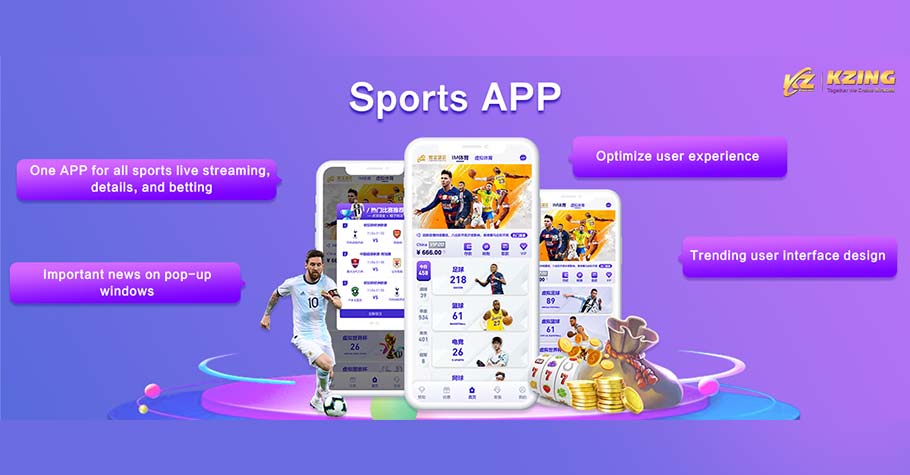 Gaming
---
The Introduction of Kzing Sports APP
Kzing is a white label company specialising in building online betting platform and system. Now, Kzing has developed a latest and coolest sports app for the operators and players. This sports app provides live streaming, betting details, allowing players to obtain first-hand information, which could really bring them a brand new betting over app experience!

You owned a sport betting platform? Want to increase turnover volume?
As an operator, do you have a sports app to help you to grow online gambling /sport betting business, especially at the moment whereby those big events such as cricket tournament and World Cup 2022 are taking in place?
Let's learn about what can the sports app do for you.
Log In Page
The log in page can personalize with platform/site logo in both video and picture form. Hence, it will be a very good way to present and increase your brand's credibility.
Home Page
Kzing Sports App is uniquely designed with a vibrant and bright interface which is user-friendly. All the details and layouts are the result of after many rounds of research and design. This is to ensure that the Kzing Sports App is good fit to the market needs and user needs.
Betting Page
The betting page adopts an ingenious and easy-to-understand layout design, so that players can place a bet easily. In addition, the betting page also have a live streaming feature, so players able to watch videos from the app.
Customer Service Page
Kzing Sports App supports online customer service system, live chat, so that players can communicate with the customer service whenever they encounter problems.
Customized Exclusive Offers
Operators can customise exclusive offers easily by using the promotional banner feature.
Deposit system
Sports app uses native API to achieve a fast and stable deposit system. So that players can complete the deposit in the shortest time. Kzing Sports App has different payment gateway channels, hence players can perform transactions easily be it deposit or withdrawal.
Sports app function
Kzing Sports App is the most distinctive betting application software. It is an app with everything, such as live streaming, accurately restore score data in real time, and other functions such as sports betting. Not only that, the sports app also includes betting tutorials, fast transaction process and etc.

Keen to start business in sports betting industry? What so special about Kzing Sports App?
Full coverage of the tournaments/events schedule
Kzing Sports App covers wide range of sports tournaments include World Cup, NBA, Premier League, La Liga, UEFA Champions League, snooker, tennis, baseball, volleyball, badminton, CBA and other sports events for players to place a bet.
Live Watching
The sports app has the function of playing matches videos, allowing players to watch it anytime, anywhere.
Score data
Updates on score data and match schedules in real time accurately.
Customized promotion banner
The sports app has a section for you to set up promotion banner. You can create and customize the promotion banner according to preference and need.
Trendy user interface design
In order to stay competitive to others, the sports app user interface design will be upgraded consistently to match the current trend and market needs, as the design will also affect the user experience.
What are the unique features that sports app brings to players? Want to optimize the player experience?
Event Notification
The notification bar always displays the current sports events/announcements, you may customise the announcements content, so players are aware of the news and lead them to place bets.
Betting Tutorial
The tutorial will guide step by step to the new players, from there, players able to analyse the sport matches with the existing data in the app, and then they can start betting or even master the use of the sports app.
Menu Settings
Players can choose the favourite leagues or handicap to bet with using the filter feature. Setting can be done with just a finger tap.
Native Sports App Optimises Player Experience
Our sports app has Android and iOS version, and its loading efficiency is much better than H5, this will be much convenient for players to place bet with only using their fingertips.
As the saying goes, "If a craftsman wants to do good work, he must first sharpen his tools." A good sports app or a good sport betting site can lift player's betting experience. Sports app is a must-have app for both online gambling platform operators and players. Scan the QR code now to experience the sports app! No costs required.
Is a good timing now to invest in the sports betting online platform, and let this sports app to attract more players, help you to generate high turnover volume and get high returns! What are you waiting for? No matter if you're the betting site operator, or you want to be an operator, you're always welcome to contact our business manager!
In addition, aside from India market, we also venture into China market, Southeast Asia market (Thailand, Vietnam, and Indonesia) as part of our business development expansion.
---
We may not need you, but you absolutely need us:
If you have any inquiries about our products or services, please contact the business manager
Lion lionel.chin@kzing.com +63 917 121 2777
Patrick patrick.lim@kzing.com +63 917 171 2888
At the same time, don't forget to follow the official:
Website: https://kzing.com/
Demo Site: https://kzingdemo88.com/
Telegram: https://t.me/kzingofficial
Facebook: https://www.facebook.com/kzingofficial
Instagram: https://www.instagram.com/kzingwhitelabel/?hl=en
Youtube channel: https://www.youtube.com/channel/UCQso0Xct-YIsBFIxFAyzWiA
---
---
Comments