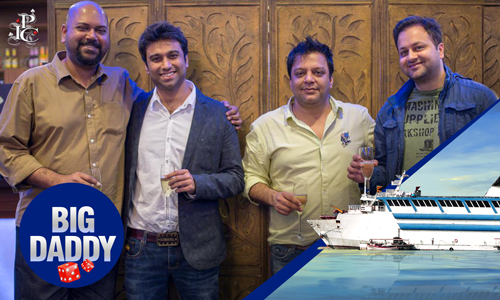 Poker
---
Team IPC Takes Over Big Daddy Poker Room
In breaking news, it has been announced late last night that the team behind the India Poker Championship (IPC) will be taking over the poker room operations at the newly launched Big Daddy Casino in Goa. This announcement has been in the works for the past few weeks as according to sources on both sides, the final details of their understanding were being worked. However, it seems that Team IPC and the casino management at Big Daddy have finally come to terms about their arrangement.
The IPC team comprises of Amin Rozani, Sameer Rattonsey, Rajeev Kanjani and Peter Abraham, who have been associated with the live poker scene since early 2010. Co-founded by Rattonsey and Abraham, the IPC team was further strengthened by Rozani and Kanjani coming onboard in late 2012 making this one of the most well-known management teams in India's poker industry. Upon their exit from Goa in March 2016, the IPC was relatively quiet on the live event front. Instead, the team focused their energies on their online venture which is The Spartan Poker, a poker platform offering a wide range of tournaments and cash games to players. According to Rozani, there was always a plan to return to Goa, "While Spartan has enjoyed tremendous succes, live poker is where we all began our journey as players and poker operators, so we are delighted at the opportunity to come back to Goa and the Big Daddy to handle poker operations there." According to Rozani, a team has already been dispatched to Goa in the last week of April and they have been making sure to get things up to speed in the poker room. His younger sibling Vasim Rozani is expected to be in charge of operations at the new room. "We have many fond memories of Goa and our time there. We hope to provide players with as good or even better of a gaming experience when they visit the Big Daddy poker room," expressed the younger Rozani.
At present the Big Daddy casino is operating within the confines of what was earlier the Maharaja casino. The casino which had been inactive for several years due to a number of reasons was finally given a new lease of life a few months ago when it came under new management. One of the key personnel in that new management at Big Daddy is Mr. Narendra Punj, a casino veteran with decades of global gaming experience. Mr. Punj, who was with Deltin Royale in his previous stint, is currently heading business operations for the Big Daddy casino. He too expressed his happiness and keenness to work with the IPC team onboard the new ship, "IPC is one of the most experienced set of individuals in the domestic poker space and have always looked to ensure a great player experience. At Big Daddy we too follow a similar philosophy and hope to offer players an outstanding gaming experience. This partnership will bode well for the future of live poker in the country."
A new bigger ship is already in Goa undergoing upgrades and is expected to replace the existing casino in a matter of weeks. While exact details remain limited, it is believed that the new ship will be 3-4 times the size of the existing one which means it could truly be the Big Daddy on the waters of the Mandovi river.
In keeping with their new partnership, the team launched a new online tournament called the Big Daddy at TheSpartanPoker.com which is scheduled to take place every Sunday at 4:00 pm. Providing super value for its players, the Big Daddy has a buy-in of INR 550 and features a guaranteed prizepool of INR 5 Lakhs. The winner gets a travel package worth INR 30,000 to Goa! This package includes return flight tickets, hotel stay for 2 nights and free entry into the Big Daddy casino. And yes, like we said, it's a weekly tournament so plenty of chances for players to make their way to Goa for some live poker several times in a year.

More details are expected to emerge in the coming weeks and here at GutshotMagazine.com we will keep bringing you all the updates as they happen.
---
---
Comments