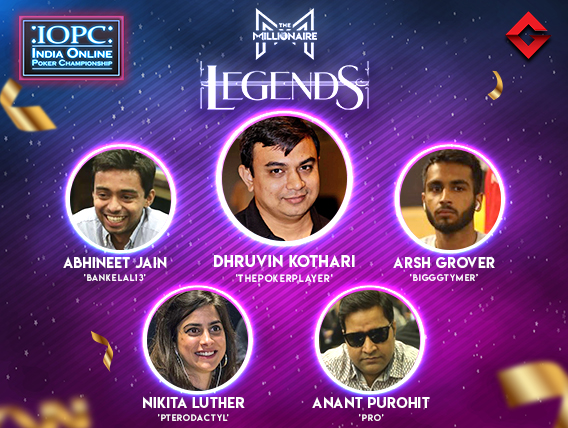 Poker
---
Talking to the latest Spartan Millionaire Legends
You're probably wondering that INR 27,500 is quite a steep amount to for a buy-in to an online poker tournament. However, there were equally massive prizes attached to this buy-in, with Spartan Poker recently hosting Millionaire Legends INR 2 Crore GTD across 3 starting flights as a part of their ongoing India Online Poker Championship (IOPC) series. Moreover, there are hundreds of people across the country who don't mind this buy-in, backing their skills in such high-stakes poker games.
Across these starting flights, we had an enormous field of 980 entries taking part which saw the advertised guarantee being crushed and eventually, INR 2.45 Crore being collected in the prize pool. Two days after the start of this tournament, we had 5 players battling it out for overwhelming prizes on the Final Table. Knowing the high prizes at stake and the pay jumps that were to follow, these players decided to secure themselves and cut a 5-way deal. We're talking about Dhruvin Kothari, Abhineet Jain, Arsh Grover, Nikita Luther and Anant Purohit.
The next time you hear people debating about whether poker is a game of chance or skill, show them this article. Look at the names of who became Millionaire Legends on Spartan Poker last night. They're all players who have been consistently winning and taking home titles, be it live or online poker.
At the time of the deal, it was Dhruvin Kothari aka 'thepokerplayer' who was the highest stacked player and thus, he took away the biggest prize of the night. He ended as the chip leader of starting flight Day 1B as well, and then managed to maintain the lead right through to 5-handed play. Gutshot caught up with all the winners and when we spoke to Kothari, he said, "This is my biggest tournament cash till date. I've had deep runs and a few wins as well earlier, but this is my biggest score."
Primarily a cash game player, Kothari has won massive rewards on Spartan Poker in the past including a Mercedes from their BigWin cash games promotion back in October 2018. He's won a few titles as well, but this Millionaire Legends win last night will easily be the most memorable of them all, beating some of India's best pros on his way to claiming the title!
Talking about the competition, he said, "The field was extremely tough with almost 1,000 entries. In the later stages people were extremely tight looking at the massive prize pool for the final table. I had a thought about winning when there were 16 people left. I gained the chip lead around this time and was consistently in the top 3 through till the end. My feeling was that the final few eliminations took a very long time as people were extremely tight. But overall, it's always a special experience when you win. I was confused with the 5-way deal initially, but then went for it. I had the chip lead but agreed for it as we were almost flipping at the end with just 25 big blinds for me."
Talking about his plans with the massive prize money, Kothari said, "More than the money, the win gives me the confidence that I can play in high rollers in the future and can produce similar results."
Finishing in second place was Abhineet Jain aka 'bankelal13' who is also a regular on Spartan Poker. Bagging plenty of titles in the past, Jain also ended as chip leader of his starting flight, finishing with a massive lead over the rest on Millionaire Legends Day 1A. What's better is that Jain freerolled his way into the tournament, taking away a massive profit last night.
When we reached out to him, he said, "I usually only play MTTs when I'm bored or when I have a free ticket. I like Spartan Poker for its amazing promotional offers which allowed me to play this tournament for free as always. I was lucky enough to have a pretty soft table draw on day 1A which allowed me to accumulate chips comfortably. I was the chip leader almost throughout 1A and decided not to play anymore flights even though some of my friends suggested to do so. Again, the journey till the final table was pretty smooth as I had a good stack to work with so even though I lost a few flips in the beginning, I was able to navigate my way to the final 2 tables pretty easily. Here was where I knew I had a good shot in taking this down as nobody was playing back at me and I was just winning chips through sheer aggression. The final table was a little swingy as the structure was too shallow for such a big tournament and hence winning flips was very crucial. I stuck to my strategy and played solid till there were 5 left when Anant Purohit suggested for the deal and all of us agreed except Nikita who eventually agreed after getting shorter. I wouldn't have made a deal if the structure was a little deeper. It didn't make any sense to flip for such big pay jumps. Overall the playing experience is always the best on Spartan, but I really hope that the tournament structure for such high value tournaments gets better. As far as the money goes, it doesn't change much, and the grind will go on as usual."
Finishing in fourth place was Nikita Luther who plays as 'Pterodactyl' on this platform. Again, she needs no introduction, being one of India's best female pros, winning India's second WSOP gold bracelet in Las Vegas in 2018 and also having plenty other live and online poker achievements.
She reacted to this big victory, saying, "I was on almost a 3-month sabbatical from poker before this, and decided it was high time I got serious and back to business. So, 10 days ago, I started putting in the study work and grind hours. What a way to come back and start the year! This is by far my biggest online score till date. It was really exhilarating from the start as I was among the chip leaders for 1C and maintained the top 10 stacks right till the very end. Obviously, you have to run good to win tournaments, so I'm grateful for my run. Though the tournament got too shallow with 5 left and we had to do a chip chop, I would've loved to continue playing! The remaining field comprised of a lot of competent players and it was great to see how the level of poker has advanced in India so much. Well played and congratulations to everyone who ran deep!"
Anant Purohit aka 'Pro' is another player who has been crushing across the live and virtual felts, also receiving three awards at the recent IPC Awards in Goa earlier this month. Here, he was 5th in chips at the time of the deal. When we reached out to the player, he said, "It was one of the tournaments to watch out for in IOPC. I was not happy to have made it to Day 2 with only 2 stacks, desiring to play all 3 Day 1's .Still, I tried to get out my A-game on the table and it got combined with some good luck and the result was that I made the FT. After a few bustouts, we all decided to do a deal. Overall, I'm super happy with my performance. Thanks Spartan for hosting such an awesome tourney."
For similar interviews with India's biggest poker winners and other industry news and updates, stay tuned to GutshotMagazine.com.
Don't have an account on Spartan Poker? Check out their review page here, and don't miss out on their bonuses, promotions, and guarantee-smashing tournaments. Sign-up now.
---
---
Comments