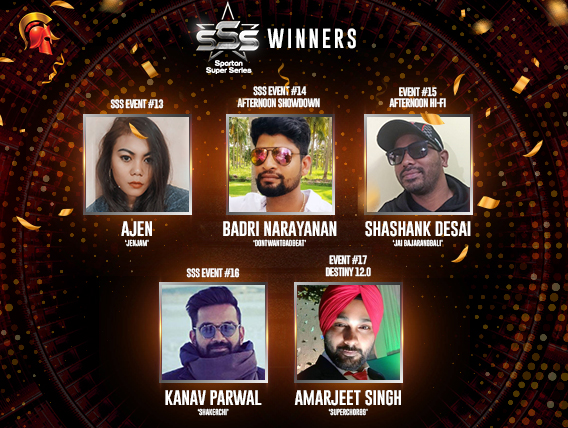 Poker
---
SSS Day 3: Amarjeet Singh takes down Destiny
The December edition of Spartan Poker's Spartan Super Series (SSS) is underway comprising 42 events coming in with huge bundles of cash prizes. Yesterday finished the third day of the weeklong series which guarantees the monstrous amount of INR 5+ Crores. Here is a complete summary of SSS Day 3…
SSS Event #13 INR 60k GTD
With the lowest buy-in of INR 110, the first tournament of the day kicked off attracting 589 competitors. Before the event finished, the top 39 were already in the money, receiving a min-cash of INR 414. Powering through this vast field was Ajen aka 'jenjam' who defeated 'pshark' in heads-up to bag the first title.
In level 35 of the tournament, Ajen entered with a larger stack of 1.8 million holding Td 7s up against her opponent 'pshark' who had 9h 9d with 467k chips. The latter put his entire stack in the middle pre-flop itself and got a call from the former. The board ran out 2c Ad 9s 3s 5c and that's when Ajen flipped over her flush over 'pshark' with trip Nines and ultimately strengthened her poker bankroll by earning INR 12,030 in prize money.
SSS Event #14 Afternoon Showdown INR 5 Lakhs GTD
The guarantee and the buy-in to the tournament increased to become INR 5 Lakhs and INR 2,200 respectively. 242 players registered in the event but only 20 could finish in the money. However, it was online crusher Badri Narayanan aka 'Dontwantbadbeat' who finished in the first place after striking a 3-way deal. Narayanan racked up the largest stack of 735k at the time, and finished in the top place. Following his heels were 'Virshallsee' who rested in the second position and 'Pranksterz' in third place.
SSS Event #15 Afternoon Hi-Fi INR 3 Lakhs GTD
Once again, the buy-in shrank to INR 1,100 in Afternoon Hi-Fi. It was September's SSS Main Event champion Shashank Desai aka 'Jai Bajrangbali' to power through a field of 275 players and grab the top prize after beating 'Pranksterz' in heads-up. Eventually, the top 21 places received a min-cash of INR 3,750.
In level 38, blinds at 9,000/18,000 ante 2,250, Desai (3c 9h) enters with 1.7 million chips up against 'Pranksterz' (8d Jh) with 275k chips. Flop Kh Ac 9s, the latter checks while the former bets 18k and the board finds the entire stack of 'Pranksterz' in the middle. With the turn and river Qd 8s respectively, Desai shows his higher single pair of Nines over his opponent's pair of Eights, ultimately adding a valuable title to his poker career. Pranksterz made yet another deep run in SSS!
SSS Event #16 INR 2.25 Lakhs GTD
A circuit reg Kanav Parwal aka 'Shakerchi' emerged triumphantly defeating 'Skulkikker' in heads-up to bag this SSS title. The fourth event saw 295 players entering for a buy-in of INR 770 and the top 27 places finished in the money receiving a min-cash of INR 2,250.
In level 40, three players entered the final hand. Parwal (Qs Jc) had a larger stack of 977k chips, 'Skulkikker' (Td 7s) had 456k chips and 'Piyush303' (Ah 3h) had 456k chips. Both Parwal and 'Piyush303' put their stacks on the table while 'Skulkikker' folded the final hand. The board ran 9c Tc Js 8d 5h and Parval showed his straight over his opponent's high card Ace. Eventually, the tournament ended with a two-way deal, with Parwal carrying a larger stack and being announced the official winner with 'Skulkikker' taking the runner-up position.
SSS Event #17 INR Destiny 12.0 INR 35 Lakhs GTD
Destiny 12.0 is a Wednesday feature tournament on Spartan Poker. Powering through a field of 688 entries it was online grinder Amarjeet Singh aka 'superchor89' who grabbed the enormous sum of prize money sending 'sasikiranx' in the runner-up position after both settled for a heads-up deal.
Gutshot caught up with the champion who expressed, "Winning any major tournament is special this one was a little more special as I got the ticket through satty and converting INR 660 to earning in Lakhs feels entirely different and incredible!" To know more about the tournament, click here.
SSS Event #18 INR 8 Lakhs GTD
It was 'nutskibhookh' who rode past a massive field of 399 players and defeated 'pleasedontbet' in heads-up. SSS Day 3 ended with the final tournament being Hi-Fi which had a fixed buy-in of INR 2,200. The prize pool was eventually distributed among the top 36 places, receiving a min-cash of INR 5,200.
In level 41, 'nutskibhookh' holding Qs As entered the final hand with a slightly larger stack of 1.5 million up against 'pleasedontbet' holding Th Js with 1.4 million chips. The latter raises 42k pre-flop and the former re-raises to 168k. On the flop Td Qc 5h, 'nutskibhookh' bet 140k and got a call from his opponent. 2c on the turn saw another round of betting and calling. 6h river card saw both players go all-in. And that's when the tournament ended, 'nutskibhookh' showing his higher pair of Queens over 'pleasedontbet' with a pair of Tens.
For latest updates on live and online poker tournaments keep reading GutshotMagazine.com and stay tuned!

Check out our online poker rooms section, where you can read reviews on the biggest and best poker rooms in the country, while also taking advantage of their bonuses and promotions. Check out these top poker rooms HERE.
---
---
Comments