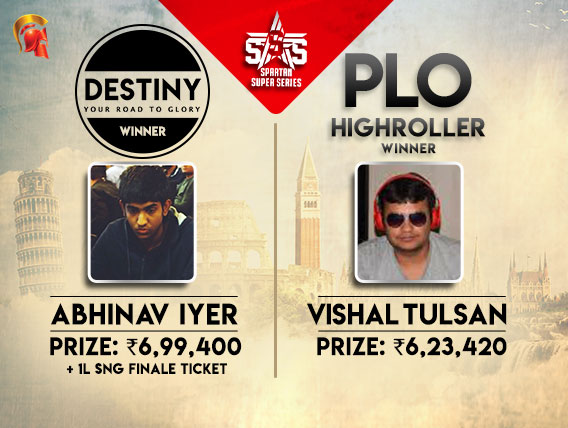 Poker
---
SSS: Abhinav Iyer wins Destiny; Vishal Tulsyan wins PLO HR
Three days and 15 events of June's Spartan Super Series have now concluded with nearly all events crushing the guaranteed prize pools. The tournament series hosted by The Spartan Poker has over INR 4 crore in guaranteed prizes and an additional INR 15 lakh in SSS Leaderboard prizes.
Yesterday's featured tournament was the Destiny tournament, which was the first tournament of the Destiny 5.0 series, which will send one winner to Europe for free. While Abhinav Iyer aka 'Schumi91' shipped the tournament, 'invinciblewolf' has maintained his lead on the SSS Leaderboard (top on all days so far), as he finished runner up in one event yesterday as well.
Here's a summary of yesterday's events:
SSS #11: INR 2.4 lakh GTD NLHE
The first event of SSS Day 3 saw a buy-in of INR 660 and a massive participation of 536 entries. Eventually, 'Loki19' shipped the tournament and took home a valuable amount of INR 64,481 for first place, after beating 'TheThief' in heads up. A total of 39 players were paid out a minimum cash of INR 2,219 in this event.
We caught up with the winner of this tournament and asked him about this achievement. He said, "Shipping any SSS Event requires a variety of factors like focus, discipline, skill and some run goods and a cohesion of all of them at the right time. I was on top of my focus yesterday for this event and hope to carry it forward for the rest of the series." Congratulations 'Loki19'.
SSS #12: INR 3 lakh GTD NLHE
The second event of the day was the only one that failed to crush the guarantee in this edition of the SSS so far. Out of the 482 entries registered to this INR 550 buy-in event, it was 'AdrenALL.INe' who emerged victorious for a payday of INR 72,000. 'invinciblewolf', winner of the opening event of the SSS, finished second and this gave him valuable points towards the leaderboard, allowing him to keep his top spot. He won INR 48,900 for the runners up prize.
SSS #13: INR 2.5 lakh GTD NLHE
413 entries registered to the third event of the day that had a buy-in of INR 880. 27 players were eventually paid out a minimum cash prize of INR 3,304 but the lion's share of the prize pool went to Jairam Parab who plays under the username 'iamamateur1'. He hit a seven to jack straight in the final hand, beating 'Amitj29' in heads-up. 
"I ran pretty good to reach the final table. It was comparatively soft. I'm very happy to record a win after a long time and I'm looking forward to playing the rest of the SSS events on The Spartan Poker," Parab told Gutshot after collecting INR 73,184 for winning this tournament.
SSS #14: Destiny INR 20 lakh GTD
This was the tournament that everyone was looking forward to, with a buy-in of INR 5,500 and the prize pool going up from the promised INR 20 lakh to INR 30.75 lakh. Eventually, it was Abhinav Iyer aka 'Schumi91' who shipped the tournament and walked away with the mega prize of INR 7,99,500. This big win took him straight to #3 on the SSS Leaderboard.
Iyer began playing real money poker at the age of 19 and has been a regular player since then. We spoke to him to ask about the experience playing this tournament. He said, "I started out pretty poorly and fired a few bullets. I then got lucky in a couple of crucial spots when it mattered. Post that, it was a lot of post flop poker and it was super deep on the FT which was really good as I lost a couple of big pots and still managed to come back! Winning JJ<KK<AK all-in on the bubble was the key hand. Other than that, there were a bunch of interesting hands which was played out on the FT."
We asked him about his future in poker. He said, "Travel and keep grinding. I have a schedule planned out for the year starting with Vegas until next month." We congratulate him on winning Destiny and wish him the best of luck for his upcoming trip to Las Vegas.
SSS #15: PLO High Roller INR 20 lakh GTD
Here was another huge event for the day, with a massive buy-in of INR 22,000. PLO is less popular than Hold'em and it was impressive to see 122 entries even with such a high buy-in. 15 players were eventually paid out a minimum prize of INR 43,920 and it was Vishal Tulsyan aka 'vishaltulsya' who shipped the event, taking home the grand prize of INR 6,23,420 for first place.
We had a word with him as well, and this is what he said – "As always, it has been a great experience playing on TheSpartanPoker.com. The tournament experience was pretty good. Unfortunately, I busted my first bullet having been in chip lead in the first two hours, but the second bullet got us running."
"I was chipping up slowly and steadily until after ITM, when the final two tables were drawn. I had two of the toughest players in the form of Shashank Jain and Bhavesh Nainani and was bleeding to them until one aggro player busted both of them out in a matter of 15-20 hands. I then picked back to back pots against the same guy and busted him 5 minutes later and became the chip leader. Luckily for me, I built a good stack picking up blinds."
Tulsyan too has plans of heading to Vegas soon, where the 2018 World Series of Poker is being contested at the moment. We asked him about his future plans as a player. He said, "Not sure about future poker plans as a part time player. I play whenever I get the time. However, I'm really excited and looking forward to the Vegas trip."
SSS Leaderboard after Day 3:
Keep reading GutshotMagazine.com for a daily update on the Spartan Super Series as well as updates on other poker tournaments from around the world.
---
---
Comments