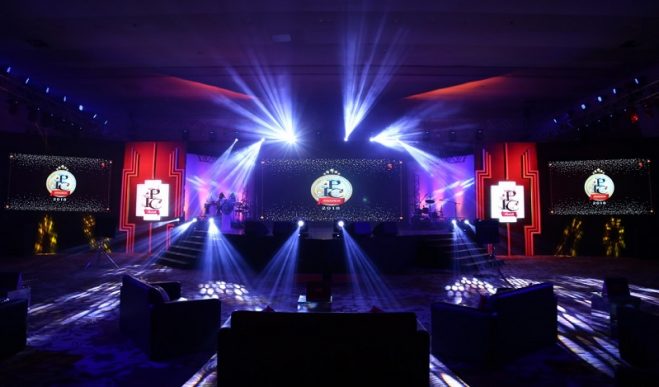 Poker
---
Spartan felicitates top poker players at 2018 IPC Awards
Just a few days back, we reported news of The Spartan Poker announcing the second edition of the India Poker Championship (IPC) Awards. The initiative began last year in Bengaluru where the top players throughout the year were felicitated with trophies in front of a large audience.
Taking place on Saturday, 1st December 2018 at Hotel Sahara Star in Mumbai, the 2018 IPC Awards turned out to be grand event indeed. It was a special evening for all the top poker players from around the country who were flown in to Mumbai to be presented their trophies in front of India's top poker entities.
A brilliant awards ceremony organized by Spartan, the 2018 IPC Awards which will go miles in helping the game gain acceptance as a mind sport across our country. Actor and presenter Shibani Dandekar was the host of the function while the Chief Guest was actor, VJ and television personality Rannvijay Singh, who is also the brand ambassador of The Spartan Poker. 
Before the festivities began, Rannvijay Singh and Spartan MD and co-founder, Amin Rozani, attended the press conference and answered quite a few poker-related questions to representatives of the various media houses present. They spoke about the game, how it has gained popularity and acceptance over the years, and how Spartan has played a significant role in making that happen.
Rozani spoke about how the IPC brand began as live tournaments hosted in Goa nearly 9 years back, and about the journey since then and how the brand has grown. In that context, Gutshot also took the opportunity to ask Rozani when the next edition of the IPC can be expected. He said, "We have planned the next IPC live tournament to happen within three months from now at the Big Daddy Casino in Goa. This is the current plan and hopefully, we should make a formal announcement about this soon."
Rannvijay also had a lot to say about the game, how it has grown in India, and how he plans on helping it grow with Spartan over the next few years. He gave the crowd plenty of examples of international sportsmen like Shane Warne and others who have turned to the game after retirement. We also asked Rannvijay whether he has played at international locations and which venue is his favourite so far.
He said, "My only experience of playing a live tournament abroad was recently in London and that was with Amin (Rozani) itself. It's an experience I'm not going to forget anytime soon, and I'm surely going to do more of it soon. It gave me such a 'pump', playing with people of different backgrounds, surrounded by someone from Britain, someone from Poland and many other countries. I wasn't even representing India there, but I know I wanted to beat them. I got a taste of it there and Amin was there to witness it. That was London and we have also planned to go to Vegas next year with a couple of Spartan Aces. I've told Amin that after a few years, I too would like to become a Spartan Ace."
Once the press conference wrapped up, the top names in the Indian poker industry were welcomed at the venue, walking through the red carpet before entering the hall where the glamourous celebrations took place. The evening saw various Spartan winners being called up on to the stage to receive their trophies. Some of those who were felicitated include IOPC (India Online Poker Championship) featured event winners, The Millionaire winners, SSS (Spartan Super Series) and IOPC Main Event and Leaderboard winners, Spartan growth partners and many more. The most prestigious award of the night was the Best All-Rounder and that trophy went to Rishab Jain.
Apart from players, poker company heads and all those who have been associated with The Spartan Poker over the years were also invited to the show. Actress Ishita Sharma was one of them, talking about her relationship with Spartan, which has helped support her 'MukkaMaar' initiative that trains young girls in self-defence. Spartan co-founders Sameer Rattonsey, Rajeev Kanjani and Peter Abraham were also called on to the stage for a few words and giving away a set of awards each. 
Along with players being honoured and prizes being distributed, the evening was also a social gathering for all the known entities of the poker industry. The players struck up conversations with each other as they were treated to some fine performances from artist Juggy as well as the dance group ILLUMINATI which performed the Tron dance. This was followed by dinner and drinks at the venue, while the award winners also got up to shake a leg on the dance floor.
Speaking about the success of the awards function, Amin Rozani said, "It's a pleasure to see our patrons celebrate and enjoy the spirit of poker together at the IPC Awards. Online poker is a dynamic industry with various new developments, tournaments and formats being introduced in quick succession and as a platform we are glad to have been almost every poker player top choice. The IPC Awards have played a key role in establishing a strong connect between us and our consumers, we are glad that this edition has been a success and hope to remain etched in the hearts of our patrons by offering innovative tournaments and properties. Good luck to all the players for the next edition of the IPC Awards, may the best player win!"
Rannvijay also commented on the 2018 IPC Awards, which remains the first and only awards property for poker players in India. "It was a night of grandeur and I feel privileged to have been present at this awards event. This is a unique initiative by The Spartan Poker, which provides a platform for poker talents and inspires them to continue doing their best. I hope all these players will continue what they are achieving and make it even bigger next year."
These kind of nights will inspire budding poker players in India, as each and every one will also want to be called up on stage and have the spotlight on them. It will also do its bit in spreading awareness about the game of poker in general, not considering it as just 'gambling' as has been the idea in our country over the years. Gutshot would like to take the opportunity to congratulate all the winners from Saturday night and we hope to see many more such events in the future, where poker players are felicitated and honoured for their efforts.
Here's a look at some more images from the 2018 IPC Awards:
Keep reading GutshotMagazine.com for more updates on the Indian poker industry.
Don't have an account on The Spartan Poker? Check out their review page here, and don't miss out on their bonuses, promotions, and guarantee-smashing tournaments. Sign-up now.
---
---
Comments