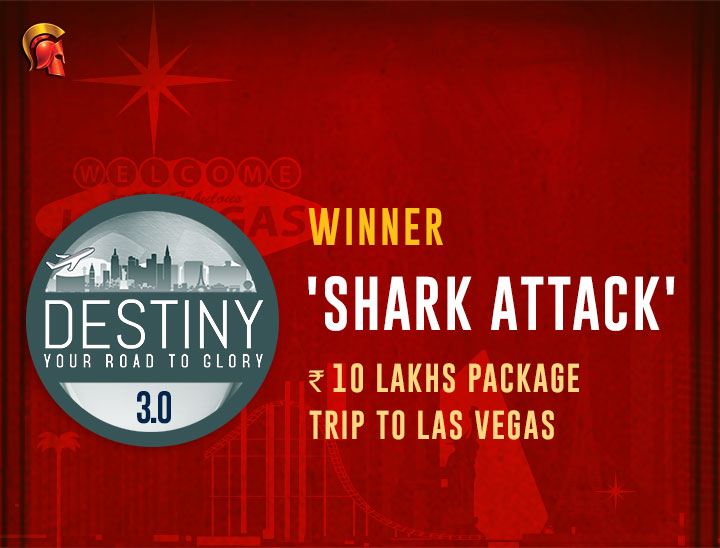 Poker
---
'shark attack' Wins Destiny 3.0 10 Lakh Las Vegas Package
The weekly Destiny tournament has been taking place over the last 10 weeks on The Spartan Poker and yesterday was the mega finale of Destiny 3.0. All ten winners of the Destiny tournaments were awarded INR 1 Lakh tickets to the Destiny 3.0 SnG Finale which took place yesterday. The winning prize of an INR 10 Lakh package trip to every poker player's dream destination, Las Vegas, was won by 'shark attack'.
The finale began at 7:30 pm IST and was wrapped up within a few hours, by 12:07 am. Siddharth Mundada, Deepak Bothra, Wilson Yomso, Siddharth Karia, Paras Jain, Abhinav Iyer, Pranav Anand, 'shark attack', Nikesh Dodia and 'SuperuSer' were the ten finalists and Gutshot collected some further information on all players, which you can read here.
'shark attack' and he went into heads up against Siddharth 'chimpoo' Mundada. It was Level #26 of the finale with blinds running 1,800/3,600 – ante 450, when the players moved into what would become the final hand of the night. 'shark attack' had a massive chip lead ('shark attack' 235,966 in chips, 'chimpoo' 14,034) coming into this hand. After players posted the blinds and antes, 'shark attack' raised 9,900 pre-flop, and 'chimpoo' responded by going all-in with the rest of his 9,984 chips.
'shark attack' held 9-3 and 'chimpoo' held 8-5. The board cards opened up and provided both players with no further assistance: 6-10-J-10-2. Both players had a pair of tens to show but the hand went to 'shark attack' due to his 9 kicker. This won him the hand, the tournament, and the grand prize of an INR 10 Lakhs package to Las Vegas, which is inclusive of flight, stay and entry into the biggest live poker tournament in the world (2018 edition). Congratulations to him!
Keep an eye out on GutshotMagazine.com for similar tournament results from around the world!
---
---
Comments