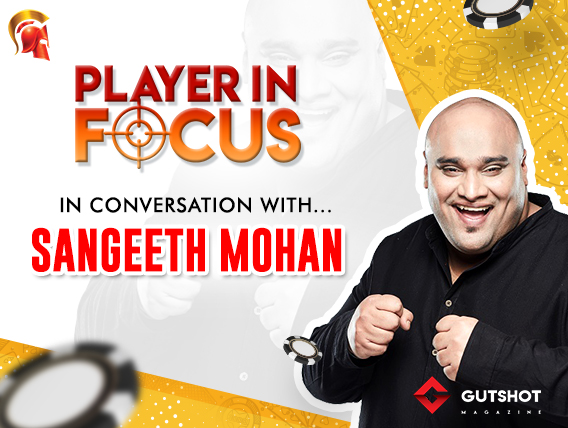 Poker
---
Sangeeth Mohan speaks about poker and life off the felts
The team at Gutshot Magazine is dedicated to bringing to you the latest in poker content from across India and around the world. As a part of these activities, we often conduct exclusive interviews with some of the top names of the industry, including players, company heads and other known entities.
The latest poker pro that we decided to speak to was none other than Spartan Poker Pro, Sangeeth Mohan, who the Indian community would know better as 'SaMoh'. While the poker scene in India is still relatively in its infant stages, SaMoh is one player who has been around since the start, with his first live cash dating back to 2011. Leaving a day job in a world-renowned company like Microsoft, the player chose the poker pro route.
His live poker achievements, to name a few, include winning his first PokerGuru Tour title in September 2011, the Asian Poker Tour (APT) Goa Main Event in November 2011, the APT Greed Event in the same series, a couple of India Poker Pros / Poker Series titles, an India Poker Legend title, an APT Manila title and of course, the India Poker Championship (IPC) High Roller title in February 2016.
How decorated and illustrious a poker career is that for you? The 36-year old has amassed over $160k+ in recorded live tournament winnings to add to plenty of online victories as well. The India Online Poker Championship (IOPC) is India's most prestigious online poker series and he, last year, shipped the IOPC Main Event for a prize of INR 19.29 Lakh after beating a massive field of 1,000+ entries.
SaMoh, an enthusiastic and fun-loving person, has earned huge respect and praise from the community over the years, and why not? There's not much that he hasn't achieved as a player. In 2016, he also signed on as a Spartan Poker Pro, and he has enjoyed an amicable relationship with the industry leader since then.
Gutshot caught up with the Kochi-based player and we spoke to him at length regarding his poker career so far, how he has seen the industry evolve over the years, and also what he thinks about the future of poker in India. We also spoke to the Hotel Management graduate about life apart from poker, and you can get the entire interview here as you keep reading…
Sangeeth, you've been a well-known name in the industry for quite a few years now, being around since almost the beginning. How have things changed from then to now?
I think it has mostly been positive changes because I remember the days we used to go and play 30 or 40-player tournaments and today, it's a field of 400 or 500 players. Poker in India has reached such levels where when you enroll into a tournament, you don't know 80% of the people playing and that's a great thing, because that was the original vision when brands like IPC started off way back in 2010. The lifestyle could be a little challenging at times, where you're playing all night, but you learn to balance it out eventually. There has definitely been a huge growth as far as poker is concerned and there haven't been a lot of negative aspects of the same.
What do you believe is your best poker achievement till date?
I think it will be very difficult to pin point just one particular moment, because they've all been very special. However, if I had to choose, I would choose two. One is the APT Main Event victory (1st – INR 23,46,400) in 2011 and the other would be the IPC High Roller victory (1st – INR 15,50,000) in 2016, both in Goa.
Tell us about your opinion of the game of poker in general.
Poker is mental warfare, that's the way I would put it. There's a lot of skill involved in the game and that's why you will mostly find the best players winning. If you ask me, poker is something that can improve the overall quality of your life.
So many youngsters are getting into poker as a full-time option these days…
I think youngsters getting into poker is a good thing. However, they need to be very, very particular about certain things. The problem is that when you're young and you win a bunch of cash, you probably won't know how to manage that right. It could lead to kids getting into a number of unwanted situations, because of money. That's the only thing you need to take care of as a youngster. You have time on your side. All you must do is work really hard on your game and on the bankroll management aspect as well.
Live or online poker – your preference?
I like both. I like live poker for the fact that there is a lot of interaction and I like online for the fact that there's a lot of ROI. So, I would say it's a mix of both.
Your favourite international poker location? Why?
Right now, my favourite location would be Colombo because the games there are very soft, but otherwise, I'd have to say Macau. The setting there is very grand, and you can't not love Macau when you're playing there.
You are currently a Spartan Poker Pro. Tell us about your journey with this company.
I joined hands with Spartan Poker back in the 2015-16 season. It has been a few years that we've been together, and I've always been proud that I am a Spartan Pro because they are one of the top brands in the country. It's a highly popular name in the industry and I take pride in the fact that I am a Spartan Pro.
People say taking poker seriously tends to sharpen the mind in other aspects of life too. Have you experienced that?
Once you start playing poker seriously, your logical reasoning tends to improve drastically. You start searching for logic and reason in everything you do and say in life. That's what poker does to you. It makes you smarter, I guess.
What are some methods of relaxation after stressful poker sessions?
I use something called Prime Mind, which is a cooldown recording after a poker session. It's a listening exercise that will calm you. There's a lot of adrenaline involved in poker, where you're swinging pretty hardcore at most times. So, it's very important to have a cooldown session post these intense games. And then after that, I probably watch a movie or a show or something.
Tell us more about yourself and life off the felts.
I'm basically into listening to music, watching TV shows, travelling and a little bit of reading as well. I love Thailand and Bangkok as holiday destinations, and I also loved Cambodia when I went there. Although, I would really like to check out more places in India as there is a lot of travelling that can be done within our country itself. As for poker aspirations, I want to keep working on my game and eventually reach a point where I can keep crushing, always.
Any message for young and aspiring poker players in the country?
If you are serious about the game, work on it. Also, make sure you are absolutely ready before you step out to give it a shot. A lot of people think they are ready, but they are NOT. If you've been playing poker for 3 months and you think you know 80% of the game, you're wrong. You need to hang in there, play very small stakes and then figure out how to climb up the ladder. Good luck!
A huge thanks to Sangeeth Mohan for taking the time out to talk to us and giving us insights into his life as a poker professional and what it takes to be involved in this game. We wish him the best of luck in all his poker ambitions and hopefully, we'll see him in a few more international poker series in the months to come. Until then, keep reading GutshotMagazine.com for all poker updates from around the world.
– Dwayne Fernandes, Gutshot Editorial
Don't have an account on Spartan Poker? Check out their review page here, and don't miss out on their bonuses, promotions, and guarantee-smashing tournaments. Sign-up now.
---
---
Comments