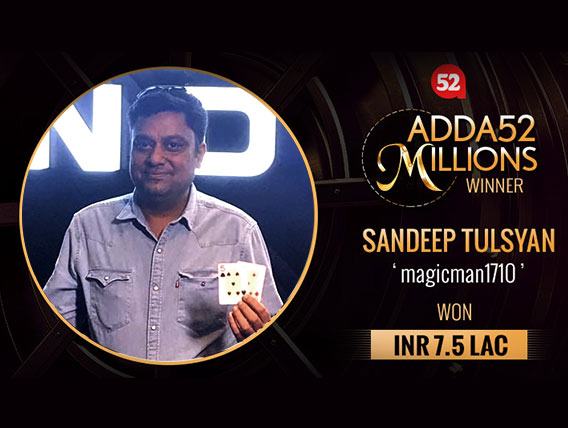 Poker
---
Sandeep Tulsyan wins Adda52 Millions
The Adda52 Millions is one of the most popular big guarantee tournaments which happens at Adda52.com on Sunday night and this time around there were 218 entries that came together to crush the INR 20 Lakhs guarantee in place for this tournament. The man who triumphed over the field to win the title was Sandeep 'magicman1710' Tulsyan who took home INR 7.5 Lakhs for his efforts.
Tulsyan's opponent in heads-up was another known player in Kranthi 'DBlitz' Kiran. Eventually though it was Tulsyan who overcame Kiran in the final hand which went down like this. magicman1710 (8c 4c) vs. 'DBlitz' (Kh 7s) on a board of 6s 2d 7h 5d 2c gave an Eight high straight to the former and the win. Besides Kiran, there were a number of notable regs on the final table which included Abhishek 'dx23' Rathod, Chandan 'darkfish15' Arora, Rajat 'Oshoswami' Sharma as well as Shashank 'felter' Jain.
Tulsyan, a resident of Kolkata, is a well-known online reg who has also participated in plenty of live tournaments making scores in both formats of the game. His biggest live accomplishment was last year when he won the 30K NLH SuperStack at the inaugural World Poker Tour India edition. While the Millions title has been his biggest online win, Tulsyan has been in great form recently finishing runnerup in the Godfather and 3rd in the Paycheck at Adda52 recently.
Gutshot caught up with Sandeep for a quick interview and here are the excerpts:-
 
How did you start playing poker?
I started playing poker in 2015 casually. Then started I participating in local tournaments in Kolkata. In 2016, I came 4th in Rounders tournament in Kolkata which featured some big pros from India. This boosted my confidence. After which I shipped the WPT India 2017 Super Stack in Goa and since then I've been making decent scores online and live tourneys.
How was your tournament experience playing Adda52 Millions tournament?
This June has been an eventful month so far as I stood 2nd in Godfather, 3rd in Paycheck and of course this win in the Adda Millions.
How was your tournament experience? What's next on the cards?
Adda52 has improved and I believe they have introduced an impressive line of good value tournaments almost everyday of the week. Enjoying it. Now I plan to give more time to poker and am planning to participate in international events as well.
 
Final Table Payouts:
1. magicman1710 – INR 7,50,000
2. DBlitz – 3,48,800
3. dx23 – INR 2,61,600
4. darkfish15 – INR 1,96,200
5. Oshoswami – INR 1,58,050
6. felter – INR 1,19,900
---
---
Comments