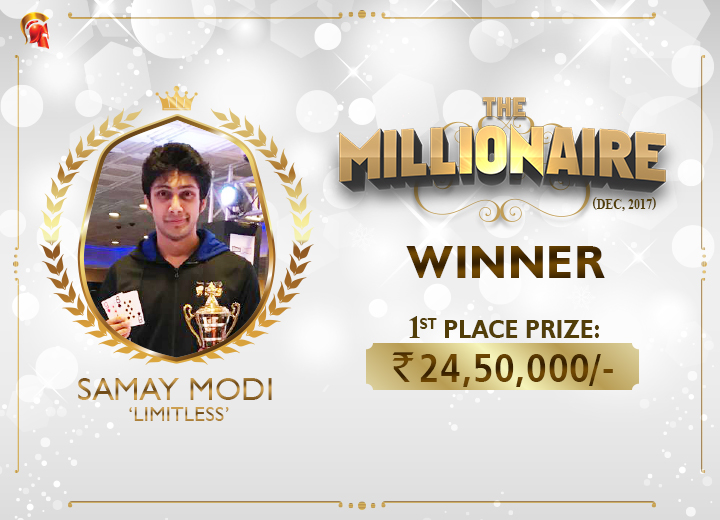 Poker
---
Samay Modi is Dec Millionaire 1 CR GTD on Spartan
The biggest online tournament in India is the Millionaire and with a massive 1 Crore GTD prize pool its small wonder that almost 2000 entries ended up in this tourney which happens every second Sunday of the month on TheSpartanPoker. 23-year old Mumbai based Samay Modi who plays as 'Limitless' outlasted 1987 entries to take down the Millionaire title for INR 24,50,000. Modi defeated 'Torpedo2017' in heads-up battle who took home INR 14,70,000 for the second-place finish. Coming back to the champion, Modi is a finance graduate from NMIMS, and while he's doing fine at the poker tables, the young man is still figuring out exactly what he wants to do with his life. His parents belong to the media industry and he has one elder brother who is studying in Melbourne.
Modi started playing poker younger than most in this country, at the age of 13, when he fell in love instantly with this intriguing game. He started making small poker victories like winning a MacBook in a college tournament to a time over the past 18 months where he plays poker semi-professionally. However last night's INR 24.50 lakhs payout was his biggest ever score.
Gutshot caught up with Samay 'Limitless' Modi in an email interview and here are the excerpts;
Congratulations Samay! Please tell us about starting in live tournaments.
Thank You! I began around 5-6 years ago, small stake cash games in the city. Been involved in the live scene for about 1.5 year now but have missed quite a few events due to busy schedules in the city. However, have had good trips whenever played live, starting with a good run in my first visit during IPC last year and moving onto some deep runs in DPT events and then PSL this year which was obviously mind-blowing.
What's your game mix like?
Been grinding low-mid stakes MTTs online as that's worked out well for me.
Describe your journey through The Millionaire.
Had a slightly rough start coming down to 4k from the initial 15 but then grinded my way back up and once I was deep really picked up the pace and was doing quite comfortably till final 2 tables where I started getting short. Somehow managed to double up and then once I had the momentum going, I was playing aggressively because I knew there was a huge up top money and I had to go to the 1st place.
Any turning points…
Since I have good experience with massive fields like this, I knew not to think too much initially as anything can happen. However, there were some stages towards the end where I was feeling confident and knew that I could win it.
What was the reaction of your friends and family?
Parents were extremely thrilled. Friends happy because they know about me and my love for poker and just feel that I somewhere down the line deserved it.
What are your plans for the live and online space?
Continue to grind MTT's online, expanding the bankroll. I had some travelling anyway planned out for 2018 and will include some poker in it.
Your feedback on The Spartan Poker itself and their promotions.
TheSpartanPoker has been successfully promoting the online poker scene for a long time and they offer a wide range of tournaments that are really good value for money. They provide immense value even in deposit offers and continue to shock the public constantly with a huge increase in tournament guarantees.
So, you are a Millionaire now, what do you plan to do with this money?
Contribute a chunk towards my brother's education and use the remaining to expand the bankroll. Cheers
Anything else you want to share.
I would like to Thank Spartan Poker for hosting such an outstanding return on Investment tournament and continue doing the good work.
---
---
Comments