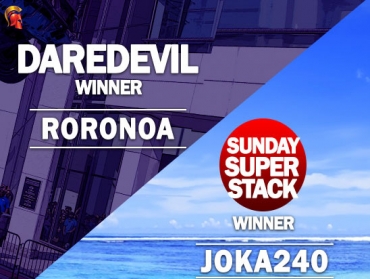 Poker
---
RoronoA wins DareDevil; Joka240 claims SuperStack at Spartan
The featured tournaments at The Spartan Poker are gathering some serious momentum in the month of May with the Hot Leaderboard Challenge underway. A huge 15 Lakhs is on the line for the top 10 finishers on this leaderboard with the winner assured a sum of INR 5 Lakhs which is over and above their overall tourney winnings for the month. As we reported earlier today, Arsh Grover is presently in the lead at the conclusion of Week 1 of this challenge.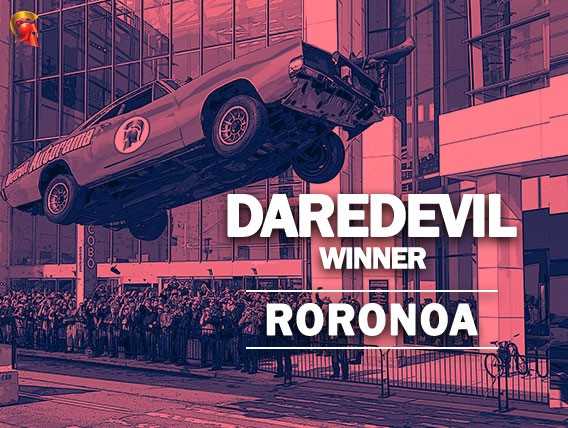 DareDevil
The weekend saw two popular tournaments take place i.e. the DareDevil on Saturday evening followed by the Sunday SuperStack a day later. INR 6 Lakhs was the guaranteed prizepool in play for this tournament and 85 players players ponied up the initial INR 4,400 buy-in to play this tournament. One thing about this DareDevil format that makes it a bit unique is that unlike other re-buy formats, this one allows busted players to take another rake-free shot at 50% of the original buy-in i.e. INR 2,000. By the end of the rebuy period, the sum total of all entries pooled in INR 6,22,000 to surpass the original guarantee amount.
It finally came down to three-way action between RoronoA, Minimalist and bluffpolice123. RoronoA was leading the other two players with a stack of 777,843 while Minimalist was next with 558,021 followed by bluffpolice123 (359,136). The three got involved in one final hand where the antes and small blind were folded to the big stack of RoronoA. It was then that these remaining players decided to settle for a deal to secure a good payday to all. In the end it was RoronoA who would claim the title and INR 1,36,659 for the win while Minimalist (INR 1,25,199) and bluffpolice123 (INR 1,10,407) would divvied up the runner-up spots.
Sunday SuperStack
One of the highlights of the weekend is the SuperStack tournament which takes place every Sunday evening and features a mouth-watering INR 20 Lakhs in guaranteed prizepools for a buy-in of INR 5,500. This re-entry format saw a total of 310 entries come together to swell up the prizepool to INR 22,15,000 crushing the guarantee quite comfortably. Once 'TheSpartanSpecial' was knocked out in 3rd place, it was time for heads-up between his eliminator Avadh 'Joka240' Shah up against 'sparpoker'. Having knocked out the 2nd runner-up, Shah had a commanding lead of 8.6 million versus sparpoker's stack of 2.4 million chips.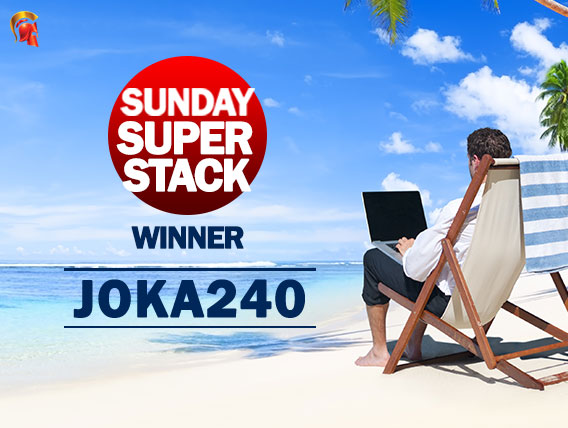 It was just after 3am when it all came to an end in Level 53 with the blinds at  70,000-140,000 and an ante of 17,500. Joka240 (Js 9c) from the small blind completed the blinds and spapoker (9h 5d) checked to see a flop. It was a monster of a flop with 5c Jh 9d on the board giving both players a healthy bite with their respective hole cards. A coy check by sparpoker saw Joka240 wasting no time in putting out a bet of 140,000 which got min-popped to 280,000. Joka240 this time decides to be be the coy one and flatcalls. On the turn of 3d, sparpoker puts in a pot-sized 735k bet and is immediately raised all-in for the rest of his chips. It all goes into the middle and with the Ah on the river not affecting proceedings, Joka240's better two pair of Jacks and Nines overcomes the Nines and Fives of sparpoker.
It was a sweet victory for Avadh Shah as he made a score of INR 5,86,975 for the win and what makes it even sweeter is that it happened on the back of just his original buy-in. sparpoker would have to settle for 2nd place and a payday of INR 3,65,475.
All in all a great weekend for online poker players across the country who participated at The Spartan Poker with these above players claiming some of the top honours of the weekend. Stay tuned to GutshotMagazine.com as we bring you more updates and news about the domestic and international poker world every day of the week!

---
---
Comments