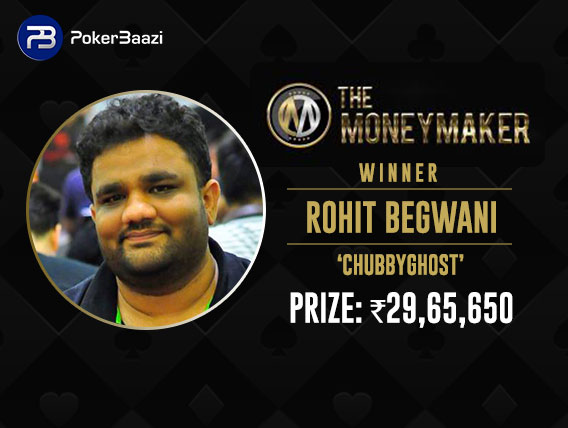 Poker
---
Rohit Begwani ships MoneyMaker 6.0 on PokerBaazi
Sunday is always a happy day for poker players across India as most of the top poker companies in the country host their biggest tournaments on Sundays and holidays. For The Spartan Poker, it was the prestigious IOPC Main Event and the final day of the IOPC series, while it was the unique 'One Time' tournament for Adda52.
Similarly, PokerBaazi hosted the sixth edition of their signature tournament called 'The MoneyMaker'. The INR 1 crore GTD tournament began at 6pm IST on Sunday and went on for 9 hours and 38 minutes! A brilliant response was received, with 1,163 entries registering to the INR 11,000 buy-in tournament.
This created a new prize pool of INR 1.16 crore and the top 63 players were paid out. At the end of this long grind, it was Rohit Begwani aka 'CHUBBYGHOST' who was victorious among this huge field, winning the MoneyMaker 6.0 title and more importantly, taking home a huge pay-check of INR 29,65,650.
It would've been a tough choice between the IOPC, One Time and The MoneyMaker but Begwani will surely be happy with the choice he made. 'Pucha' finished in second place in the tournament, while 'believe' finished in third place, taking away pretty big prizes too – INR 16,86,350 and INR 11,57,185 respectively.
Gutshot caught up with Begwani after this huge win, to ask him what he felt shipping PokerBaazi's biggest online tournament. Talking about the overall experience of winning the title, he said, "I have played it each time but never did well in it. So, playing solid and making it to ITM was my first priority. Large field tournies have a lot of recreational players, so you have to adjust your game accordingly and play patiently."
"There were a lot of good players when around 30 people were left. I was one of shorter stacks and there was Sahil 'Cairyhunt' Aggarwal, Danish 'Pagla' Shaikh, Vinod 'Figureitout' Meghalmani, etc. I really didn't think I could win but thankfully all the pros busted before the FT, with figureitout giving me the lead as well," he said about the tough competition he faced.
Any key hands you would like to share?
"When 12 people were left, I defended JK suited in Big Blind and flopped a Royal Flush. When we went to showdown, the other guy had Quad Aces. I think that's a one-in-a-million hand, and I'm still awed by it."
"Apart from that figureitout opened from UTG, I 3-bet in UTG + 1 with Queens – he jammed his whole stack with A5 suited (he was second in chip and I was third with around 20 people left). I won that flip and the stack built from that hand was what indeed helped me take down the tourney."
Tell us about the final hand of the tournament.
"I limped from button with Aces, 'villain' 3-bet, I 4-bet (few hands earlier, I had 4-bet with 72 with same action) and was hoping he jams. He unfortunately had AK and I won and took down the tourney."
He told us about his plans for this prize money, saying, "I'll play more live series and save for the future." He also revealed his poker plans, saying, "I just want to give my best and hope for the best results. I surely want to win a leaderboard in one of series like PPL, IOPC, SSS or other such events."
Keep reading GutshotMagazine.com for similar updates on Indian poker tournaments.

---
---
Comments