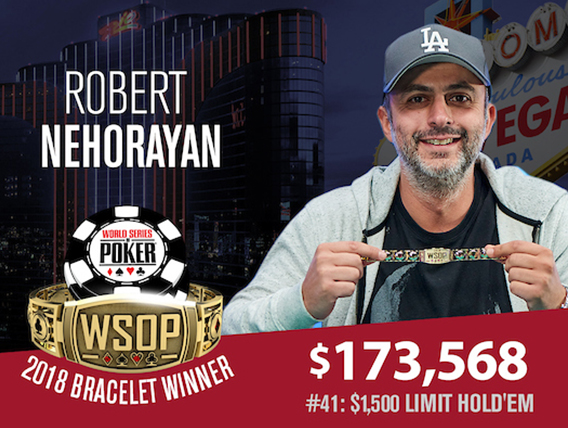 Gambling
---
Robert Nehorayan Wins Gold In Limit Hold'em Event
Robert Nehorayan is, by his own admission, a recreational player. At a table full of pros, the Los Angeles real estate consultant came out on top in the $1,500 limit hold'em event. By the end of it, Nehorayan bested a field of 596 entries and taking home $173,568 along with his first World Series of Poker bracelet. "It feels pretty good," said Nehorayan after his win. "I got a little frustrated throughout the match, but fortunately I was able to overcome my emotions. The cards helped too."
The heads-up match that he was frustrated in was between him and another L.A. grinder, Kevin Song. Song was the lone bracelet winner at the outset of the table and was looking to add a second to his collection. His first also came in limit hold'em when Song won the 1997 $2,000 limit hold'em event, where he defeated a final table that featured Erik Seidel, Huck Seed, five-time bracelet winner Berry Johnston and Dan Heimiller.
Song has been playing poker professionally for over two decades, but it was 'Rec Rob' who came out on top. "That's my nickname at home," said Nehorayan. "A kid Adam gave it to me one night. We were playing no-limit [hold'em]. I think we were playing $20/$40/$80 at Commerce and I called a big bet on the river with just an ace. The kid like flipped out and was like 'How do you call with just an ace?' and this kid Adam just goes 'That's rec Rob, man. He's a recreational player. He can't fold an ace.'" Nehorayan embraced the nickname because, well, he is exactly that. A recreational player. Nehorayan loves the game, but already has a full-time job as a real estate consultant in Southern California.
The third and final day kicked off on Friday at noon with 19 players still in the hunt. Jeremy Heartberg was eliminated in 9th place on the first hand of the day and about three hours later, the field was down to the final table. On just the third hand of the final table, Matthew Woodward, the chip leader at the start of the day, busted in ninth place. Woodward busted to Terri Gutierrez when she hit a three-outer on the river. Woodward bet and called the last of his chips off on the river with the board showing      .
Woodward tabled ace-king, but Gutierrez showed king-queen and won the pot with a bigger two pair. Gutierrez came into the final table near the top of the chip counts and extended her lead with the early knockout. Eight-handed limit poker continued for another two hours of min-betting and min-raising before Matt Russell busted in eighth place. Russell battled with Michael Jex and got the last of his chips into the middle on what ended up being a queen-high board with pocket jacks and busted to Jex's pocket kings.
Oleg Chebotarev, the only non-American at the final table busted early in the next level. He busted to Gutierrez after getting all in preflop against both her and Nehorayan. The final six players finished the rest of the level and then sent Brad Albrinck home on the first hand of the next one.
Albrinck got all in on the turn against Nehorayan who tabled king-queen and was behind Albrinck's pocket fours. Nehorayan spiked a queen on the river to give him the pot and eliminated in sixth. Jex busted a few hands later to David Gee. Four-handed play was where Gutierrez saw her fall from grace and Song make an amazing comeback. Song was left with less than two big bets after losing a big pot to Gutierrez's jacks full on the final hand of level 26.
They went on a 60-minute dinner break after the hand and Song came back and began to mount his comeback. He went on a tear, including picking off a river bluff from Gutierrez with pocket fours facing four overcards after Gutierrez missed her flush draw. Over the course of the two hours after dinner, Gutierrez went from chip leader to short stack, while Song took over the chip lead.
She made her stand, essentially preflop, against Nehorayan. After making it three bets preflop, she put the last of her chips in the middle on a king-high flop. Nehorayan called with king-queen and was in great shape against her ace-six. The turn and river were bricks, sending Gutierrez home in fourth place for her fifth WSOP cash. Nehorayan was especially pleased with that knockout because he felt Gutierrez was his toughest opponent at the table. Song eliminated Gee in the middle of the next level, which left him heads-up with Nehorayan, a battle between Los Angeles grinders for all the marbles.
Nehorayan started the heads-up battle with about a 1.5-to-1 chip lead, but Song had a knack for the comeback at the final table. Song won a few hands in a row to pull the match about even, but Nehorayan battled back, grinded down Song and finished him off when they got all in preflop with Nehorayan's 10-seven up against Song's eight-six. Nehorayan flopped a 10 and had Song dead on the turn. Song fell just shy of his second WSOP bracelet and Nehorayan took down his first. 
Final Table Results: 
1st: Robert Nehorayan – $173,568 
2nd: Kevin Song – $107,272
3rd: David Gee – $73,860
4th: Terri Gutierrez – $51,733
5th: Michael Jex – $36,860
6th: Brad Albrinck – $26,725
7th: Oleg Chebotarev – $19,723
8th: Matt Russell – $14,820 
9th: Matthew Woodward – $11,343
---
---
Comments