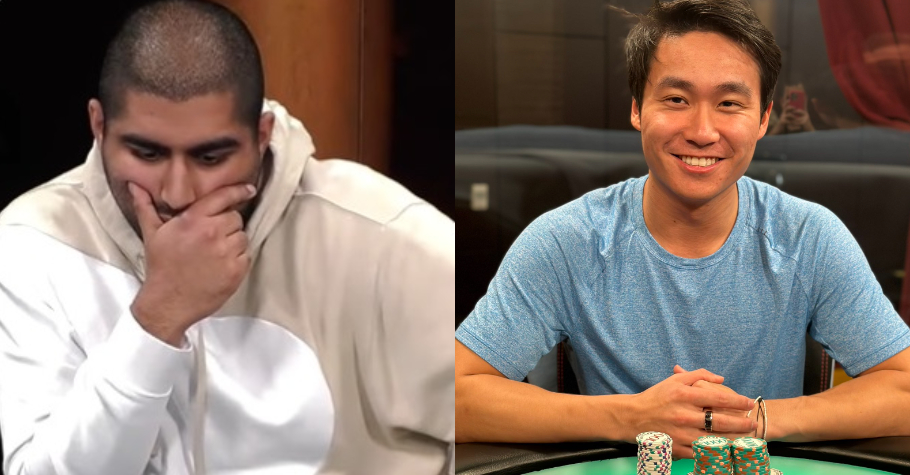 Poker
---
Rampage Poker's Hero Call Fucked Nik Airball's Fate (Lost $760K)
If there's a person who needs to take lessons on stop loss, it is Nikhil Arcot aka 'Nik Airball.' Why? This chap lost close to $760K in one night. One of the reasons why Arcot lost such a massive sum is Ethan Yau aka 'Rampage Poker.' What did Yau do to punish 'Nik Airball?' Yau made a hero call that made his rival drop his jaw and bankroll both at the same time. This wasn't a good look for Arcot who looked visibly upset after losing that kind of sum in one night. 
'Rampage Poker' vs 'Nik Airball'
Where was this devastating hand played? Take a guess! Let us give you a hint! The venue is related to Robbi Lew! Don't think hard, there's only one place which made Robbi Lew a phenomenon in poker that she is today. Yes folks, it was at Hustler Casino Live that Arcot lost to Yau and one other player called Stanley Choi. 'Nik Airball' lost $312,900 in hand against 'Rampage Poker' and at the end the former ended up saying in frustration, "Oh my god. How do you snap-call with ace-high?" Check out the hand below.
With stakes at $100/200/400, big blind ante $200, Yau raised to $2,000 with AKo from the cutoff position (pot – $3,700). Arcot 3-bet $10,000 from under the gun (UTG) with A3o and his rival did not waste any time in making that call. The dealer fanned a flop of Qs Qh 2d. Arcot bet $3,000 and Rampage called. 
A Queen of diamonds showed up on the turn giving both players a three of a kind. Here, Airball threw in another $30K and Rampage thought for a few seconds but made the call and now the pot stood at $92,900. The river brought 8 of diamonds which did not drastically change the scenario as both players still only had three of a kind from the board.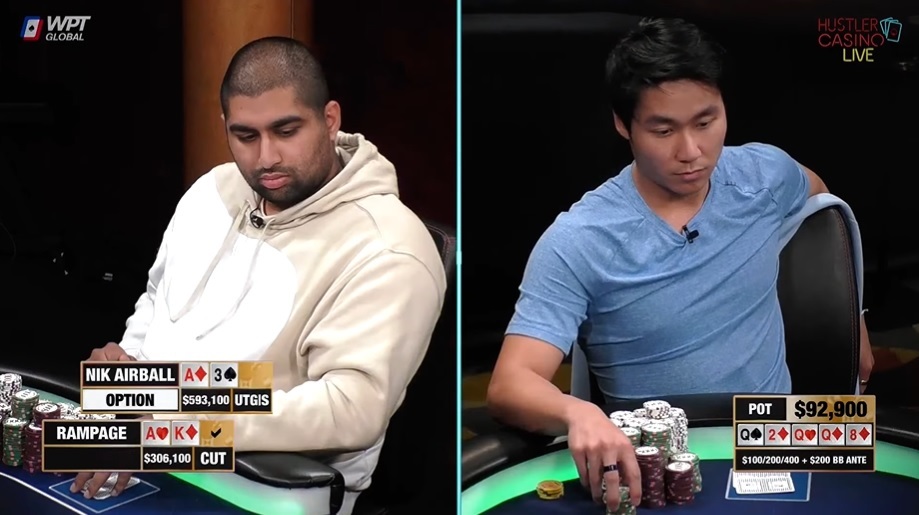 Nikhil Arcot (L) vs. Ethan Yau (R) at Hustler Casino Live
Only poker gods know what went into Airball's head when he thought of throwing $110,000 into the pot on seeing 8d. But Rampage wasn't taking it down either. He marched ahead while matching Airball's over the top bet and won the hand holding AKo. A visibly agitated Arcot was trying his best to hide his emotions but the camera caught everything there was to capture. Yau won the biggest cash game score of his poker career and the guy was beaming with joy as shot in a post game interview.
Check out the hand below
In a hand previously played between 'Nik Airball' and 'Rampage Poker' the former lost another monster hand to Yau. When blinds were at $100/200, big blind ante $200, Rampage raised to $1,200 with A8s and Bill 3-bet $3,300 with KJs, Airball called the bet with pocket twos and actioned came to Yau who 4-bet to $12,000. Bill folded and Arcot matched the bet by adding another $8,700 to see the flop of 3d Qs 4s and would be happy as he was still leading with his pocket twos. 
Arcot checked and Rampage bet $6,000, and Airball made the call. The turn brought 6d. Arcot checked again and Rampage again bet. This time Yau threw $25K in the pot which now stood at $65K. Airball kept his faith in his Deuces and matched that bet.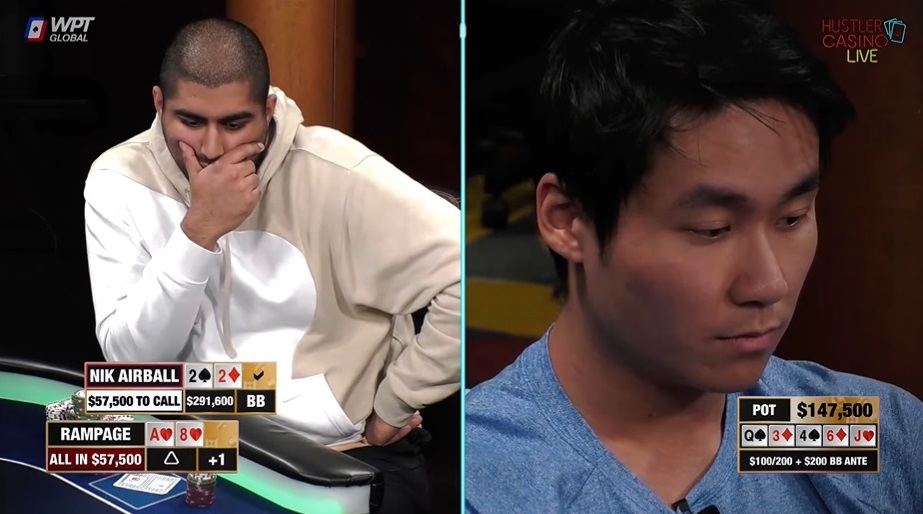 Nikhil Arcot (L) locking horns with Ethan Yau (R)
The Jack of hearts came on the river which meant Airball was winning with what people in the poker world call pocket twos—the worst pocket pair one can get. Arcot checked and Rampage went all-in with $57,500. This bet made Airball uncomfortable in his chair. Arcot tanked for a really long time and even called a clock on himself apart from calling Yau 'Ethan baby' but at the end folded his Ducks. What can one say about Airball's play in these two hands? He seriously needs to revise his cash game lessons and that stop loss theory needs to be added to his poker curriculum.
Watch the hands played between Nik Airball and Rampage Poker
Video and image credit: Hustler Casino Live YouTube and Twitter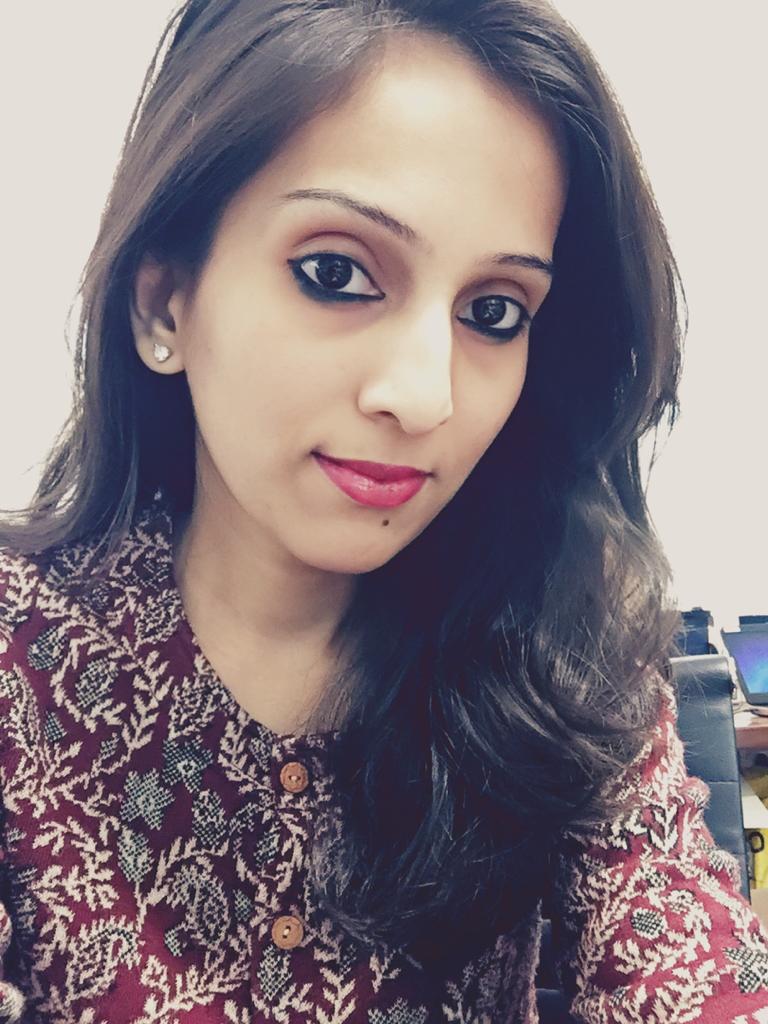 With a Masters Degree in Journalism and Communication, Mrinal Gujare currently is cruising through an exciting genre of writing and editing at Gutshot Magazine. Apart from being an Editor, Mrinal is an avid reader and a former contemporary dancer. She is also perennially hungry for intriguing scoops from across the globe. No holds barred is the rule Mrinal follows in life.
---
---
Comments