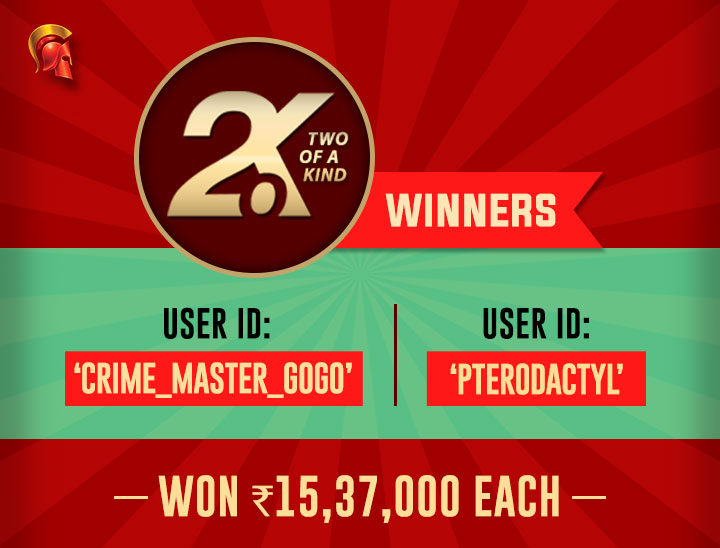 Poker
---
'Pterodactyl' and 'Crime_Master_Gogo' win 2.o.K on Spartan
One of the signature tournaments of TheSpartanPoker, Two of a Kind (2.o.K) saw a huge turnout last night with 1230 entries creating a prizepool of INR 61,50,000. The prizepool was distributed to top 85 places with a min-cash of INR 9,225. The tournament guarantees first two places with INR 15,00,000 each where this huge entry made it to INR 15,37,000 each. 'Pterodactyl' and 'Crime_Master_Gogo' emerged victorious to claim INR 15,37,000 each.
In Level 54, with blinds 80,000-160,000-20,000, the final hand of the tournament saw 'Pterodactyl' holding 5h 2c, 'Crime_Master_Gogo' had 7d Js and 'rkj88688' had Kc 5c. The hand saw 'Pterodactyl' who folds pre-flop and other two players went pre-flop all-in pushing all their chips on the table. The showdown Jh 7s 2d 5s Qh which gave two pairs, Jacks and Sevens to 'Crime_Master_Gogo' eliminating 'rkj88688' at third place for INR 6,76,500.
Champion 'Crime_Master_Gogo' stated, "I love playing on TheSpartanPoker and have been grinding here regularly. Two of a Kind is a very different and novel concept with a great structure allowing enough scope to play good poker. Yesterday was a huge day for online tourneys in Indian poker and obviously The Who's who of Indian poker were all playing. Hence the field was quite competitive. I won a huge flip against 'Limitless' (AK>QQ) for nearly chip lead pot with about 70-80 left. After that I remained in the top 5-6 throughout. Frankly I had quite a smooth ride on the final 2-3 table. On the final table I was wary of 'Pterodactyl' and 'getting there'. Fortunately had immediate position over former and Eka didn't have a big stack. A fantastic score for me and biggest online win ever. Super kicked about this one."
The second champion, 'Pterodactyl' said, "The tournament structure was good and decently deep throughout. Average stack was between 35-40BB's right down from the bubble till finish which is perfect for this format. We managed to maintain chiplead (1 or 2 in chips) throughout which is obviously a dream situation in any tournament. All in all a great tournament experience and congratulations to 'Crime_Master_Gogo' for chopping it with me."
The third-place finisher Rajeshbhai 'rkj88688' Patel spoke to us about his Two of a Kind experience and also his poker journey stating, "I have been playing poker since 3-4 years and mostly MTT's. I was a recreational player until last 2 month and now I have been planning to play full time. I was first introduced to poker 4 years ago by a friend."
Speaking about Two of a Kind journey, he continued, "It has been quite an amazing journey so far and now about Two of a Kind, it is a superb tournament with great structure and a great prize by TheSpartanPoker. The third-place finish has boosted my bankroll for my future poker Endeavour."
This was all about Two of a Kind tournament, stay tuned as second Sunday is nearby with the Millionaire tournament guaranteeing INR 20,00,000 for 1st place and INR 10,00,000 for 2nd place on a buy-in of INR 5,500.
---
---
Comments