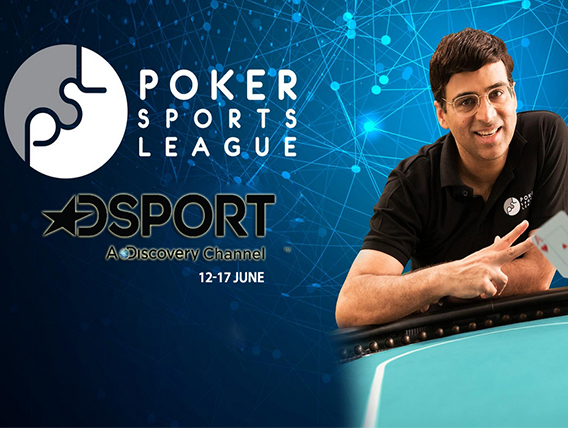 Poker
---
PSL Season 2 to air on DSport next week
The much awaited season 2 of the world's only franchise based Poker Sports League saw a breathtaking 5-day finale in Goa last month, with 11 teams fighting for a handsome prize pool of INR 4.5 crores. All the excitement and action from the finale will be broadcast exclusively for the Poker enthusiasts in India & all across the globe, by DSPORT, a premium sports TV channel by Discovery Communications. The organizers decided to broadcast the tournament in order to give poker enthusiasts and game followers, a glimpse of the league, which was at par with some of the best international leagues in terms of format, experience & conduct.
DSPORT will telecast the tournament finale from 12-17 June, 8:00 pm onwards. For the first time, broadcast technology of international standard will be used during the telecast of the tournament. Special RFID chip inserted cards were used during the tournament to give the viewers a first-hand experience of the hands being played at the table. The viewers will be able to see the cards for all players and gauge the moves made by them accordingly, making it a very involved and interesting experience for them.
Pranav Bagai, CEO and founder, Poker Sports League said, "The excitement for this tournament has increased manifold & we are glad to see the love and support of poker fans all across the globe. We look forward to more such seasons of the poker sports league and perhaps adding more teams if need be to cater to the growing zeal of Poker in India."
This is the first time that a franchise based league apart from Indian Premier League in Cricket and Indian Super League in Football will be telecasted on a channel.
Amit Burman, Vice Chairman Dabur India & Co founder Poker Sports League commenting on this exclusive partnership said, "Poker Sports League is our honest attempt to bring poker to the level of any established leagues in India & the growing participation is a validation of league changing the Indian landscape for Poker in India. Our country being the country of sport fanatics, we feel Poker deserves an equal opportunity to openly build its fan base & have a dedicated property that every poker lover could look up to & dream of being a part of. We are glad to associate with DSPORT this year as our telecast partners to make this dream a reality. "
The second season witnessed 11 teams with a total of 110 players, which included both National as well as International poker legends. The league kick started back in December last year with the online and live qualifiers followed by final team selection in April. The league will showcase talented city teams that are worth looking forward to & includes defending champions from season one Delhi Panthers and challenging the defending champion's supremacy will be teams hailing from Andhra Pradesh (Andhra Bullets), Chennai (Chennai Thalaiva), Bengaluru (Bengaluru Warriors), Gujarat (Gujarat Falcons), Pune (Pune Sharks), Kolkata (Kolkata Kings), Mumbai (Mumbai Anchors), Punjab (Punjab Bluffers) & the home team from Goa (Goan Nuts).
Courtesy: APNNews
---
---
Comments