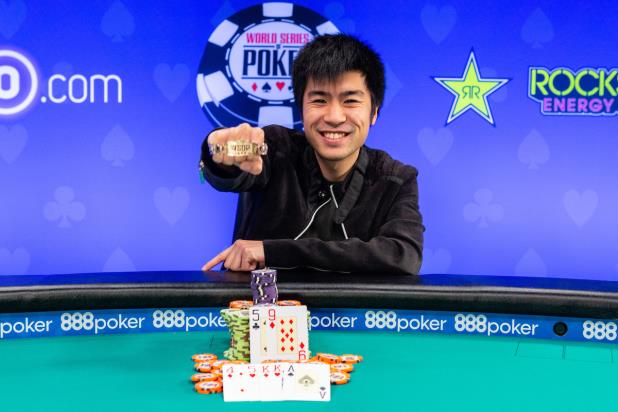 Poker
---
Preston Lee wins Shootout Event for first bracelet
Preston Lee, a 32-year-old poker pro from Millbrae, California, has emerged as the winner of Event #39 of the 2018 World Series of Poker, $1,500 No-Limit Hold'em Shootout. Lee triumphed in three successive rounds of play in this event featuring the distinctive shootout format, with only the winner of each sit-'n'-go style table advancing to the next round. 
Lee's $236,498 winner's payday came in only his third-ever WSOP cash, with the prior two, in 2011 and 2017, amounting to just over $4,000.
The final player between Lee and the bracelet was Florida's Corey Dodd. Like Lee, Dodd is a relative newcomer to WSOP bracelet events, with his only earlier cash coming in 2013. Dodd, also 32, earned $146,146 for the second-place run. Prior bracelet winner Anthony Reategui finished third for $105,307, while well-known Las Vegas pro Dylan Linde claimed fourth for $76,829.
The story of this final table was the protracted heads-up duel between Lee and Dodd, which stretched 131 hands past Reategui's bustout in third. For the most part, Lee held the edge, but both players spiked three-outers at separate points late in the duel to stay in the hunt. 
The event-deciding collision between the two happened on the duel's 128th hand, when Lee raised, Dodd moved all in with As Ts. Lee called with Ah Qd, and was close to clinching with the Qh 8s 2d flop. The 9h turn gave Dodd one last gasp with outs to the gutshot straight, but the 2s  river gave Lee the event's largest pot and almost 99% of the chips in play.
Dodd was left with just 75,000 in chips, but wasn't done quite yet. Both players called all-in dark for the next three hands; Dodd won the first two, and Lee finally closed it out on the third. That last hand found Lee with 9d 5c against Dodd's 6c 3c. The 4d 5h Kd flop paired Lee's five, but gave Dodd an open-ended straight draw. This time, though, Dodd didn't connect, as the Kh turn and As river closed out action in the event.
"It was pretty insane," said Lee, about his lengthy duel with Florida's Dodd. "We got it all in multiple times. He got lucky a few times. Then I got lucky. Then he got lucky. It was back and forth; it was pretty crazy." Lee did have the better of it for the most part, however. "The plan was just to grind him [Dodd] down, get it in, hopefully win…" which brought a chuckle, given how many times the trailing hand ended up taking down the pot. Lee also didn't think endurance entered into it, despite the 12-hour Day 3 that ended with the five-hour heads-up duel. "I was a little tired, but I've played longer sessions."
Final Table Payouts:-
1st: Preston Lee, $236,498
2nd: Corey Dodd, $146,146
3rd: Anthony Reategui, $105,307
4th: Dylan Linde, $76,829
5th: Jesse Kertland, $56,763
6th: Young Phan, $42,476
7th: Royce Matheson, $32,198
8th: Alexander Lakhov, $24,728
9th: Bas de Laat, $19,245
10th: Endrit Geci, $15,180
---
---
Comments