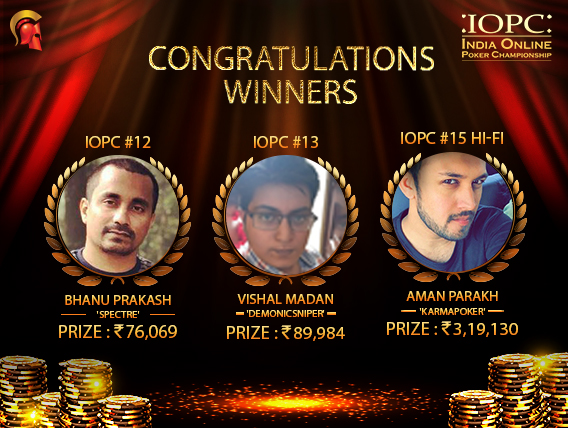 India
---
Prakash, Madan, Parakh among winners on IOPC Day 3
Three days of high-octane poker action has completed on Spartan Poker where the latest edition of the India Online Poker Championship (IOPC) recently kicked off. It's always a huge achievement to win an IOPC title and over the last few days, we've had many such title winners, including Sanat Mehrotra who won the featured tournament on IOPC Day 2.
Yesterday was Day 3 and it was another action-packed weekday on Spartan with all tournaments crushing their respective guarantees once again, now making it 15/15 tournaments so far in the July 2019 IOPC series. 'crownupguy1' was the biggest winner yesterday and you can get a complete summary of IOPC Day 3 below…
IOPC Event #11 INR 2 Lakh GTD
706 entries in the first tournament of the day meant that the advertised guarantee was almost doubled to create a prize pool of INR 3.53 Lakh, with each entry paying INR 550 as the entry fee. From them, the top 47 players received pay-checks of INR 2,012 each, but none won a bigger payday than 'iamlucknuts' who backed himself, beat the field, won an IOPC title and added INR 68,799 to his poker bankroll. It's not the first time this player has won an IOPC title on Spartan Poker, also winning Event #1 in January 2019's IOPC, Here, he beat a tough field including Neeraj Kumar aka 'Jannat52' in heads-up, who won INR 43,701 for his second-place finish. In the final hand, iamlucknuts re-raised all-in with Ad Kd and Kumar made the call with pocket Nines. The board ran out 3h Ts Js Qd 4c allowing iamlucknuts to hit a straight by the turn and take down the tournament!
IOPC Event #12 INR 2.5 Lakh GTD
INR 770 was the buy-in to the second tournament of the day and here, it was online grinder Bhanu Prakash aka 'spectre' who emerged victorious, someone who has won several titles on Spartan in the past, including SSS, IOPC as well as other titles. Here, Prakash had to get past a field of 542 entries that raised the prize pool all the way up to INR 3,79,400. From this field, only the top 39 finishers were paid out, each with a min-cash of INR 2,617. As for Prakash, he aimed for the top and hit the biggest prize of INR 76,069 for winning the tournament. In heads-up, he was pitted against 'Barrel_57' where the former struck the final blow after creating a chip lead of around 4:1. In a PFAI, it was Barrel_57's 7s Kh against Prakash's Tc 8c and with the board running 3d 8s As 6c 9d, Prakash won with a pair of Eights.
IOPC Event #13 INR 3 Lakh GTD
A field of 560 entries each ponied up the buy-in of INR 880 to play in this tournament and when the registration period ended, it was announced that the top 39 of them will receive pay-outs, each earning a minimum of INR 3,096. Vishal Madan aka 'DemonicSniper' was the eventual champion of the tournament, bagging the biggest prize of INR 89,984. Madan had to beat 'patea1971' in heads-up, with the latter having to settle for INR 59,825 for finishing second. Madan had a chip lead of over 7:1 in heads-up when he decided to shove all-in pre-flop in what became the final hand. He had Ts Qd and his opponent called with Ad 2s. patea1971 hit a pair of Twos on the 9h Jh Ks 2d Qc board but that wasn't nearly enough against Madan's 9-K straight. When Gutshot caught up with the winner, he said, "IOPC has always provided players with great tournaments and it feels brilliant to defeat such huge show ups. I will be grinding out the whole series, so many more to come."
IOPC Event #14 Mega Stack INR 18 Lakh GTD
The much-awaited featured tournament of the day on Spartan Poker was Mega Stack which had its guarantee bumped up for the IOPC. However, even this inflated guarantee turned out being smashed with a massive field of 943 entries each paying the INR 3,300 buy-in to participate in the tournament. The prize pool was driven all the way up to INR 28.29 Lakh and the spoils were shared among the top 87 finishers on the night, each receiving a min-cash of INR 8,769. 'crownupguy1' finished runner-up in one tournament on IOPC Day 2 on Spartan but this time, he didn't want anything less than the title, smashing through the field for a bankroll addition of INR 5,41,753. A number of known pros were in the competition with the top 6 receiving 6-figure pay-outs and eventually, crownupguy1 beat 'Walter White' in heads-up, who had to settle for INR 3,37,216 in prize money. In the final hand, both players were all-in with 8J and 8T and the board bricked out, giving crownupguy1 the victory with high card King and higher kicker, Jack!
IOPC Event #15 Hi-Fi INR 12.5 Lakh GTD
The Hi-Fi tournament is easily the most popular daily tournament on Spartan Poker and once again, we saw a brilliant participation of 658 entries, each paying INR 2,750 to join this re-entry tournament. Even with the increased buy-in, the guarantee was well beyond passed and the players were competing for the new prize pool of INR 16.45 Lakh. However, everyone wasn't fortunate enough to finish in the money, with only the top 55 being paid with a min-cash of INR 8,060. Aman Parakh aka 'KarmaPoker' did well to make his way past some top names including Event #13 winner Vishal Madan (19th), Event #12 winner Bhanu Prakash (8th), Gaurav Sood (4th) and 'InMyShadow' in heads-up. Parakh won INR 3,19,130 while the runner-up settled for INR 2,02,335 after his Deuces hit a set on the turn card of the final hand.
Stay tuned to GutshotMagazine.com for similar daily updates on the India Online Poker Championship (IOPC) as well as other major poker stories from across the world.
---
---
Comments