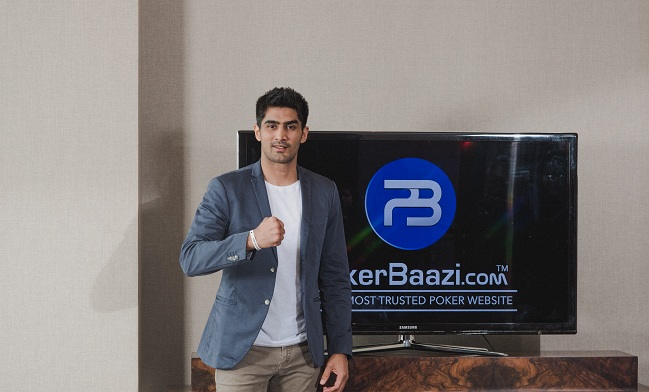 Poker
---
PokerBaazi Signs Vijender Singh as Brand Ambassador
The game of poker is on the rise in India with the country slowly accepting it as a game of skill rather than a game of chance. Of late, leading poker websites across the country have been roping in famous celebrities as their brand ambassadors, to help spread awareness about the game and grow the poker industry in the country.
A couple of years back, Indian poker website PokerBaazi signed Bollywood actress Sunny Leone as their brand ambassador, actor Rannvijay Singha was later signed as the brand ambassador of The Spartan Poker, actor Arjun Rampal was signed as the brand ambassador of Poker High and most recently, Indian chess master Viswanathan Anand was brought on as the brand ambassador of the Poker Sports League.
Not too long ago, PokerBaazi announced the signing of their second brand ambassador – Vijender Singh. Vijender is an Indian professional boxer, who is also an Olympic medallist and one of India's most famous non-cricketing sportspersons. His reputation as a boxing champion will help PokerBaazi promote the game of poker as a game that depends on sheer skill and talent.
In January 2010, Vijender was awarded the Padma Shri, one of the highest civilian awards in the country, for his outstanding contribution to Indian sports. He has a professional boxing record of 10-0 and his latest stint with PokerBaazi will see him trying to promote the mind sport of poker in India, through various mediums.
"As a sportsperson, it is always an honour for me to be part of campaigns or associate with brands that endeavour to promote sports in the nation. PokerBaazi is doing a great job of utilizing technology and letting Indians play online a game that they adore. I wish the best for the brand and hope that more Indians join its growing community of online poker players." said Vijender.
Gutshot spoke to PokerBaazi CTO Avneet Rana, and here's what he had to say about this signing – "It's a great addition to the PokerBaazi family. Having brought so many laurels to the country in the sport of Boxing, I am confident his association with PokerBaazi will give a big boost to the mind sport of poker in India."
For similar news from the world of poker, keep reading GutshotMagazine.com!
---
---
Comments